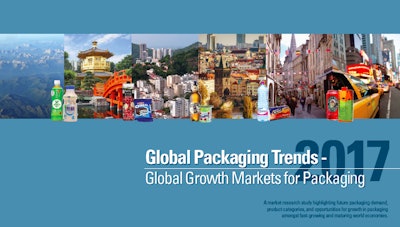 Consumer trends influencing packaging
Greater consumer awareness of health and wellness
Stronger influence of recycling and environmental issues in mature markets
Macroeconomic trends impact packaging in developed and developing markets
Volume growth by region
Middle East and Africa will register the largest growth, but due to economic conditions, North America and Europe will see comparatively smaller growth through 2020. The growth seen in Asia Pacific will make up 63 percent of global growth.
Growing packaging formats by region
Flexible plastic will see growth due to affordability, light weight, and the growth in packaged foods overall. PET will be the main driver of packaging trends worldwide.
Flexible plastic will see the highest growth in Asia Pacific, Western Europe, and the Middle East & Africa.
The use of PET Bottles will spike in the Asia Pacific region, and see continued growth in the other five regions as well.
Glass bottles will be a popular packaging format in Asia Pacific, North America, South America, and Eastern Europe.
Thin wall plastic containers will see growth in only three regions: Western Europe, Eastern Europe, and the Middle East & Africa
Bottled water will see the largest unit growth in five regions
Packaging formats for yogurt and dairy and beer will trail behind bottled water, which is projected to see the largest growth.
To download PMMI's 2017 Global Packaging Landscape: Growth, Trends, and Innovation report, visit: pmmi.org/research