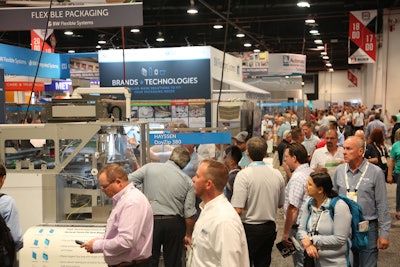 PMMI's Board of Directors voted unanimously to move forward with PACK EXPO Las Vegas and Healthcare Packaging EXPO during their spring meeting in April.
The Board met just before PMMI's 2021 Executive Leadership Conference (ELC), spending significant time during a four-hour Board meeting discussing the fall show. The discussion reinforced the packaging and processing industry's desire to come together in person. As exhibitors at PACK EXPO and Healthcare Packaging EXPO themselves, they recognized that while things could change, current trends are mostly positive and point to a safe and productive industry event.
With its PACK Ready health and safety program, PACK EXPO Las Vegas and Healthcare Packaging EXPO will reunite the packaging and processing community, implementing thorough and up-to-date protocols to ensure our exhibitors and attendees can connect, learn, and do business effectively, safely, and with confidence.
What does this mean for exhibitors?
The Exhibitor Services Manual for PACK EXPO Las Vegas and Healthcare Packaging EXPO was released in early June. PMMI will communicate regularly with exhibitors regarding the latest guidelines and best practices based on government regulations and industry standards. Even as the current regulations change and evolve, exhibitors can start planning their exhibit taking into consideration that attendees and booth staff will expect clean, open spaces to allow for comfortable interaction and productive discussions.
Current industry recommendations include:
Open booth design to create comfortable space and limit crowding
Allow clear and open entry and exit points
Clean machines and high touch surfaces multiple times throughout the day
Utilize seating to allow adequate distancing and limit seating in meeting rooms to avoid over-crowding
Consider touchless (electronic and digital) alternatives to engagement
Provide hand sanitizer in your booth
Account for personal protective equipment (PPE) apparel as needed (e.g., staff masks, etc.)
Incorporate signage promoting health and safety best practices
Utilize your Exhibitor Dashboard to schedule appointments in advance
Attendee registration is now open, and your customers are beginning to plan their visit to the show. Be sure to update your Online Showroom with the products and services you want attendees to see from your company.
For the latest information on planning and promoting your presence at PACK EXPO Las Vegas and Healthcare Packaging EXPO and accessing your Exhibitor Dashboard to make updates to your listing, be sure to visit the Exhibitor Resource Center.
For the latest developments on our Health and Safety plan, check out PACK Ready!
If you are interested in exhibiting, contact the PMMI Show Department at 571-612-3200 or expo@pmmi.org.
Companies in this article