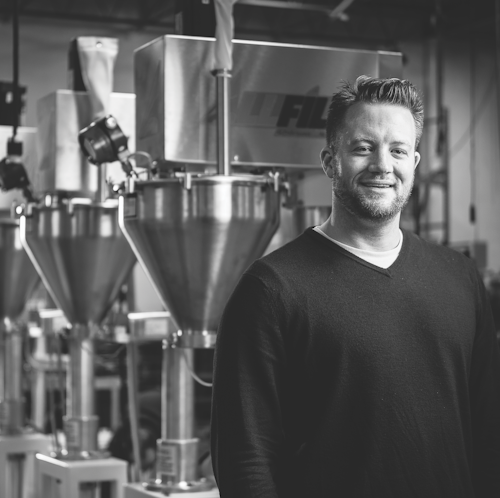 All-Fill's president and CEO ryan Edginton began his career at the Exton, Pa. filling and packaging machine manufacturer in 2006, where he gained years of experience working in various departments such as the stockroom, the assembly floor, and later, in an understudy role with the company's then vice president of operations. In 2015, Edginton stepped into the role of company leader, following in the footsteps of his grandfather, who founded All-Fill in 1969. While Edginton had other aspirations prior to attending college, he always knew that he wanted to have a hand in the company's legacy. Under his leadership, All-Fill has re-envisioned its approach to employee morale and culture, positioning the company to shine to prospective employees and customers. 
OEM: What aspects of All-Fill did you like and what were some things that you wanted to adapt or change when you began to lead the company?  
I really like how selfless our employees are, our key employees will do whatever it takes to get the job done and no task is too small for even our most senior employees. Our company has always done a great job of working within a system that we call "organized chaos." In the business of packaging machinery having a schedule and being well organized is extremely important, but you have to be able to adjust to scheduling changes on the fly and realize that there are circumstances that will arise that are beyond your control. Our employees from top to bottom really understand what it takes to sustain success in this industry for the long term, keeping the customer happy is everything and over 50 percent of our business is repeat customers. After taking control of the company, I was very eager to organize a full-time marketing team. I always thought that our company did as good of a job as any in the industry from a print media advertising perspective, but we wanted to make sure that we really connected with our customers on the Internet. We wanted to make our company easily accessible to the most experienced buyer as well as the novice buyer. This was no small task and we needed full-time marketing employees to achieve this goal. I am happy to say that our goal was accomplished and the effort was led by a team of young employees who deserve a lot of credit for the way All-Fill is viewed from the outside.  
OEM: What is All-Fill doing to help develop younger employees? 
I think that All-Fill provides a working environment that suits the modern day professional and visually appeals to our younger employees. In late 2015, we completed a major renovation project to our building that not only changed All-Fill's physical appearance but immediately changed our culture. Our new workspace made employees, regardless of generation, collaborate in a way that they never had in the past. I think by eliminating four-walled offices and moving to collaborative workspaces, it was a way for our older workforce to be more engaged with the younger employees. It leveled the playing field and it seems that our younger employees gained confidence and their skills sets developed at a faster rate as a result. For younger employees with potential, All-Fill will pay for education courses outside of the workplace. We figure that a commitment from the company will go a long way to employing that individual for the long term and the employee is able to lend value to the company sooner than expected.  
OEM: What are some key learnings you have had since taking over the business? 
I have certainly learned to appreciate each employee for their individual strengths.  As a leader you have to allow your employees to use their strengths to the team's advantage. On the other hand, you have to recognize each employee for their weaknesses and build a support system around those weaknesses. If an employee has a unique skill that is hard to replace, allow them to focus solely on that skill and your team will be better for it. If an employee has a skill that is particularly strong, it also means that they lack in another area and you have to be able to overcome that deficiency. I have certainly learned that I am one of the most well-rounded employees at the company, but by no means the expert within our company at any subject matter. Great opinions and ideas come from all areas of the company, it is important to listen and evaluate and then figure out the best plan to execution.  
OEM: What is it like to work with your siblings? How do you draw the line between business and family?  
Before ever going into business with family, it is absolutely crucial to know that you are working toward a common goal, not individual goals or motives. I think it is important to have enough separation in the everyday role that family members do not step on each other's toes, but at the same time communication is key. Each family member has to be satisfied with losing a few battles if the war is won by the team at the end of the day. By saying this, I mean that you have to be able to back down in certain situations, especially if the outcome is relatively unimportant to the overall status of the company. As I look at some family businesses, it is often noted that small details or skirmishes become much bigger issues that eventually lead to the negative culture surrounding the operation. It also helps if each family member brings a good work ethic because without that, it is impossible to work in harmony. It may sound odd, but some families attempt to stop the work chatter outside of the office, we are the opposite and constantly talk about work in our free time. I think working toward that common objective and goal is good for morale. If you can realize that "my success is their success- and vice versa," that is a motto that all family businesses should strive to follow.
OEM: As president and CEO, how do you help All-Fill prepare for the generational workforce shift?  
We would be stereotyping to completely classify generations, but it is important to recognize the unique skills and mindsets that each generation has developed that distinguish themselves from each other. At All-Fill it is important for us to mesh the boomers, millennials and Generation X and have great leadership managing departments that are generationally mixed. Common goals and objectives are relatively easy to strive for if the team is rowing in the same direction. Our great leaders have to be even better communicators in order for us to overcome generational differences.
OEM: How do you ensure All-Fill is always innovating, in terms of its products and its culture? 
You have to do a good job of observation and then always be willing to execute regardless of how large the task at hand appears to be. Being a good observer easily identifies what areas of your operation need attention. When observing, don't fool yourself, honestly evaluate your operation and don't be afraid to ask others inside or even outside of your operation for their honest feedback. Do not take offense to critical feedback, you don't have to agree with it, but consider it. Once you make a good observation and chart your path forward you need to do an even better job of executing that plan. There are typically a million reasons not to do something and one reason to do it, if you believe that your observations have set you on a path to improvement, execute it at all costs. These decisions are oftentimes not easy, make them with conviction.  
OEM: What are some machinery trends that All-Fill is currently eyeing or adapting to?  
We have already adapted to all of the top topic trends such as sanitization, IoT and customized safety features, but we are tending to focus on the overall buying experience that we offer our customers rather than individual trends that change so often. There are two main topics that we try to address and they are the concept of equipment on demand and the consolidated buying experience. We find that companies big and small all have one common need and that is "they need the machinery yesterday." At All-Fill we have really concentrated on inventory control such that we completely drive all aspects of the manufacturing process allowing us to deliver within a short timeframe. The consolidated buying experience is our other focus, and we are able to provide our customers with a vast majority of the packaging machinery that they need all from a single source located under one roof. We recently acquired Re-Pack Labelers and Palace Packaging Machines Inc., to meet the demand of this trend. In-house product development and also acquisition have positioned us to offer machinery that easily integrates but also stands alone for individualized use. I would generally say that we are more focused on buying trends than machine trends, but at the same time we have the resources to adapt to machine trends as they come and go.
OEM: What advice do you have for young leaders coming into this industry?  
Be different, stand out and don't accept anything because "that's the way it used to be."  The packaging industry is begging for innovators. So don't be afraid to be that person. Think about what you find value in as part of your everyday life as a consumer. Be honest, but ask yourself whether or not your company offers the same value that you find as a consumer outside of the industry.