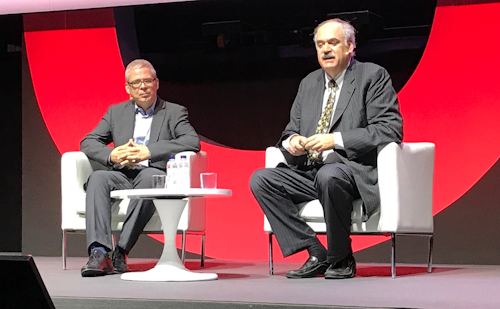 By David Greenfield , Director of Content/Editor-in-Chief, Automation World
...for a vendor-independent metamodel for data generated by hardware sensors.
The Industrial Internet Consortium's (IIC) Testbeds address a variety of industrial applications, from bleeding edge ideas still under development, like deep learning, to ideas that have become standards with products hitting the market, like Time Sensitive Networking. As such, the testbeds have always figured prominently into the IIC's annual Internet of Things Solutions World Congress (IoTSWC)—and this year was no exception.
At the 2018 IoTSWC event, Dr. Richard Soley, executive director of the IIC, said that, because it's clear that "no single company will win IoT," the IIC's testbeds play a key role in generating "requirements for future technology standards and to drive multi-vendor interoperability. And the requirements for a new IoT standard have just been generated by the Track and Trace Testbed."
The requirements for this standard can be found in the"Simple Electronic Notation for Sensor Reporting (SENSR)" RFP created by the Object Management Group (which manages the IIC). The RFP solicits "proposals for a metamodel suitable for describing serialized data streams emitted by sensors, and how that data should be interpreted. This metamodel shall allow the production of tools to enable automated, unambiguous interpretation of the emitted sensor data through configuration of a system, or production of code for execution."
Dirk Slama, director of business development at Bosch Software Innovations (Bosch is a member of the Track and Trace Testbed, along with Cisco and SAP), noted that the testbed began as an application for power tool fleet management and forklift tracking in manufacturing facilities. "Bosch wanted to have this tracking capability across its 270 factories worldwide" to locate equipment and to extend this capability to its suppliers and customers, he said.
Through work done in the testbed, the participants saw a need "for the manufacturers of sensors to be able to publish the required interpretation of the data that they produce via an electronic data sheet," according to the RFP. "Pursuant to that need, this RFP requests specification proposals that provide … a platform and vendor-independent metamodel for describing available data provided by hardware sensors; and an optional library of data types to facilitate the above sharing of interpretation."
The testbed participants saw a need for the manufacturers of sensors to be able to publish the required interpretation of the data that they produce via an electronic data sheet.
This RFP was published "to have sensor vendors work together to really make this [capability] plug-and-play and move [it] beyond the testbed," said Soley.
The IIC currently maintains more than 40 relationships with government entities, standards bodies and open source organizations, such as AVNU, EdgeX Foundry, IOTA, IEEE, ISA, MESA, OASIS and Plattform Industrie 4.0, to advance the work of the testbeds into standards and widely available technological capabilities, Soley said. As an example of what these relationships produce, he referenced IIC's recent work with the Eclipse Foundation on the Production Performance Management Protocol (PPMP) to create a "lightweight protocol based on JSON."
According to the Eclipse Foundation, machine data is currently "provided via modern protocols such as OPC UA or proprietary access methods, but it is not provided in a common and easily accessible format, which can be used to do performance analysis and optimization. This renders holistic process improvement efforts infeasible for many, especially smaller organizations. The PPMP specifies a format that allows [for the] capture of data required to do performance analysis of production facilities. It allows monitoring backends to collect and evaluate key metrics of machines in the context of a production process."
Soley noted that PPMP, recognized by Microsoft Azure along with with OPC UA and Profinet, is currently being used by manufacturing micro testbeds from the IIC's German regional team.