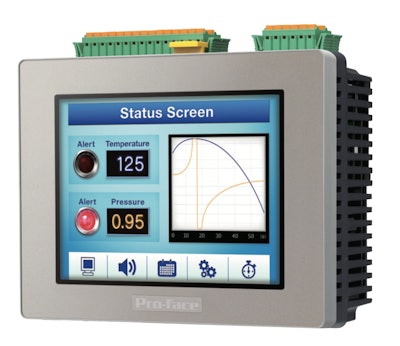 A food and beverage end user in Texas needed labeling equipment to apply top and bottom labels to individual dessert packaging, which was initially done manually and resulted in the labels being placed incorrectly at times. When the company decided to automate the process to reduce errors, save money, prevent downtime, and reduce product recalls, they turned to California-based American West Labeling Systems and Solutions (AWLSS). The OEM builds industrial grade, pressure sensitive label applicators for entry level merge applicators to high-speed air blow applicators. For this particular project, the company's Label-Aire Top/Bottom Belt Conveyors with QR Readers were up to the task.
Internally, the end user needed the label applicator to not only control the labeling process, but to view and scan the labels as they were applied to make sure they were applied properly. To address this need, AWLSS recommended the Pro-face America LT4000M HMI + Control, a combination of HMI plus PLC that saves panel space, wiring work, and programming time.
This HMI can read a barcode scanner through its USB-A port while verifying barcode data coming from two separate Modbus/TCP barcode scanners. At the same time, it can also control the conveying line with a start/stop digital output signal and analog output speed control. To reduce errors and product recalls, the HMI recognizes barcodes that do not match the expected value and it will stop the line and blink a large red indicator to signal the operator that bad barcodes are appearing in the batch. Programming time can be a big strain on any project, but it took the AWLSS team only about six to eight hours to program the HMI to run these processes.
"The Label-Aire standard I/O's lend themselves very well to Pro-face customization," says Alex Godoy, an applications engineer at AWLSS. "We needed to find a way to integrate cameras that could detect and cross reference each other and determine whether or not the operator had made a mistake in matching the correct labels to the correct product."
In addition, the OEM was also able to add its logo to the HMI screen design to establish strong branding across the line.
Since the line has been running in the end user's packaging facility, AWLSS says including an HMI with control saved money and offered a cleaner, more efficient solution. There has also been a noticeable reduction in operator rework since the equipment has been implemented, resulting in very minimal, if any, down time of equipment, according to Pro-face America.