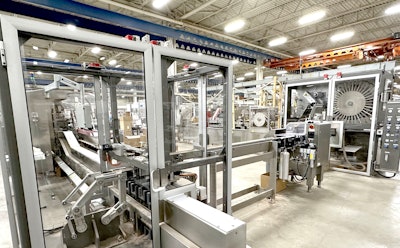 When it comes to automation, what's old is sometimes new again. Take the case of JJM Packaging, a New Jersey-based contract packager (CP) for powder-based food and supplement products.
To meet growing demands, the company, which provides services from formulation and raw material sourcing to blending and consumer ready packaging, sought to improve its line efficiency with increased capacity and capability through automation.
Whether it be robots, collaborative robots, or an entire automated line, JJM was in search of a machine that could handle both powders and particulates. The automation solution also needed to be able to gravimetrically check-weigh every pouch at up to 800 pouches per minute.
Considering the success JJM already had with a fully automated R.A Jones Pouch King PCU-2000 machine line installed at its Totowa, N.J. facility, the CP decided to purchase another. Joseph Apuzzo, founder of JJM Packaging, stumbled across a company selling a pre-owned Pouch King machine and a Criterion 2000 cartoner that had never been installed by the original buyer after purchasing them in 2014. They were still in good condition despite missing some components.
"When a machine is stationary and it's not going to run, it becomes a spare parts bin for other machines," says Kevin Webster, sales account manager for the food marketing segment at R.A. Jones. "So, it wasn't complete or operational, but overall, it was in good shape."
After weighing his options and considering the necessary customizations to fit JJM's needs, Apuzzo bought the used line and had it sent directly to R.A. Jones for modification.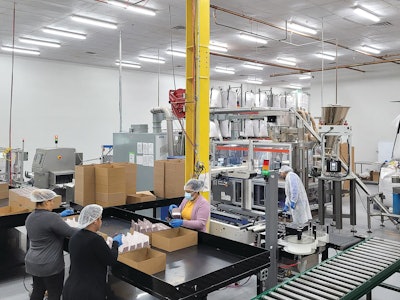 Working with an OEM to customize the machine
The Pouch King employs circuit heating technology, supports a range of materials such as polyethylene, poly-paper or cellophane, and provides feeding systems for both individual and multi-component blends, to improve filling and accuracy control over products. The line is originally designed from packages of eight, 10 and 12 counts in a dual stack configuration.
For JJM's machine, R.A. Jones replaced the missing human-machine-interface (HMI) system, designed as an interactive, touch screen platform to set up feeder combinations and facilitate safer, quicker changeovers between product types. Further modifications to fulfill JJM's needs included a line reconfiguration to accommodate a new pouch transfer system and floor space requirements.
Another adaptation to the Pouch King stemmed from the pouch size change. Originally, JJM had been working with a 2.625-inch pouch but had transitioned to a 4-inch pouch. To accommodate the size change, R.A Jones had to change the pitch of the machine and rework several assembly elements, such as installing new wheels throughout to fit the new pouch width.
R.A Jones also re-equipped the machine with specific feeders to account for the customer's multi-component blend product, which is comprised of different powder and particulate ingredients.
Taking customization to the next level
The most demanding change was the integration of individual pouch-weighing capabilities, which required a second line reconfiguration to a Z-shape. Individual pouch-weighing is crucial to JJM's customers in order to provide accurate serving size details on the label of each dietary and health-based supplement.
The line reconfiguration involved three 90-degree turns to carry the pouches from the knife cutter to the individual check weigher. From there, the pouches are grouped in packs of seven before being dropped into the Criterion bucket conveyor. However, since the Criterion cartoner was an existing machine, the bucket conveyor did not match the height of the Pouch King. Usually these levels align, which allows for a horizontal transfer system. Instead, R.A Jones needed to design an incline bucket conveyor, carrying the pouches on an upward trajectory into the cartoner.
"In order to weigh each package, you have to individualize them then you have to get them back together," says Apuzzo. "So, a lot of the automation rework was how to get them separated first, weigh them and then put them back together in counts of seven."
JJM became aware of this customer demand late in the reconfiguration process, which resulted in the production line becoming bigger than planned. It also meant a longer rebuild rather time frame normal because of supply chain shortages. The line is expected to be fully operational at the JJM facility in the summer of 2023.
Reducing material waste and growing a strong CP-OEM bond
Buying from the used market made sense in this case because it also fell in line with JJM's sustainability efforts. Refurbishing a used machine extends its usage for years, thus reducing the amount of material waste being discarded to a landfill. This also reduces the amount of virgin material needed to create a new machine.
The Pouch King line is not the only machine that JJM has reused. In fact, the first Pouch King that JJM owned was also reconfigured by R.A. Jones to meet its needs, and the company plans to continue purchasing from the used market in the future.
"We're turning used machinery into new machinery, outfitting things with servos, but using the frames that are there," says Apuzzo. "We don't run the same product for 15 years. Flexibility and our ability to make a new machine quickly that fits to a new package type that we have to handle, that's the key to the [contract packaging] business."
Apuzzo emphasized that this project would not have been near the success without the strong relationship the contract packager has with R.A. Jones. Though he understood that adjusting the machine to fit JJM's application would be a difficult project, Apuzzo felt confident that it would be achievable thanks to his relationship with Webster, his account manager at R.A. Jones.
"The biggest thing with projects like this is you need to have a relationship with the OEM," says Apuzzo. "Either you personally or your team must be really involved in the project. Our maintenance team is pretty robust and making the changes to the line mid-project or knowing that if the line comes in, and we have to make some changes, we can do that in house [is] a huge lifesaver with the project."