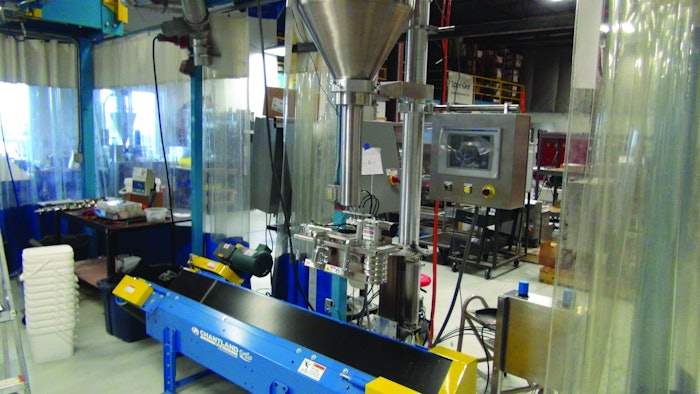 There's something to be said for being a mainstay. In certain powder manufacturing circles, Spee-Dee has become synonymous with dry product filling systems in the same way that Kleenex has cornered mindshare on tissues. The company's historical old standby—its Spee-Dee volumetric cup fillers—can be found the world over. Even their competitors' fillers are often called 'Spee-Dees,' for good or for bad.
Jim Navin purchased the Spee-Dee brand name filler in 1981, and succeeded in cultivating the ubiquitous brand reach the company now enjoys. That said, very little that the Sturtevant, Wis. facility has been churning out recently could be considered 'old standby.'
Even the company's higher sales volume products, like its auger fillers, are built to order, so little is off-the-shelf. The majority of engineering goes into engineered-to-order fillers, tackling difficult to manage powders and other particulates.
Managing multiple different lines, designed for different granulations, speeds, filler types, and lead times simultaneously pushed the company to pursue a better way for the team to work. 
Adopting and adapting cellular manufacturing
Cognizant that they ought to be optimizing their operation with lean manufacturing strategies, Navin had kept an ear to the tracks with new manufacturing models and methods. His sons, David Navin, president/CEO, Paul Navin, operations manager, and Mark Navin, strategic accounts manager, picked up the torch when Jim retired last year. One strategy that caught the family's attention nearly three years ago was the University of Wisconsin-Madison's Quick Response Manufacturing (QRM) methodology.
The method's goal is to increase throughput and one of the outcomes of this is reduced lead times in all phases of manufacturing and office operations. The big-picture idea is to deliver orders to customers more quickly. It also aims to reduce cost, enhance delivery performance and improve quality.
A focus on lead time reduction as a guiding management strategy makes QRM well-suited for companies that engineer-to-order (ETO) or build-to-order (BTO) most or all of their product line while carrying little inventory. This high-mix, low-volume and custom-engineered product environment was at the intersection of where Spee-Dee lived and where QRM shined, so the Navins began attending seminars to learn about the subject.
A little over a year after beginning QRM, they hired former professional auto race team member Tony Stefanelli as VP of business development.
"What was interesting for me coming out of auto racing was that QRM is roughly how racing is set up. So I looked at some of the seminars and information, and immediately said, 'oh, that's how we'd run a race team,'" Stefanelli says. "For example, in NASCAR, Joe Gibbs owns several cars, and he has five different drivers. Each driver has his own trailer. Each driver has his own crew chief. Each crew chief has his own staff. They talk to each other, but they are separate teams within Joe Gibbs Racing. They have their driver, they work amongst themselves, and what they do to their car can be completely different than the other guys. We're doing the same thing here at Spee-Dee. What we're trying to do is, instead of having five cars but a single right front shocks person, who works on all five different cars, each team here at Spee-Dee has the equivalent of his own right front shocks guy."
Translating QRM's larger structure to the four walls of the Spee-Dee facility was a challenge, and Spee-Dee began by creating teams focused on market opportunity. This allowed the designated teams to focus on one aspect of the business—in this case, the duration and sophistication of each cell's projects—thus improving the company's customer service.
Three manufacturing cells were established, "S.E.T."—an acronym for "sustain, enhance, transform"—to provide a more efficient turnaround on equipment orders. The cells were divided based on the machines level of customization and includes a team made up of a sales/project manager, design engineering staff, machinists, and assemblers.
The S-cell, Sustain, represents the higher volume items that have been assembled similarly for years, and most components or subassemblies are either in inventory or readily available. The E-cell, Enhance, starts to get into the middle range, with about half of the parts needing to be designed and machined. And the T-cell, or Transform, are the most custom and lengthy projects, with low volume and fresh engineering. This cell doubles as the company's R&D department—research and new products are almost exclusively customer-driven, unless an obvious marketplace need presents itself. At Spee-Dee, as is true of many ETO shops, 90 percent of R&D is a function of customer need.
"The magic of QRM is that each team is focused on a piece of the business, and they own it and get to stay focused on it, rather than having their priorities stretched amongst a variety of projects," Stefanelli says. "The timeline for these T-cell machines, could be six months. Meanwhile, an S-cell project is eight weeks. If you're asking a guy to simultaneously worry about something that takes six months and worry about something that takes eight weeks, the conflict creates a mind stretch. What gets what priority? It's hard to decide."
By separating the teams according to single project timelines, everything has a similar rhythm, it's easier for any one team to stay focused. "Really, QRM is more about the rhythm of how the projects move through the building as opposed to the technology differences between," Stefanelli adds. 
Test lab capabilities
Product testing in a devoted test lab, ranging from simple demos to full-blown Factory Acceptance Tests (FAT), is a key offering at Spee-Dee.
"Our bigger customers will almost always come in for a factory acceptance test, especially on the bigger machines. The test lab, storage and tooling, takes up more than 1,000 sq. ft., with a 400-sq.-ft. mezzanine used to simulate real time production environment. End users ship their sample products and machines to Sturtevant, and Spee-Dee will add a filler and an in-feed to actually run the FAT. We have bulk in-feed systems, including a Frazier bucket elevator. We have PIAB pneumatic conveyors. We can bring up super sacks and hang them, so however we get the product, we can move it," Johnson says. "The trick is whenever you're running any kind of volume, you have to have a bulk in-feed system. You have to keep feeding the filler and the bagger. Then we have take away conveyors and check weighers. We offer these types of services to all of our customers."
And, how do you test a rotary filler that's is running, say, 250 cans a minute? "Well, if you don't have a conveyor test loop in your facility, you can't," says Timm Johnson, VP of sales and marketing. "We bring our customers in here and they will see their products and containers running at production speeds."
Spee-Dee strategy and culture
Roughly 20 years ago, based on then fresh market research, Spee-Dee made a decision to focus sales efforts primarily on the largest 10 users of auger fillers. At the time, those 10 companies probably controlled half the auger business in the U.S., so it made sense to go big game hunting—a single big win could mean 20 machines sold instead of one. The strategy was extremely successful, and today, Spee-Dee sells to all but one of the original 10 targets, though names and ownerships have shifted in the decades since. Spee-Dee continues to service these large customers, and has gone full circle to take what it has learned and applied to all customers' weather it is one filler or 10. The QRM process allows Spee-Dee to provide the same service to all, large and small.
Having earned the industry equivalent of a household name, and developed established relationships with the Fortune 500-sized food and beverage manufacturers, Spee-Dee remains family owned and operated. Johnson says that the ability to stay flexible is one of the greatest strengths of Spee-Dee's family atmosphere.
"We can change on a dime. If we want to build a freshly designed filler, we can do it, and we don't have to go to a board of directors or stockholders," Johnson says. "If I want to do a marketing program I can just do it. Well, I probably ought to tell people I'm spending money, but Dave's office is right next-door to mine. Decisions can be made in the hallway."
He believes the culture and family-owned status also helps Spee-Dee in the service department, as they can react quickly to customers' service requirements. "We do a lot of that, so our customers know we'll support them, and therefore I think we get good repeat purchases," he says.
Fresh rotary technology and finding the right fit
The latest technologies at Spee-Dee come in the form of newly designed rotary fillers that eliminate the 6- by 6-ft. steel square base in favor of a roughly 2- by 4-ft. stainless steel base. By cutting the fat and focusing on "the only three things that really matter, the relationship between the center turret and the two star wheels," the new design allows for easier access to the interior of the machine, lighter overall weight, a smaller footprint, less surface area to clean, and taken together, cost savings.
"After discussions with the customer, I went to engineering and told them I need a rotary filler that costs "X," has updated features and industrial design, and is still able to hit these certain speeds," says Johnson. "The rotaries are all servo driven, so the motors, star wheels, timing screws, and the augers themselves are all talking to one another, so there is no mechanical timing. The customer comes in with a set of performance metrics to hit, and our engineers hit them so the customer gets just what they need."
Johnson and the sales team, works closely with the Cezary Mroz, Spee-Dee's rotary engineering technical expert, to ensure sizing is correct for the customer and the machine's designated task in order to optimize OEE. 
"What goes into sizing of a rotary is more than just the size of the container; it's the desired flow of the product," Mroz says. "There's a lot of mumbo jumbo that can get fed to customers to persuade them to buy a machine that's already in the OEM's or the supplier's repertoire, instead of giving the customer exactly what they need."
Evolution of electrical engineering
Over the past 34 years, Spee-Dee has evolved its controls from simple relay logic and basic PLCs to a process where teams design a machine's controls to meet customer specifications. "A complex system 25 years ago was a stepper motor and one motor with a VFD," says Ron Fojtik, director of electrical engineering. "Today we have systems that synchronize 13 axes of motion."
In another necessary leap forward, made possible by mechatronic advancements, the company now designs and build check weighers to give Spee-Dee fillers check weigh feedback should the product change density during the run. Uniquely, the company uses one PLC and touch screen to control both the filler and the checkweigher.
"One of our customers had an issue with his product changing size during processing. When filling by weight, they found volume to be inconsistent," Johnson says. "So, we created a volumetric cup fill that can verify and correct both volume and weight. Many of our customers ask us to build to their specific electrical specifications requesting a certain PLC, touch screen, servo motion, and other electrical components. We make every effort to meet their needs."
Companies in this article