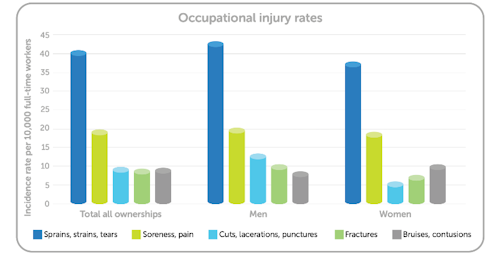 There are many different kinds of injuries. Many injuries are not from one incident, but instead from repeated motion over many days, weeks, months, or years.
When the strain causes an injury, that's where workers' compensation insurance policies come into play.
Musculoskeletal disorders (MSDs) are now the No. 1 type of workplace injury claims, and it's likely to stay that way due to the kinds of tasks manufacturing workers perform. However, business owners overwhelmed by choices often make easy or convenient choices. Many might assume that workers' compensation policies are all pretty much the same, which is certainly not the case. Some insurance carriers go well past minimum expectations to include preventive programs and incentives that work to create a "culture" of safety, ergonomics, and wellness.
Individual service platforms for carriers may include detailed investigations and assessments into injury claims, which then offer preventative programs to help avoid future claims. And some respond very differently when such an injury claim is filed. How a plan responds to an injury claim can be critical to an operating budget bottom line, and how a company responds can either reduce future exposure and liability—or compound it.
Repetitive tasks and repeat injuries
With automation and robotics technologies advancing at rapid pace, it's easy to forget that many jobs in manufacturing, production, and construction are still hands-on operation. The U.S. Bureau of Labor Statistics reports 650,000 work-related musculoskeletal disorders (WRMSDs) occur annually, resulting in costs to employers of over $20 billion. These costs include workers' compensation and medical expenses, the latter of which are increasing 2.5 times faster than benefit costs. In fact, $1 of every $3 of workers' compensation costs are spent on occupational MSDs, and a typical claim costs $29,000 - $32,000 per year.
With ergonomic injuries from repetitive tasks, there is often a vicious—yet wholly avoidable—cycle. The employee gets treated by an outside physician, they are released back to work, and they come back to a situation that causes the same injury again—or makes it even worse.
Compared to other injuries, MSDs offer the greatest opportunity to reduce incidents and costs with improved working conditions and better ergonomics. Amerisure Insurance, a carrier specializing in comprehensive insurance products designed to protect businesses as well as the health and safety of employees, backs up this observation with research. According to loss data collected by from 2011-2014 by Amerisure, 40.5% of all workers' compensation claims could have been positively affected in some way by improved ergonomics, which translates to 26.7% of the total cost of all claims.
Responsibility and accountability
The fact is employers have a responsibility to the health and well being of their employees on the job. And accountability is one way to make responsibility the order of the day.
George Forrester, senior vice president and director of AHT Insurance Manufacturing Practice, explains the importance of understanding the difference: "Sometimes it seems that the words responsibility and accountability are used interchangeably in safety and health. However, these two words have very different meanings. When applying these two concepts to management in the workplace, they take on very important and distinct differences in import and application."
Responsibility may be thought of as simply the "obligation to fulfill a task." To be responsible, one need only be assigned one or more duties. Accountability may be thought of as establishing the "obligation to fulfill a task to standard or else." When individuals are held accountable, performance is measured against some specific criteria or standard and consequences are applied appropriate to the level or quality of performance.
Prevention and wellness
Every company should have a strong return-to-work program because the benefits well outweigh the costs. Employees and supervisors should be trained on what to expect after an injury and the process of returning to work—and returning to a safer work environment.
"One way to break down how important these programs are is to look at both the 'direct' costs of an injury as well as the 'indirect' costs," says Forrester. "The indirect costs are harder to quantify, so they often go overlooked or underappreciated."
When an injury happens, the direct costs
usually include medical costs and indemnity insurance payments. But the indirect costs can include wages to injured employees, legal fees, training replacement employees, the production impact of damaged materials, the cleanup time that delays schedules, and, sometimes, an increase in insurance premiums.
A final indirect cost is the morale of the employee and the morale of the entire company. Without robust programs that create a culture of safety, many employees will feel "unprotected" or "on their own." Comprehensive workers' compensation programs prove that the company will stand behind its employees when they get hurt.
Manufacturers perform scheduled maintenance on all their equipment. Why wouldn't they perform regular maintenance on their employees to make sure they are running at optimal efficiency as well?