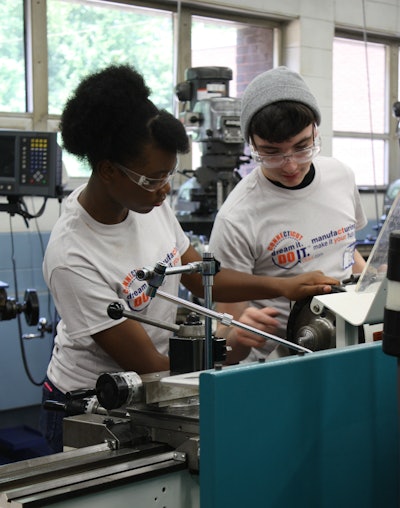 Attracting the next generation of an industrial workforce has been a concern and shortfall for years in manufacturing. There's a mismatch between the talent level OEMs need to keep their businesses growing and the talent that's actually out there. According to the Manufacturing Institute, three and a half million manufacturing jobs will need to be filled over the next decade to meet demand, but more than two million of those jobs will go unfilled. 
The skills gap continues to grow due to competing markets, a scarcity of college programs dedicated to packaging or mechatronics, certification requirements and qualifications, and more. But the divide seems to begin in middle and high school. Only 35 percent of parents say they would encourage their children to pursue careers in manufacturing, according to the Dream It. Do It. network, an outreach program launched in 2005 by the Manufacturing Institute to recruit more young people into manufacturing. 
"The main goal of the network is to change the perception of manufacturing among the next generation by putting a fresh face on manufacturing to students, parents, and educators so we can start to build that talent pipeline," says Cristina Crawford, program coordinator for the Manufacturing Institute. 
OEMs open their doors
Massman Automation Designs, LLC (See them at ProFood Tech, booth #1725), a Villard, Minn.-based case packing equipment manufacturer, has been working with the network for six years through Chuck Gaffaney, Massman's quality engineer. Gaffaney has been a board member on both this network and the local Tri-State Manufacturers Association since 2010, where he has made it a point to recruit young people to manufacturing, or more specifically, to Massman. 
"Dream It. Do It. Minnesota and the Tri-State Manufacturers Association work together, and we've all got the same goal to enhance manufacturing," Gaffaney says. "We want to recruit younger generations into the industry, and get these students that may not be a fit for a four-year college into tech schools, and train them. In central Minnesota there are way more jobs than there are trained people, and we need to be replacing the baby boomers."
One of the network's farthest reaching efforts to attract younger generations to the industry is Manufacturing Month, held each October. Participating manufacturing facilities open their doors to teachers, students, and parents for tours and activities that introduce participants to the industry. 
"Once students tour a facility and participate in hands-on activities, that makes a huge difference," Crawford says. "When students find out that manufacturing is linked to iconic projects they may be familiar with and they see teamwork, it excites them."
Massman participates in the Dream It. Do It. Minnesota Statewide Tour of Manufacturing, aligned with Manufacturing Month, every year, which is also hosted in part by Minnesota's Department of Employment and Economic Development. 
"We have completed machines on our floor that we're testing, and it's very advantageous to bring the youth in when the machines are just about ready to be shipped out," Gaffaney says. "When we run product through the machines, that's what really excites the kids. They get to see all these different machines running with products that they are familiar with."
According to a survey conducted by consulting firm Deloitte and the Manufacturing Institute, 89 percent of manufacturers that hosted facility tours and other Manufacturing Month activities in 2016 found value in participating, and 86 percent say they plan to take part in Manufacturing Month 2017.
"Can you see running bags of apples down a conveyor and having three spider robots picking them up at 300 picks per minute? Can you imagine how excited those kids were? They just couldn't believe it," Gaffaney says. "The kids are standing right beside the machine watching, and they have so many questions. It's a fulfilling opportunity for us." 
To speak to Gaffaney's observation, 84 percent of student attendees reported that they were motivated to pursue a career in manufacturing, and 71 percent were likely to share what they learned about the industry with their friends and family, according to the survey. 
Seeing a return on investment 
For 2017, both Dream It. Do It. Minnesota and Massman have made it a goal to recruit more women into the industry by giving out scholarships to high school students. 
A few years ago, Massman awarded a scholarship to a young woman who graduated from a Minnesota-area high school. She went on to study at North Dakota State University, and after graduation, she returned to Minnesota to work for Massman. 
"It's an investment in the future," Gaffaney says. "You won't see immediate results from these outreach efforts, but we need to work with the high schools and keep recruiting younger generations to create a young, diverse, and skilled workforce for the industry."
Beyond factory walls
Aside from offering plant tours, Massman also participates in state-wide robotics competitions through the Dream It. Do It. network. Gaffaney says sponsoring a robotics team and mentoring the students through the competition is another way OEMs can introduce younger generations to their business and the industry. 
"We have provided mentors and helped with the materials and manufacturing some of the parts for the robots," Gaffaney says. "Our mentors and employees go with students to the competition, too. Some of those robots get  very exquisite and they're shooting basketballs, collecting objects, and all sorts of things. It's interesting to see how the competition changes each year."
Other Dream It. Do It. Networks recently secured grants from the Manufacturing Institute to host robotic competitions, too. Amanda Bowen, executive director of the Manufacturer's Association of Florida, says she was surprised at how quickly the network's first robotics competition brought manufacturers and
students together. 
"We had manufacturers engaging with students on a weekly basis and mentoring them throughout the whole process, and the students got to develop a relationship with someone in the industry," Bowen says. "That was probably the most rewarding aspect of the whole competition because through our engagement with students, we have found that they just want to be heard and they want to have a voice or hand in something. They learn that manufacturing is an industry where they can feel pride in creating something."
While Florida's robotics competition is still in its infancy, Jaimee Meyer, executive director for Dream It. Do It. Minnesota (which is led by 360 Manufacturing and Applied Engineering Center of Excellence) has seen the Minnesota robotics competitions serve as a return on investment for OEMs, and a chance for manufacturers to make a positive and impactful impression on kids who haven't decided on a career path yet.  
"If we can get in front of the youth who already like to make robots and do the programming, we can really bring home the message that the skills they have developed by working with robotics can transfer into a manufacturing career," Meyer says.
Talent is in your own backyard
Another way the network helps OEMs bridge the skills gap is through its Adopt-A-School program and guide. The guide is a free PDF booklet that gives manufacturers a structured framework for engaging with their local school system, and best practices for building relationships with educators. OEMs can download the guide from their state's Dream It. Do It. website.
"When we first launched Dream It. Do It. Minnesota, manufacturers wondered, 'How do I even go about working with local schools? Who do I call? Is it the superintendent, is it the principal? What do I say? What does this process look like?'" Meyer says. "But the guide is now becoming a national resource that all of the 40 Dream it. Do it. networks will  have access to."
Massman used this guide to build a 10-year-long relationship with Minnewaska High School, Glenwood, Minn. The OEM is developing a plan to remodel the school's technology department with new floorplans, air exchangers for the welding area, and new welding and metalworking equipment. 
"We have monthly meetings with the high school that we attend, and it's also been a goal to team up with other industries in the area to help the school monetarily if they need things," Gaffaney says.
When Minnesota's new Alexandria Area High School, Alexandria, Minn., was being built in 2014, Massman stepped in to work with other local industries and manufacturers to put new equipment in the school's technology, machining, and metalworking areas, which Gaffaney says is another one of Massman's biggest success stories. 
An OEM's role in bridging the skills gap
The key to attracting and retaining young, skilled workers may not be a one-size-fits-all solution for every OEM. But OEMs like Massman have started their workforce development efforts locally and have seen demonstrable results. 
"You can't just wait until students are juniors and seniors to start engaging them," Gaffaney says. "You need to be working with them at a younger age so they can get excited about this and be looking toward a career in manufacturing."
Currently, 40 states have a Dream It. Do It. network through the Manufacturing Institute. If a state doesn't have a network, OEMs can spearhead the effort to create one. 
To see how your company can get involved or for more information about the Dream It. Do It. Network, visit: www.themanufacturinginstitute.org/Image/Dream-It-Do-It/Dream-It-Do-It.aspx