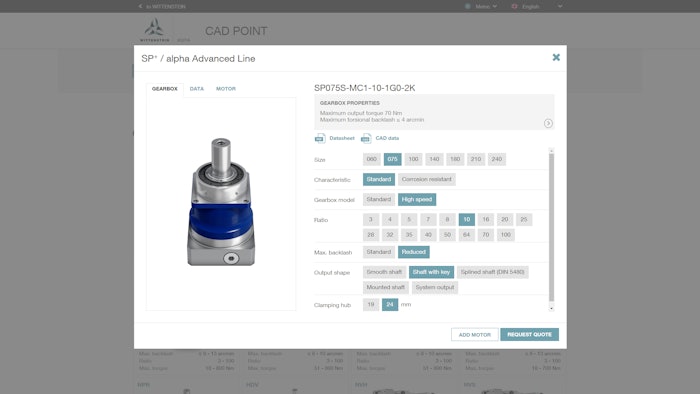 CAD POINT by Wittenstein alpha helps engineers and motion control specialists access product information, data sheets and CAD data in just a few clicks. This online "smart catalog" features the entire product portfolio for WITTENSTEIN gearboxes and actuators, in conjunction with a database of more than 16,000 motors. CAD POINT makes it easy for users to compare products, then download data sheets, generate CADs and request pricing—all with a few clicks.
Users may search by product type or specific ordering code. Once users have found the product they are looking for, they can finish the selection process by re-questing a non-binding quote.  
CAD POINT supersedes the old "Info and CAD Finder," achieving the same results in half the time, according to the company. By linking databases for gearboxes, motors and actuators combined with the enhanced user interface make it even easier to find CAD data, product in-formation, data sheets and quotes.
Users can begin with a known gearbox type or a preferred size, and then compare it with different gearbox and drive configurations. Once selected, the characteristics are subsequently remembered throughout the configuration process, even after switching to a different size. This makes comparing several possible alternatives simple and fast.
To expedite results even further, users can enter a specific product ordering code. CAD POINT automatically validates the entered code to eliminate data entry errors, and then generates the specific results.
Companies in this article