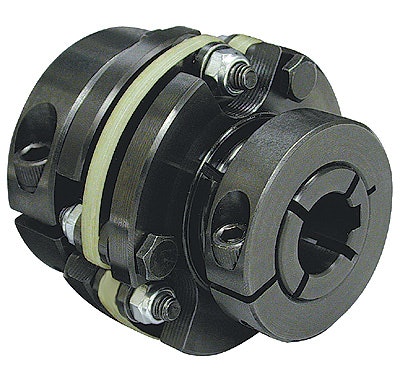 For nearly four years now, Spee-Dee Packaging has been using servo motors rather than mechanical clutch-and-brake systems to drive its high-speed auger fillers. Servo drive systems are simply more functional in today's manufacturing environment, where versatility, speed, accuracy, programmability, and the ability to handle short runs and frequent changeover are increasingly essential.
High filling speeds of up to 120 fills/min combined with repeatable accuracy of filling weights are especially important in Spee-Dee's fillers. Neither can be achieved unless the auger turns smoothly, so the coupling where the servo motor transmits torque to the auger shaft is a critical juncture. Any vibration generated by the servo motor's intermittent motion can throw off the auger's rotation and compromise filling accuracy.
To dampen such vibrations, Spee-Dee specifies that its servo motors incorporate a coupling made by Zero-Max. Unlike comparable couplings, it has a patented composite disc pack between its two hubs rather than a disc stamped from stainless steel. Because this disc pack is a composite of glass fibers and a phenolic resin, it's more flexible than a coupling disc made of steel, according to Zero-Max. So, while the Zero-Max coupling transmits torque from the servo motor to the auger shaft in much the same way that any conventional coupling would, the composite disk pack does a better job of absorbing and dampening vibration, according to Zero-Max.
The specific CD coupling used in most of Spee-Dee's auger systems is the 6A26-AC model. Servo motors are from Bosch Rexroth.
Operating torque for each auger varies depending on the consistency of the ingredients, their volume, and the size of the auger tooling, which ranges from 5" to 5' long. According to Spee-Dee's Timm Johnson, these systems accelerate from 0 to a maximum 1군 rpm with the coupling capable of handling top torque loads of 3껱 in-lbs.
"We tried other couplings when using stepper motors in our systems years ago," says Johnson. "But when tested, they developed vibration problems. With CD couplings from Zero-Max on our servo motors, we get the smooth torque transfer we need." —PR
Companies in this article