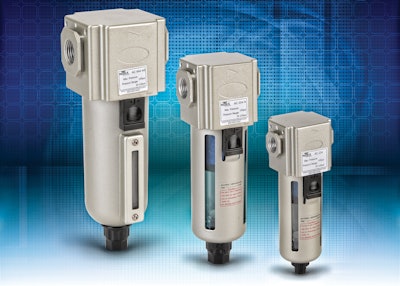 The Nitra pneumatic AC Series of coalescing air filters from AutomationDirect—a distributor of industrial automation products for electrical control systems—is designed to allow finer removal of moisture, vapor, and oil mist from compressed air applications to improve performance for pneumatic systems and components. Nitra coalescing filters are available in a range of port sizes from 1/8" to 1/2" FNPT; replaceable 0.3-micron filter elements are standard, with an optional 0.01-micron filter element available for stricter filtration requirements.
Nitra coalescing filters are also available with manual drains, semi-automatic drains that can be manually operated, or fully automatic drains. The company says that polycarbonate or nylon bowls with metal guards are available on all sizes and all-metal bowls with sight gauge and are available on larger 3xx and 4xx sizes.
The modular filter design is meant to enable easier field assembly for combining with Nitra pneumatic particulate filters and regulators (using optional modular assembly brackets). Mounting brackets are provided for stand-alone applications.
Companies in this article