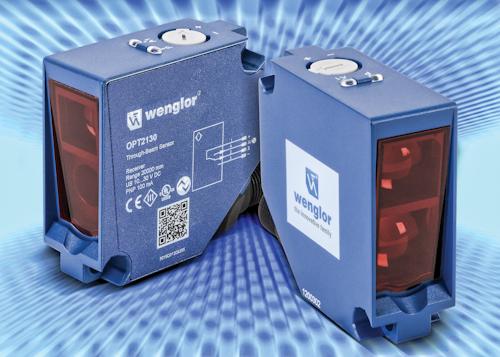 Wenglor rectangular 50 x 50 x 20mm photoelectric sensors from AutomationDirect— a distributor of industrial automation products for electrical control systems, including PLCs, operator interfaces, AC drives, motors, stepper systems, sensors, motor controls, and enclosures—are designed to include diffuse with background suppression, retroreflective, retroreflective for transparent objects, and through-beam models. The size of these Wenglor sensors should make them useful as drop-in replacements for other higher-cost rectangular photoelectric sensor brands. Sensing ranges vary from 1200mm for background suppression sensors to 20m for through-beam models.
With the standard 50mm x 50mm housings, these rectangular photo sensors are meant to provide long range and small spot diameter, simple potentiometer sensitivity adjustment, visible red-light emission for easy targeting set-up, and are made to be compatible with the IO-Link open-standard protocol. Outputs are LO/DO (light-on/dark-on) non-equivalent (antivalent) complementary NO/NC.
Right-angle fixed and swivel mounting brackets are available for flexible mounting options. The swivel mounting brackets are designed to allow 360 degree vertical and horizontal adjustment.
Companies in this article