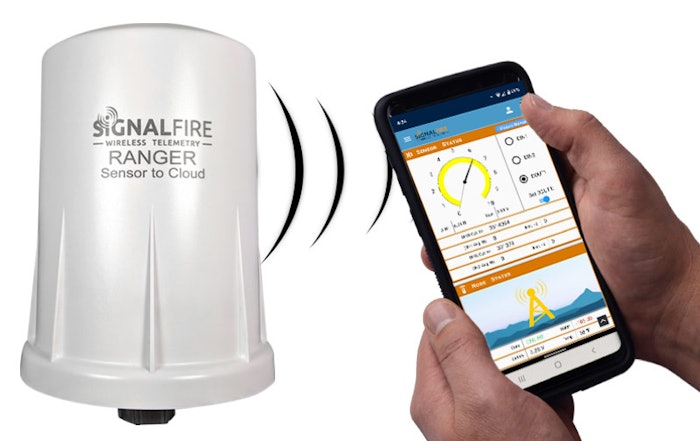 The SignalFire Ranger, from Signalfire Wireless Telemtry—a universal IIoT platform designed for connecting industrial sensors to the cloud using MQTT technology over cellular networks—is fully certified by Verizon to operate on its wireless network. Verizon is a cellular provider in the USA.  This certification is meant to confirm that the Ranger system was tested and validated to provide reliable connectivity to cell towers that support LTE CAT M1 signals. Other cellular carriers are currently in the process of approval certifications.
The battery or solar powered Ranger connects sensors directly to the cloud over CAT M1 cellular networks using MQTT technology. It is equipped with two digital inputs, one analog input, one relay output, and a GPS receiver. All measurements are meant to be directly integrated with the SignalFire Cloud or be more easily and securely redirected to another cloud application.
"The Ranger provides power to the sensor you pick and then sends the measurement directly to the cloud using the embedded MQTT & SparkPlugB communication layer. You then choose the IIoT cloud application best suited for you. Your cloud or SignalFire's cloud; you decide. Then you're up and running in minutes with a simple connect-and-play configuration," says Sandro Esposito, VP Sales & Marketing for SignalFire.
The Ranger comes with a web-enable interface to monitor, trend, and receive alarms either by text or email, says the company. In addition, the SignalFire Cloud platform is designed to provide for remote configuration and troubleshooting of the Ranger transmitter and its attached sensor(s). Operators should also be able to turn on/off the relay output from the Cloud interface to remotely control pumps, motors, valves, and more.
Companies in this article