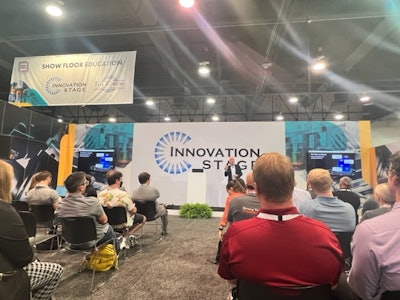 Technology today is generally used to make our lives easier. For example, by predicting our behavior, our iPhones will communicate to us (without our asking) what time to set our alarms, and the best route to take to work. Technology is here, by and large, to help us do common tasks better and more efficiently.
In a PACK EXPO Las Vegas Innovation Stage presentation by Matthew Wright, Founder & CEO of Specright, creators of specification management platforms, attendees learned how artificial intelligence (AI) technology is spilling over into packaging to help operations run smoother.
It's probably true that as consumers we use more technology in our personal lives than at work, especially AI tools like Chat GPT, smart thermostats, and iPhones. But Wright said that manufacturing and packaging industries, in particular, are lacking in new types of technology like AI.
So, how does AI effect our industry? And how will it come about? Using AI in packaging will eventually be a tool for predicting data, finding trends and patterns, and presenting that data in a simple-to-understand way. Ideally, technology tools like AI will help us work faster, and more efficiently. But where AI can really help is through data prediction. To do this, Wright says you first need really good data.
Data today is scattered across spreadsheets, emails, and legacy systems. This data must be standardized to apply AI in the future. Other industry tools, such as GPS, or Google maps, have standardized data so it's easy to point to a place on a map and get directions for how to get there. And its highly reliable. But it's not so in packaging. For the best AI outcomes, the data has to be at our fingertips, and everyone needs to be on the same page. Wright shared best practices and first steps to get started:
Step 1- You need accurate data, and even better, structured data (this is the hard part). The wrong data won't produce great results, so you must understand your data structure and make sure its accurate. A good data set comes from several places and is critical to the operations team, procurement, sustainability, etc. Have the same data that everyone can look at. The hard part is capturing the data and being sure the data is clean.
Step 2- You need to digitize this data and centralize it into one system. Be sure everyone has access to it, and to the right parts. Digitize your product and packaging data and easily collaborate across teams and suppliers to manage changes, create new products faster, and ensure quality across your supply chain.
Step 3- The value of AI is having the data fed to users as actionable data. AI can help users make faster, better data-informed decisions, utilizing analytics and IQ technology available today. For instance, you can run themes through the data and it can then make suggestions for you. The system could then predict trends, make recommendations to operate better, and help you make decisions.
The final takeaway: Get one thing right and then add on. Start with one line and then add onto that. Build on your technology over time. And don't be afraid to get started. But keep your data accurate.
Wright is looking forward to a world where we all collect and share our data for speed and accuracy. "The future is networks where brands and suppliers can seamlessly share data," he said.
This will help us develop new products faster, easily rationalize packaging SKUs, go to bid faster, and automate quality checks. As information data sets continue to build, it's evident that AI is coming.
Companies in this article