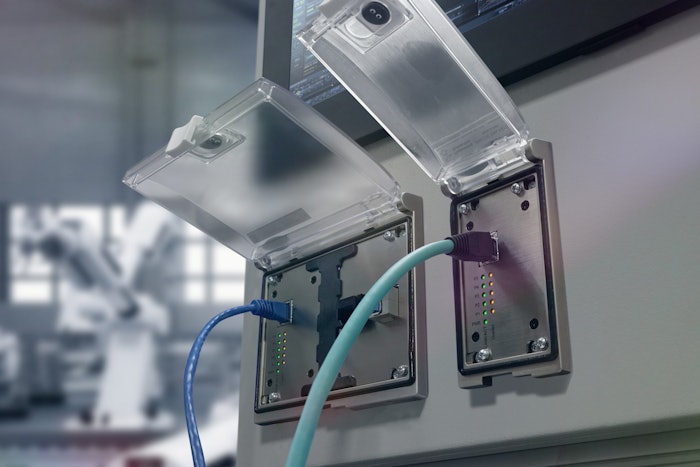 Mencom, a provider of industrial electrical connectors, announces its LP1-E45UM-5 Low profile Panel interface connector, which is designed to free up DIN rail space by moving the unmanaged Ethernet switch to the side of the cabinet. By combining the switch with the company's Low-Profile panel interface housing, the product should allow secure access to multiple Ethernet components within the control cabinet. The LP1-E45UM-5 has one RJ45 port outside the cabinet and 4 RJ45 ports inside the cabinet. 
Mounted inside the LP housings, the Ethernet switches are made to be directly installed on the outside wall of an electrical panel. The external port is designed to provide a means for communicating with devices inside the cabinet without opening the cabinet door, mitigating potential safety hazards. The Low-profile housing is meant to allow users to comply with stringent safety industry regulations and save time and money by diminishing the need for expensive personal protection equipment (PPE) and licensed electrical technicians to access inside the cabinet, says the company. The unmanaged switches can come with other PIC components in three different sizes; one single cover (LP1), two single covers (LP2) and one double cover (LP3).
These switches:
Feature four 10/100Base-T(X) RJ45 connectors with broadcast storm protection,

Are certified for Industrial EMC,

Support redundant power-input for enhanced safety designed to be connected simultaneously to a wide range of DC power sources.
If one of the power inputs fails, the other live source is meant to act as a backup to provide the power needs automatically. The unmanaged switches are made to provide a plug-play environment and to not require any complex configuration. The operational temperature ranges from -10 to 70 °C.
Companies in this article