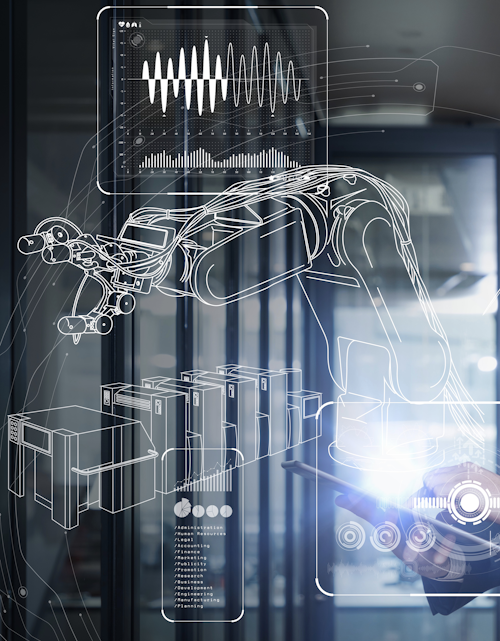 Human Machine Interfaces (HMI) are just as their name states—they serve as a way for humans to interact with machines. Whether the HMI is a single-touch display embedded onto a machine or it exists separately from the machine as a multi-touch panel or a mobile tablet, these panels have evolved to help end users and machine builders adapt to the demands of the packaging and processing industries.
The HMI is the business card of the OEM and the face of the machine. A well-designed HMI provides critical information on a machine's operation and status. And with recent developments around the latest version of the HyperText Markup Language (HTML) called HTML5 and the Industrial Internet of Things (IIoT), HMI panels are breaking free from mechanical and operational constraints to provide end users with more flexibility when it comes to running, monitoring and analyzing their equipment. 
When we last reported on the state of HMI in 2015, we found that the panels were in limbo between standardizing on a traditional design with the Organization for Machine Automation and Control's (OMAC) HMI specification and becoming more modern to resemble the smart phone devices people interact with every day. Now, almost three years later, the trajectory for HMI seems clearer. However, it may be up to the packaging and processing industry as a whole to approach HMI innovations with an open mind to unlock its full potential.
HTML5 unlocks HMI innovations and design
HTML5, a multimedia developer tool used in consumer and business applications, has made its way to HMI screens in the manufacturing sector. The language allows builders or operators to configure user friendly and customized HMI screens. 
"With HTML5, the OEM can customize the HMI display for mobile devices and make it informative, cool and personalized to their machine, and because the screen is hosted on a standard web browser, it's easy to access," says Sharon Billi-Duran, product manager for Rockwell Automation's FactoryTalk ViewPoint HMI software. "This technology also allows builders to link to manuals, drawings, animations and videos to help end users troubleshoot equipment."
The developer tool does not require programmers or OEMs to have any knowledge of how HTML5 works, as it allows HMI applications to be configured rather than programmed or coded. This allows virtually any machine builder to create their own HMI platform and design without any coding experience, Billi-Duran says. 
HTML5 is a game changer on several levels when it comes to HMI, according to John Kowal, director of business development at B&R Industrial Automation.
"Having an HMI with HTML5 capabilities is not a proprietary advantage, rather, it levels the playing field and has the potential to raise all boats," Kowal says. "HTML5 means interoperability and scalability, which is a subtle, but huge change. It's not HTML5 itself, but how you apply it, that will create competitive advantage."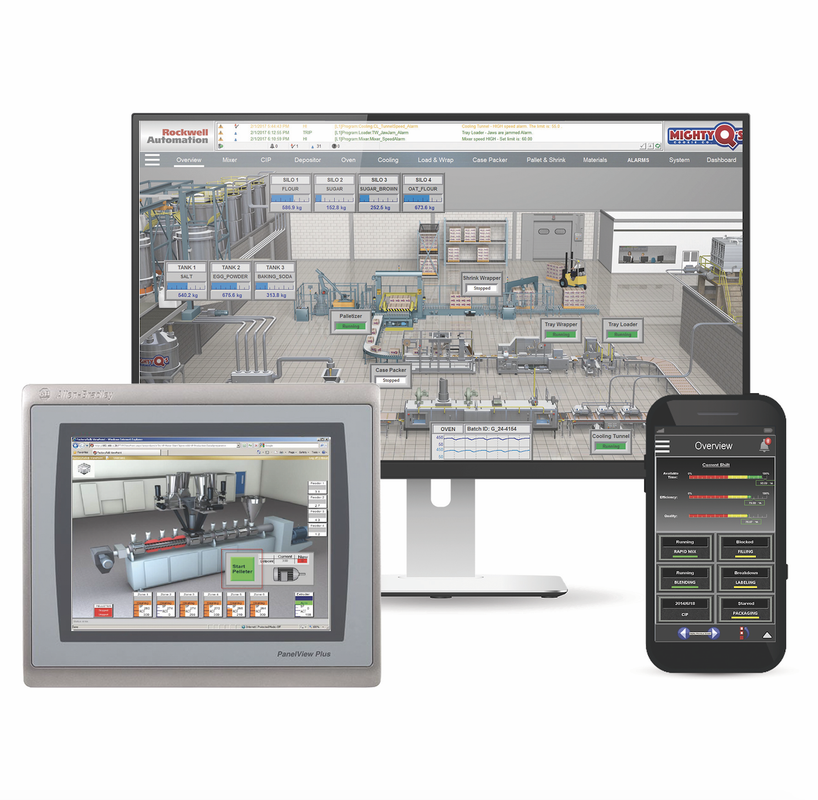 Because HTML5 is operating system independent, it can run on any web-enabled operating environment, like iOS, Android, Windows or Linux, without developing applications for each specific device. This allows end-user customers to monitor and gain access to critical machine information from anywhere on the plant floor rather than relying solely on the machine mounted HMI.   
"If you compare your traditional HMI screen to a smartphone or a tablet, there is too much going on with the HMI, and it's not the way people are used to getting information today," Billi-Duran says. "The mobile device will become a powerful tool."
---
Is there a happy medium between customization and standardization?
With HMI customization on the rise, where does the OMAC HMI specification stand? Bryan Griffen, PMMI's director of industry services, worked with CPGs and OEMs while he was at Nestlé to create a scalable specification that defines the navigation of an HMI. The specification also includes the definition of the Packaging Machine Language (PackML)screens for PackML-enabled equipment. The goal of this standard is to define the buttons and navigation on an HMI so that no matter what machine an operator goes to, they know the function of each button. A specific instance Griffen experienced during his time at Nestlé shows the value in having a standardized HMI navigation.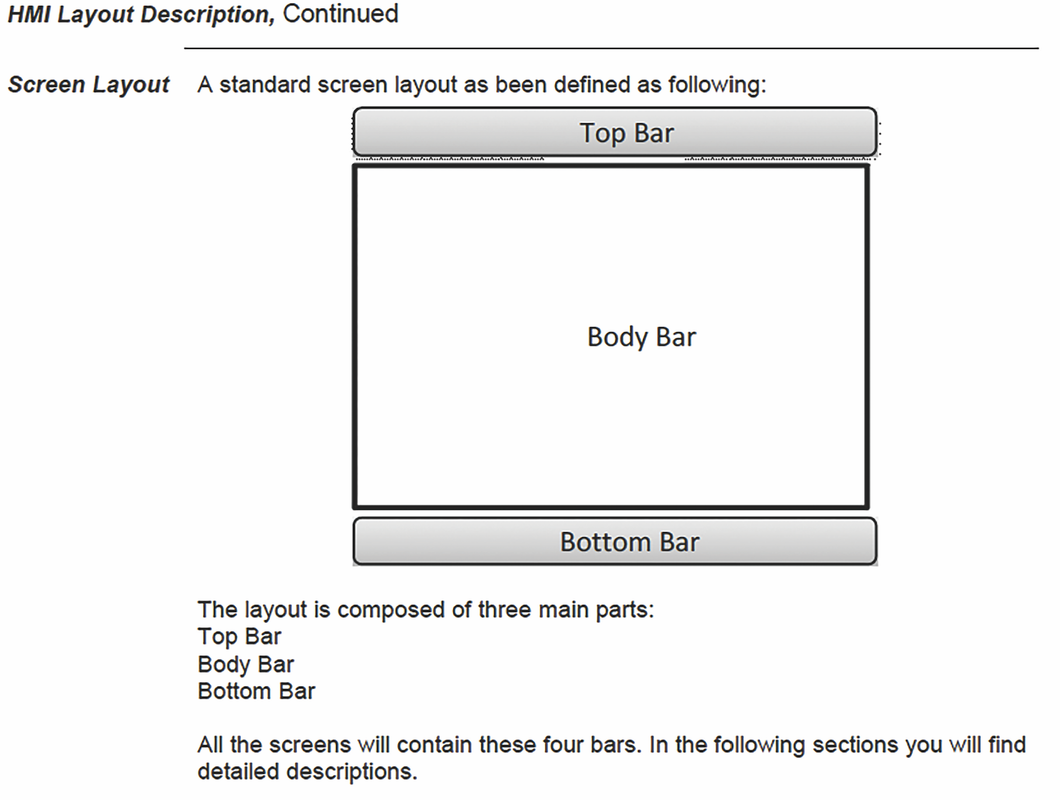 "We would have instances where an operator would be trained on 'line A' and we would have an identical 'line B' right next to that line. When an operator would get sick or go on vacation, we would bring over the operator from 'line B,' which is identical, and our efficiency would tank for the first day," Griffen recalls. "We always scratched our heads at this because the machines are the same. But when you talk to the operator, they would tell us, 'No they are not. I can't find the setup parameters on this machine because they're located in a different place.' They were the same machines from the same company, but they were purchased at different times and the OEM had redesigned the HMI." 
This specification focuses on the standardization of navigation, but it doesn't take away from an OEM's proprietary intellectual property or its ability to customize an HMI's design with new innovations like HTML5, Griffen says. 
"It's not about conforming to a singular looking HMI," Griffen says. "It's about setting a framework for navigating an HMI, which will help operators and boost productivity for end users. Once that navigation framework is in place, the specific information that goes on each HMI screen is up to the OEM."
This summer in Germany, OMAC will have a meeting with CPGs and OEMs to discuss and collaborate on new HMI navigation templates. The companies attending will bring HMI templates they have used in the past, and work with OMAC to combine best practices from each template to create a framework for a PackML-enabled machine.
OEM magazine will report on the findings and progress made by OMAC in defining an HMI navigation standard. 
---
Mobility meets the HMI 
The Internet has changed the way machine builders can approach machine control and communication architectures. Manufacturers are beginning to apply multi-touch screen technology—such as smartphones and tablets—to improve usability and mobility for end-user operators. According to B&R, these contemporary technologies are already robust enough for the plant floor. 
This proved to be the case when a large, Colorado-based end-user wanted to eliminate the time it took for its operators to troubleshoot a 95-ft. custom line when there was a jam or e-stop situation. The line, which pushes rigid boxes into sleeves, had a central HMI, but getting to that center panel, often wasted precious time.
The CPG tapped ADCO Manufacturing, Sanger, Calif., and Concept Systems, a Denver-based system integrator, to automate its manual packaging line to increase unit throughput from 1,500 units per hour to 4,200 units per hour without increasing the number of operators on the line. And when the end user encountered the troubleshooting obstacle with the stationary HMI, the OEM team came up with a way to integrate iPads to reduce downtime and operator travel time. 
"Now, each operator on the line carries an iPad to see where jams happen, and they know exactly where to go and how to address it without having to travel to the main HMI," says the end user, who requested anonymity. "They can also start and stop or restart from the mobile HMI. This new setup has cut our downtime in half because of that travel time being eliminated for the operators."
Open communication and IoT 
When machine builders approach Siemens looking for a new HMI platform, the overwhelming request that Ramey Miller hears is around connectivity and third party communication.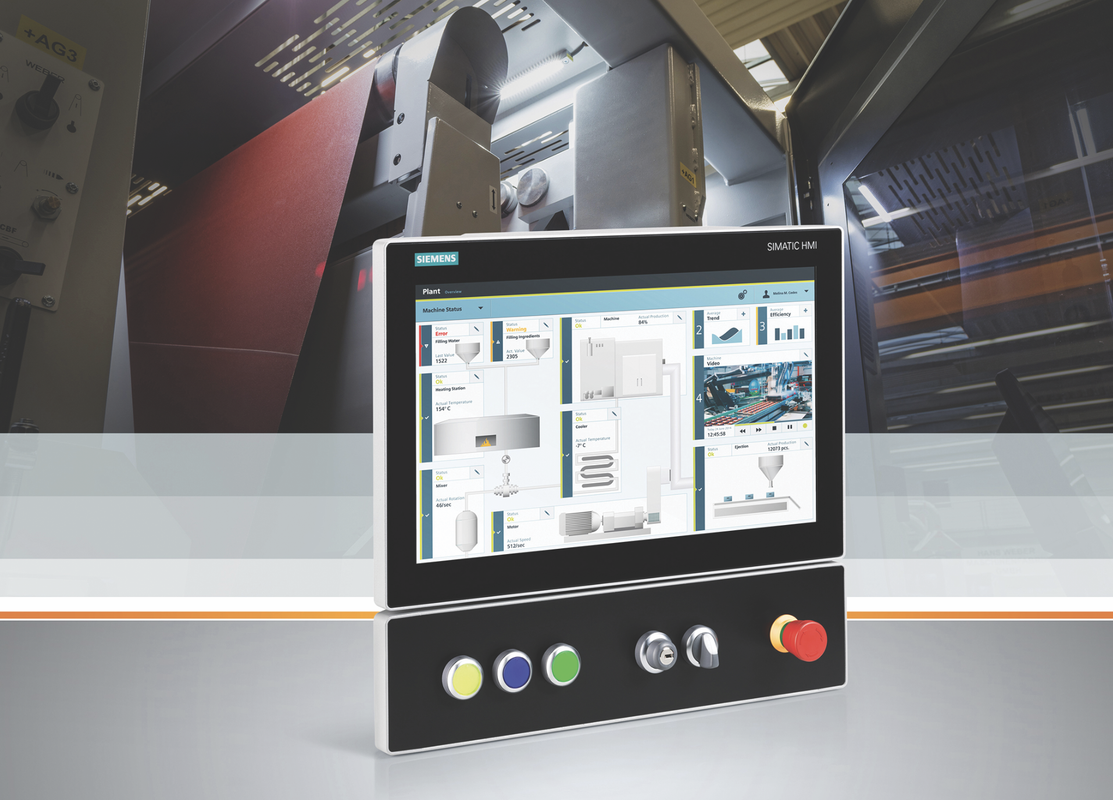 "Being able to freely communicate to multiple devices is a demand from OEMs that I see a lot of now," says Miller, Siemens' HMI product manager in the U.S. "That is why we continue to make that third party connectivity a driving aspect of our panels. We want to make sure we can communicate within the plant floor, and eventually, out to the cloud."
When addressing IoT trends, requirements for the HMI have more to do with connectivity, interoperability, scalability and integration with smart systems than the HMI panel itself, according to Oscar Rojas, CEO of Weintek USA.

"As IoT infiltrates the plant floor, the HMI plays the critical role of a gateway between the machine and all of the devices it needs to communicate to," Rojas says. "An HMI naturally needs to show machine metrics on the touch screen, which means it already knows everything about the machine and it knows how to talk to it. It is an ideal IIoT gateway to help convert data and batch process information to the cloud."
In this case, HMIs need to be equipped with more data conversion features or IIoT connection abilities such as Message Queing Telemetry Transport (MQTT), OPC Unified Architecture or database connectivity to help collect data quickly and easily, according to Rojas.
However, Kowal from B&R suggests that end users may not be as ready for these capabilities as OEMs are due to IT security and network issues.
"The new HMI has the opportunity to present and act upon lots of valuable information that generally isn't available today on the packaging floor," Kowal says. "And I believe it won't be available until end users advocate for it and include it in their specs."

However, HTML5 may aid in making remote monitoring situations less worrisome by providing a new way to access and report data. With web-based technologies like HTML5, OEMs can use the same development environment to build the HMI on the machine, export the machine's data up into the cloud and then visualize the machine data. 
"We recommend securely transferring the machine data from the end user to a central location on the  web, or through a broker in the cloud to a secure end storage location, and then remotely accessing the HMI via the cloud. That way, the OEM isn't having to tunnel all the way through the end user's network back to the actual device," says Daymon Thompson, the automation product manager in North America for Beckhoff Automation. "HTML5 makes it easier to access the data from the cloud side. And the OEM doesn't have to learn an entire web development platform just because they want to see this data."
While IIoT-ready devices that allow OEMs to monitor and troubleshoot equipment on the plant floor may experience slower end user adoption, Siemens' Miller advises OEMs to continue to prepare for Industry 4.0 capabilities as remote access, monitoring and data collection are driving trends the market will be looking for soon.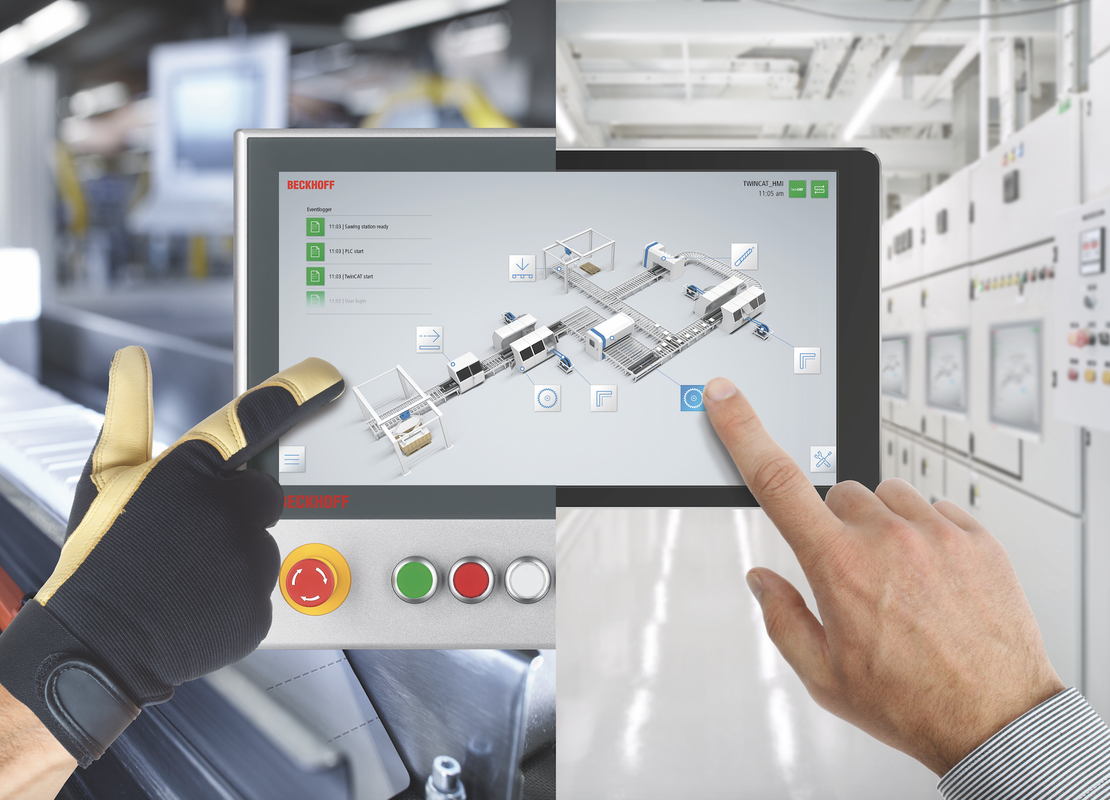 Help end users bridge the skills gap with HMI
HMI platforms that host a suite of IoT connectivity capabilities also stand to mitigate another issue that's top of mind for many end users and OEMs alike: finding skilled machine operators and technicians in a dwindling talent pool. End users are looking to OEMs to help address the skills gap, starting with the part of the machine operators come into contact with the most— the HMI. 
"Having smart devices that can report their status and what's been happening over time is a huge trend that is hitting industry," says Rockwell Automation's Billi-Duran. The ability to collect, present and report analytics is not traditionally part of the HMI, but when coupled with smart devices and the HTML5 environment, HMI's will automatically have the ability to do these diagnostics, she says. "And the capability for predictive analytics plays really well into the skills gap because the smart system notifies the operator of what the problem is, where the problem is and how they can fix it."
Another way an HMI can help mitigate the skills gap, which is projected to become even more dire with aging demographics in the coming years, is by having training videos, manuals and simulations embedded within the HMI platform. Embedding these resources allows operators from all backgrounds to troubleshoot, maintain and operate the equipment. (Read what Rich Products wants from its HMI on page 71)
"We have had requests from OEM customers that want to include simulations on their HMI, or a troubleshooting video if an alarm comes up, that they can offer their customers," Billi-Duran says. "And with the HTML5 technology on an HMI, OEMs can provide their customers with a new world of content to help them because these videos and manuals are nothing more than a hyperlink, and the web browser that HTML5 uses knows how to play it." 
In addition, as reported in a 2017 article about machine design, OEM magazine found that both OEMs and end users use "good-looking" machines to attract younger generations to work for them. Therefore, an HMI with a sleek and familiar interface may also help manufacturers recruit and retain the incoming workforce.
"The generation now entering the industry is used to the Android and Apple look and feel of devices," Beckhoff's Thompson says. "The traditional HMI design uses standard, generic and old school interfaces. But the web's extensibility with HTML5 really opens up new possibilities for what an HMI could look and act like." 
Now is the time to differentiate
What new innovations could improve your HMI platforms? That all depends on the application. But HMI and automation suppliers all agree on one thing: these technology trends are driving the HMI arena, and may end up on your customer's next list of equipment spec requirements very soon.