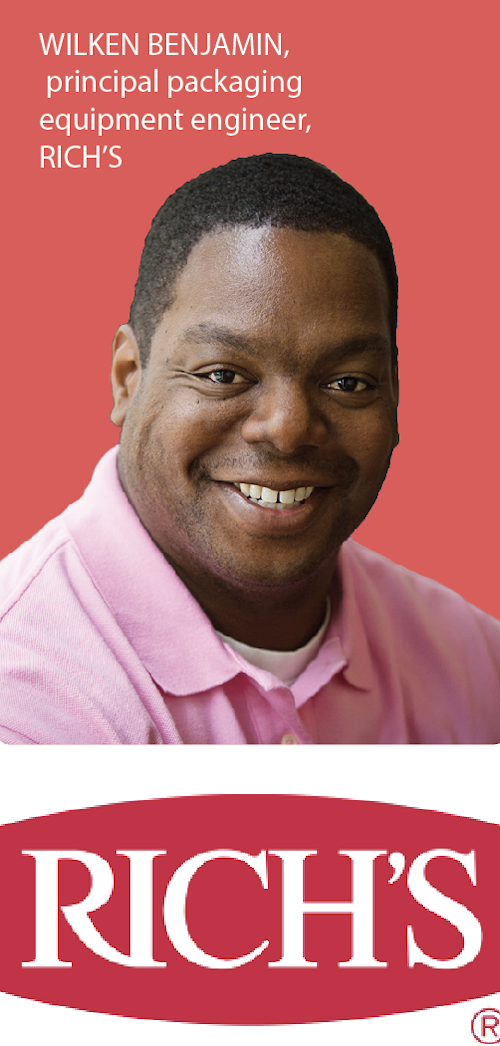 Rich Products Corp., has a diversified portfolio of products, manufacturing everything from non-dairy whipped topping to bakery treats, pizza, shrimp, BBQ and French toast sticks. But when it comes to its manufacturing facilities, the food manufacturer, headquartered in Buffalo, N.Y., is trying to create uniformity across its factory lines. The goal is to standardize on equipment from site-to-site as much as possible in order to keep operations succinct, as well as streamline the supply chain of machinery.
For Wilken Benjamin, principal packaging equipment engineer at Rich's, that means sorting out the best equipment for an application and then rolling it out across a variety of manufacturing facilities. Currently, the company is moving toward the "smart factory" model, and, as a result, Benjamin is exploring new types of automation, including automated guided vehicles (AGVs) and automated storage and retrieval systems (AS/RS). 
He is also working with existing OEMs to incorporate more diagnostics into their machines. 
"The capability that is important to us as we move toward the factory of the future is predictive maintenance," Benjamin says. "Like a car that tells you it needs maintenance at 10,000 miles, I want the machine to tell me it's run so many hours and it needs something."
He also understands, however, that the addition of diagnostics means that the machine builder will want remote access into Rich's facilities, requiring more security technology. Diagnostics will also need more sophisticated interfaces. And, on top of that, Benjamin is looking for better training and comprehensive performance agreements from his OEM partners.
"A lot of times an OEM builds the machine, but they don't actually run it," Benjamin notes, explaining that he's had a service technician come into his facility to fix something, only to realize that the way the machine was built doesn't match up to how the operators run the machine. "It was almost enlightening for him. We made several modifications to the equipment because he was able to sit there and see it in action."
To that end, Benjamin suggests that OEMs and manufacturers collaborate on machine documentation for training purposes. He is also asking OEMs to integrate training materials—videos specifically—into the equipment's HMI. In the past, OEMs have provided Rich's operators with iPads that include training videos, but those mobile devices get lost. "Why not just walk up to the machine and have the HMI provide the video," he says. "It's important to have a robust program when it comes to training, and that means having materials that are relevant and help drive success."
Smart choices for the smart factory
Beyond the HMI, Benjamin is looking to drive success for its overall smart factory strategy. The addition of smart devices, as in the Industrial Internet of Things (IIoT), is an important aspect of the factory of the future, as IIoT can feed into the predictive diagnostics. But it's a balancing act between what the operations team needs and what the IT department allows from a site security standpoint. 
To that end, Benjamin wants two things from his OEM partners: honest solutions and success stories.
Specifically, OEMs must be honest about the capabilities of the equipment, and more importantly, understand how new functionality will affect the organization as a whole. "It took me three and half months to install one predictive maintenance system because an OEM sold the idea to someone in the organization, saying they have the capability, but they didn't understand the impact from a security standpoint," Benjamin recalls. 
If an OEM has an understanding of the big picture based on prior experience with other customers, they should share that information upfront. Be proactive and transparent, Benjamin says, by providing whitepapers and case studies that explain how other manufacturers have used the machine's new tools. 
As part of that, OEMs should also be upfront about potential problem areas, like security, and provide a summary of how it was solved for someone else. That does not mean sharing proprietary information, but offering a general overview that demonstrates a knowledge and understanding of what needs to be done. "We are not asking you to give the farm away, but to plant good seeds," Benjamin says. "That's something OEMs are not doing today."
Talk to me
The key to success in any OEM partnership is communication. And it starts with the request for proposal (RFP). "It's what you do upfront that drives success," Benjamin says. That means, be very specific about what the machine builders can—and will—deliver. "We have performance agreements where every KPI is addressed. This outlines the parameters that we need them to execute on and the efficiency rate of how it will be accomplished." 
In this scenario, OEMs will deliver on what is promised because it is directly tied to the contract and to money. "If you don't do that upfront, a lot of times you are sitting in a situation where you realize they can't do what they said they could do."
Manufacturers will pay a premium for reliable machines and good service, Benjamin admits, but, manufacturers don't like to feel that they are paying more for certain functionality. Instead, build the cost of the agreed upon features into the base product, not as an option. "Part of the problem is that OEMs offer option after option after option," he says. If there is agreed upon functionality, like uploading a training video into the HMI, "then just offer it as part of the standard machine and it becomes part of the cost."  
In the end, the machine builders that Benjamin does business with as he standardizes equipment across facilities will be strategic partners and part of the foundation for Rich's factory of the future. So, honest upfront communication is crucial.
Watch this presentation on RFP best practices from the OpX Leadership Network: oemgo.to/opxvideo