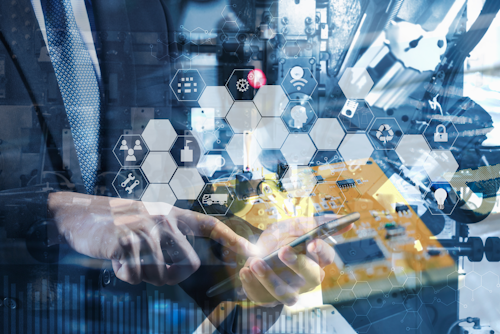 Contributed by John Younes, Co-Founder and COO, Litmus Automation
The Industrial Internet of Things (IIoT) represents an undeniable business opportunity to OEMs developing industrial equipment and packaging machinery. Just about every industry is digitizing, and manufacturing is no different.  While customers purchase equipment to perform a specific task, connecting the asset can help them make more money and improve efficiencies for the asset's limited lifecycle.  Forward-thinking customers are going even further, enabling machine learning and artificial intelligence, which gives their machines human-like behaviors and the ability to optimize cycle times and material use very quickly.
According to market research firm Statista, global spending on IoT in industrial manufacturing, automotive, infrastructure, electronics, energy, life sciences and retail sectors, is predicted to increase from $472 billion in 2014 to $890 billion by 2020. OEMs, including equipment makers and component manufacturers, can capture more of this market by integrating IoT technologies that will help customers automate data capture from any number of connected machines or edge devices, aggregate that data to the cloud and apply analytics to identify trends and make business decisions.
Advanced IoT offerings give manufacturers the ability to remotely monitor equipment, predict operating failures, and preempt issues through preventative maintenance to increase customer uptime. In the end, customers have more data, better data and better business intelligence—all with the potential to deliver higher margins for bottom-line profitability.  
However, implementing IIoT technology effectively has not been easy for OEMs who are dealing with both new and existing infrastructure, both of which must be data-ready and connected. While most OEMs have focused their engineering efforts toward understanding their core market and delivering value, typically, developing a reliable and secure IoT platform with end-to-end connectivity between devices and the cloud is beyond their expertise. Some OEMs are investing in building IoT expertise in-house, but they risk delays in their go-to-market strategy that would place them behind more agile competitors.
Luckily, OEMs can take advantage of an existing ecosystem of technology companies with products that include wireless sensors, gateways, cloud platforms, and a full range of data collection and analytics applications. These types of IIoT solutions are not just concepts anymore—they are real, working solutions, and enable industrial OEMs to introduce IIoT capabilities into their existing product lines quickly and with minimal development investment.
Meeting the integration challenge
With so many options, the challenge for OEMs is to integrate best-in-class solutions quickly and reliably. For example, there are a myriad of PLCs, controllers and sensors available to control machines and track variables like temperature, pressure or strain. But IIoT systems need to be able to connect to a variety of edge devices with proprietary protocols and data formats. They also need to be able to secure communications to these devices, even for legacy equipment never designed to connect to the Internet. Last but not least, a reliable management system must be in place that can scale to potentially hundreds of thousands of devices throughout the world, depending upon the application.
OEMs can reduce this complexity by leveraging edge and cloud computing IIoT platforms to manage and connect any type of device or machine to the Internet and integrate the data collected in real-time with any enterprise system or application that can utilize the data. There are a number of IIoT platforms out there today. In January, research firm MachNation released its 2018 IoT Application Enablement Platform (AEP) ScoreCard, an in-depth rating of 21 Internet of Things platform vendors.
According to MachNation forecast data, IoT platform revenue will have grown 89 percent in 2018 to reach $3.3 billion.  Rather than building their own platforms, MachNation finds that enterprises are choosing to purchased cloud-based offerings from best-in-class IoT AEP vendors, such as Microsoft IoT, Amazon AWS, IBM's Watson IoT, and others. Companies are realizing the value of adopting a flexible platform that enables their IoT project to scale and incorporate new types of data over time.
IIoT platforms also provide built-in security and interoperability with varied legacy devices and protocols. These platforms plus middleware fill the gap between old and modern equipment and facilitate communication between physical devices and end-user software applications such as predictive analytics. 
Legacy systems, security and management
Connecting to the wide variety of legacy and IoT-based devices requires a device-agnostic/network-agnostic edge computing platform that can accommodate the different protocols and PLCs used today and in the future. Therefore, OEMs should choose an edge computing platform with an extensive portfolio of drivers that enables out-of-the-box connectivity to a wide range of industrial systems. 
Flexibility is essential. Traditionally, industrial automation has been developed with proprietary and application-specific implementations. With the right edge computing platform, devices can be connected across all controllers and machines, allowing OEMs to utilize nearly any sensor and protocol and take a global approach to IIoT. The platform should be flexible enough to connect to both new and legacy devices so that every industrial system can be connected to the cloud.
In addition, because most industrial machines were not designed to connect to the Internet, they do not have the proper security in place to protect data from being stolen or equipment from being hacked. Many systems are also not able to talk to the cloud or support bidirectional communications. But cloud computing platforms for IoT allows data to be secured using standardized, enterprise-class security protocols and mechanisms, including managing SSL certificates and keys for all connected devices. OEMs can authenticate devices and encrypt data transport end to end, from devices/assets all the way out to the cloud. They can also ensure that devices are kept up to date with the latest security enhancements. 
With the wide variety of sensors, devices, and systems that make up an IoT-based environment, there are serious complexities associated with capturing data and implementing intelligence at the edge. For example, temperature sensors from different vendors may have their own proprietary data structure and format. Edge computing platforms for IoT can automatically ingest and convert data coming from these various devices and sensors into a single usable data format to facilitate analytics. 
By adding a cloud platform, OEMs can quickly install, update, and manage applications across a large number of nodes and geographies. Administrators have full control over how data is collected and stored and they can optimize and manage complex analytics, anomaly detection and machine learning across all their edge devices. Some platforms are even flexible enough to support the use of custom data structures, including metadata, to enable OEMs to utilize their own specialized data structures. 
The cloud platforms also simplify management at scale by providing a central portal through which an administrator can access all deployed systems across many customers and users. From this single pane, an administrator can monitor the status of equipment, provision systems, push updates and even alert customers to potential issues. 
Use case: predictive maintenance and monitoring
So how could this work? Say, for example, a packaging manufacturer wants to develop new after-sale revenue streams for equipment with a life span of more than 40 years. Using a gateway running an edge computing platform, data could be collected from all its various PLCs across different product lines, even those with legacy interfaces. The gateway then securely sends this data to the cloud where all devices are managed and data is normalized, stored and analyzed over time.
With this infrastructure in place, an OEM could offer value-added services like predictive maintenance and advanced monitoring. This can be achieved by setting data triggers at levels that were analyzed to indicate when the machine is likely to fail. When a threshold is met, a lead is automatically generated in the company's CRM system for its customer service team to notify the end user that the machine needs service. 
The service could be sold at a premium to customers, even for equipment that had been deployed decades ago. In addition, the data collected enables the OEM to improve overall machine reliability and decrease failure costs while at the same time increasing brand awareness and customer loyalty.
With these types of industrial IoT solutions, industrial OEMs can bring better products to market faster while maximizing the efficiency and operating lifetime of deployed equipment. The world's industrial plants and machines are going digital—there is no escaping it. The question is, how smart and how fast can IIoT solutions be implemented on both aging and new infrastructure? In order to take advantage of the digital transformation payday, OEMs must embrace the latest technology and incorporate a proven, easy-to-use edge-to-cloud platform.