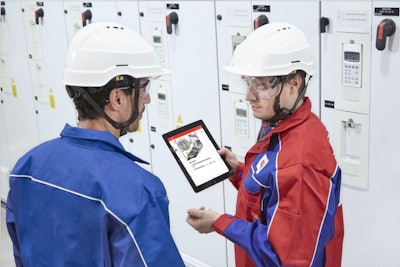 ABB
Over the last year, as manufacturers move toward more automation and digitalization, it's becoming very clear that paper is part of the past, especially when it comes to work instructions.
The ability to deliver knowledge to an evolving—and sometimes revolving—workforce who face constant pressure to keep pace with new technologies and procedures, is of the utmost importance in today's manufacturing environment.
That's why when ABB, a global automation technology supplier to manufacturing, utilities, transportation, and infrastructure industries, was looking for a way to improve customers' experience with its products, the company started by looking at the way it distributes actionable knowledge about its products. In particular, training and work instructions for end users and ABB engineers.
In its variable speed drives (VSD) business, for example, maintaining peak operational performance for all ABB VSDs is a top priority across its global market. ABB employs field service engineers (FSE) in over 50 countries that install, commission, and maintain the VSDs. As the front line in providing customer support and maintaining the effectiveness of ABB VSDs worldwide, these engineers depend on having correct, up-to-date information at the moment of need. If work instructions are difficult to use, out of date, or inaccessible, it can cause unnecessary and expensive downtime for customers.
As a result, ABB turned to SwipeGuide, a workforce excellence platform with a focus on digital work instructions, to bring standards of efficiency to the way they capture and distribute knowledge to engineers who use smartphones and tablets in the field. Based on a software as a service (SaaS) platform for easy collaboration, SwipeGuide uses an intuitive drag-and-drop editor to create and publish instructions in minutes. This allows users to deliver standard operating procedures across a value chain with one click, as well as integrate with custom application programming interfaces (APIs).
"Our tool delivers clear and immediate benefits to both the operators at the lines and the companies that depend on them," said Willemijn Schneyder, CEO and co-founder of SwipeGuide. "Simply put, we're passionate about making food and beverage manufacturing more sustainable through digital knowledge sharing and continuous improvement."
Bidirectional continuous improvement
The ABB Drives support team uses SwipeGuide's user-friendly interface to easily create instructions for their engineers. The platform, which automatically updates, and is available on any mobile device, gives ABB engineers in the field access to information at their fingertips. For example, as part of the Industrial Internet of Things (IIoT), ABB's intelligent, cloud-connected VSDs collect vast amounts of data. This data provides ABB with essential information about the causes of faults in their equipment. Specifically, VSDs can record data on each specific fault message, including name, code, time, and the date it occurred. With this information, engineers can use the SwipeGuide platform to access the specific and most relevant fix.
In addition, engineers can provide real-time feedback through the app to improve instructions, which can be updated and revised regularly on the SwipeGuide platform. This is very helpful to ABB customers—be it manufacturers or machine builders—who have a self-service option available to them, as well.
The SwipeGuide instruction platform gives ABB's customers step-by-step installation and commissioning guides in a user-friendly app available on any device. With these instructions, customers are able to correctly install, troubleshoot, and maintain their VSDs.
The ability to deliver digital work instructions directly to a smartphone, as well as enable user feedback, creates a dynamic flow of up-to-date information that not only eases the job of the engineers and operators responsible for the operational efficiency of ABB VSDs, but it increases overall productivity and continuous improvement.
The bottom line: everyone has the right instructions and training at their fingertips, instantly. And that is why ABB is expanding the scope of the project.
After a successful proof-of-value pilot project, the initial roll-out of instructions for ABB variable speed drives took place in April 2019. ABB took SwipeGuide global in the summer of 2019 for both internal work instructions and end user installation guides, in up to 100 countries around the world.
Currently, production of SwipeGuide digital work instructions lies with ABB's support teams and product experts. However, there is a plan in place to create a truly flexible instruction community—a collaborative network of marketing, technical, and customer support professionals who provide unique insights into optimizing the instruction experience.
As the collaboration develops, ABB will incorporate the SwipeGuide platform beyond its VSDs, expanding it to a wide range of ABB products and services in a variety of languages including English, French, German, Spanish, Chinese, and Russian.
Companies in this article