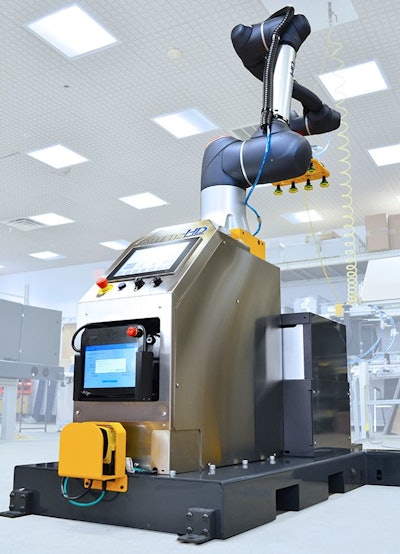 Photo credit: ONExia
A recent addition to the PMMI family, ONExia Inc., based in Exton, Pennsylvania, has over 35 years of experience as an industrial distributor, custom machine integrator, and original equipment manufacturer. OEM magazine recently sat down with ONExia's marketing manager, Tim Pelesky, to help introduce the company to fellow members and the industry at large.
Can you provide a brief history of the company?
Founded in 1984 by Greg Selke as Multitech, the organization evolved through various iterations before becoming ONExia Inc. in 2001. Initially an industrial distributor, ONExia began doing essential integration work that scaled into custom machines and turnkey robotic cells over the past 20-plus years of business. As collaborative robots (cobots) continue to gain a share of the market, ONExia continues to develop turnkey palletizing and packaging systems that enable manufacturers to automate operations that historically could not be done by industrial robots.
Why did ONExia decide to join PMMI?
Being from the Philadelphia area, we regularly participate in PACK EXPO East, showing our integration work with collaborative robots and end-of-line (EoL) solutions. As the market demands for our solutions increased, we expanded our work to include more solutions geared to packaging, like our PalletizHD collaborative palletizer. At that point, we realized the services provided by PMMI, including the additional shows and advertising options, were a perfect fit for our organization. Particularly as our business expands our presence within the end of line packaging automation marketplace.
Has ONExia participated in any other PMMI programs since becoming a member?
We've increased our show presence, adding PACK EXPO International to our 2022 participation in addition to PACK EXPO East. We are also part of Packaging World's Leaders in Packaging program and have participated in a handful of PMMI conferences in the year we've been members.
As a robotics integrator, what sets your company apart in the industry?
We have extensive experience designing and building custom automated machines for various industries, and our experiences with robots have led us to create a very successful line of EoL products. Specific to end of line automation, ONExia Robotics, introduced in 2021, is a division of our integration team focused on implementing collaborative robots into packaging lines. Our collaborative systems are an alternative to standard packaging machinery, featuring custom software and a minimal footprint. With palletizing, case packing, and case erecting solutions, new and existing production lines can easily add our turnkey systems.
You mentioned PalletizHD is designed specifically for packaging. Can you provide more details on the palletizer?
Built on a durable and portable welded frame, the "HD" easily automates palletizing applications typically done by human labor. A high payload cobot featuring a 38-pound payload, the "HD" can handle heavy cases that are difficult for humans to stack consistently. It can stack pallets up to 90 inches in height by utilizing the built-in collaborative lifter. In addition, by using the high payload to pick multiple cases with one arm, the PalletizHD can increase cycle time without exceeding collaborative speed.
How does ONExia balance standardized machine configurations with those requiring customization?
Because of our history, we are flexible by nature and have very good systems in place to nimbly handle modifications and customization based on customer needs.
Once a customer issues a purchase order, what happens next? What can they expect?
We work closely with the customer before developing a specification and/or RFQ. A kick-off meeting, held in-person or virtually, includes a review of the proposal, a site inspection of the machine's final location to determine special limitations, a schedule, initial criteria, technical reviews, and prototyping. From there, ONExia's project team of engineers begins the design of the machine.
What's ONExia's process for factory acceptance tests (FAT)?
We work with the customer at the beginning of a project to create factory acceptance criteria, and that document drives the design before use at the FAT. Before shipment, we complete a vigorous round of testing to ensure the robotic cell works upon delivery. Following shipment of the completed machine, ONExia provides on-site assembly and start-up or virtual start-up (if possible), training for employees, and complete documentation and manuals.
Company Background
Established: 1984
Headquarters / manufacturing location(s): Exton, PA
Executive team: Greg Selke, CEO; Andrew Cook, COO; John Walker, Sales Manager; Vince Kane, Engineering Manager
Number of employees: 35+
Facility square footage: 23,000 sq. ft.
Range of products: End of line solutions including robotic case formers, robotic case packers, and collaborative robot palletizers
Annual revenues: $10 to 20 million
Geographic sales and support areas: USA and Canada
Companies in this article