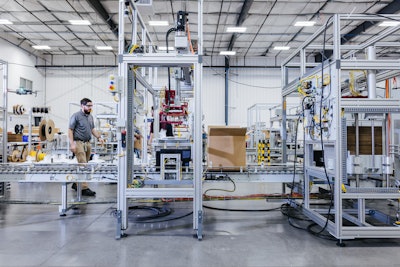 Beckhoff
The high-growth intralogistics and packaging markets have developed an interesting overlap that experts in both industries have recognized for years. Once goods have been retrieved and picked to fulfill an order, orders are sorted and conveyed to the last 100 feet of the warehouse where packaging, weighing and labeling occurs before shipping—one of the critical final steps. Serving end users that operate in this crossover area takes knowledgeable equipment suppliers that are experts in both realms. One such supplier is United Sortation Solutions (USS), which became a subsidiary of Honeywell Intelligrated in 2016.
"Prior to the acquisition, USS was a preferred supplier to Honeywell Intelligrated's Warehouse Automation Group, because we're very agile and not afraid to design something completely new," explains Eamon Kelly, an advanced mechanical design Engineer at USS. "Whenever Honeywell Intelligrated ran into a situation in a distribution center where they needed highly specialized equipment to be delivered very cost-effectively, they would come to USS to collaborate."
Now, as part of Honeywell's Safety and Productivity Solutions (SPS) business, USS maintains its role as a solution center for internal and external customers by providing specialized designs for tough or unusual material handling applications challenges. While USS typically works in tote handling applications, often providing these solutions to the largest retailers in the world, the team there considers custom solutions as the core competency. Packaging equipment is just one of a variety of different types of custom solutions they can offer.
"Where many other suppliers have a set catalog and can only deliver the items listed, we are truly a bespoke engineering house," says Evan Bassett, an advanced software engineer at USS. "That said, we also have a deep catalog of custom-designed equipment, so we sometimes adapt previous designs or create entirely new concepts to meet each customer's unique requirements."
Material handling and packaging expertise combined
A large manufacturer in the medical industry approached Honeywell Intelligrated in 2021 to automate its entire distribution center. The facility's end of line required a highly customized machine to handle complex packaging requirements unique to their application. The customer needed extremely precise product and package handling that assured zero damage after its medical products left the manufacturing area. This part of the project went to USS for a custom machine design.
The application presented USS with a number of engineering challenges. The products are placed in trays, which are then stacked and inserted into plastic bags in a clean room. It's critical that the bagged trays don't overlap beyond a set point, which would likely lead to product damage. The customer previously used a six-axis robot cell to complete the process of inserting bagged trays into boxes, but the cell's speed was too slow to keep up with their high rate of production upstream.
USS rapidly designed and built a custom solution for the application in approximately nine months. The resulting machine is now known as USS's next generation Case Loading and Packing System (CLAPS).
The new CLAPS replaces many functions previously handled by a robot. The machine receives erected and labeled boxes from upstream conveyance equipment as previously packed and tied bags of barcoded product await. CLAPS moves the boxes into position and places cardboard liners at the bottom. The machine then moves the boxes to the next position where bags of product are lifted and placed into the box via a patented gripping mechanism. Then another cardboard liner is inserted on top of the bagged products. While this is happening, barcode scanners simultaneously read box and product barcodes to record which products are packed in each box. After these processes are complete, the filled boxes are sent downstream for taping, final handling, and fulfillment in the warehouse execution system (WES).
Standard automation for custom machines
For years, USS has standardized on a wide range of automation technologies from Beckhoff for high-speed sortation equipment and tote handling equipment, especially the scalable CX series embedded PCs for machine control. This includes the high-powered CX2040 with quad-core Intel Core i7 processor, the mid-range CX5130 with dual-core Intel Atom processor and ultra-compact CX8190 Embedded PCs. The CX8190 is a microcontroller that can also act as an EtherCAT I/O (or E-bus) gateway to other PLCs over various Ethernet protocols, offering an easy solution with the benefits of EtherCAT on other PLC platforms.
EtherCAT is the common denominator for all USS machines. In the case of the custom CLAPS machine, a CX8190 Embedded PC communicates to all EtherCAT devices and uses EtherNet/IP to communicate with traditional PLC hardware for other functionality. EtherCAT I/O in IP20 and IP67 protection is distributed along the entire machine with I/O mounted inside and outside of electrical cabinets. "In our standard machine designs, we try to minimize the amount of wiring that gets home run back to I/O in the main panel," Bassett says. "On a custom system like this, nearly all of the I/O is mounted directly on the machine to connect with sensors and other field devices. EtherCAT Box I/O lets us connect both input and output channels to a single module."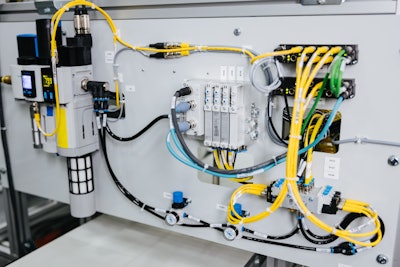 Doug Schuchart, global material handling & intralogistics manager at Beckhoff, adds: "Distributed I/O significantly reduces installation time while adding improved equipment uptime with extended diagnostics and simplified maintenance. It also makes the equipment much more flexible for later expansion. Since EtherCAT is not a switch-based protocol, customers like USS can freely design equipment with distributed I/O and not worry about network constraints, such as performance limitations, switch delays, limits on number of devices on the network, limits of the number of connections in the PLC or even in topology branching. This makes EtherCAT uniquely beneficial for intralogistics equipment."
Previously, scanning and configuring the I/O system with thousands of points was a manual process that could take several days. "That was in addition to several more days of commissioning to check every individual I/O point to make sure that they were all mapped correctly," Bassett says. "Today, this entire process is easily handled in minutes using the TwinCAT Automation Interface, which enables programming tasks to be automated."
Innovation, even in the smallest details
Even with simple design elements, USS is not afraid to develop a novel approach that results in reliable solutions for end users. One example is applying motor-driven roller (MDR) technology to extend the unique benefits of these brushless DC motors to many applications beyond just conveyor applications. USS had many challenges with previous MDR controller suppliers with unreliable fieldbus communication and limited-to-no safety integration. "The safety requirements in this application mandate that the MDR controller can cut motor power independent of the overall system power. But most manufacturers do not support this feature without powering down the MDR controller and the entire fieldbus network, which also interrupts the input feedback on the status of all the sensors in the application," Bassett says.
The engineering team at USS found that establishing reliable communications in this way with MDR controllers was key for their machine to pass new NFPA 79 requirements. "We put a project team together to evaluate different ways to handle the new E-stop category requirements in the 2021 revision of NFPA 79," says Donna Kiefer, business unit leader and senior engineering manager at USS. "We reviewed a series of vendors' hardware and standardized on the Beckhoff EP7402 MDR controller boxes with EtherCAT P, which incorporates EtherCAT communication and power in a single cable. The EP7402 is also used on other box and tote handling machines from USS and other Honeywell Intelligrated systems."
The EP7402-0057 MDR controller offers two motor outputs to directly connect 24 V DC conveyor roller motors or other brushless DC (BLDC) motors with a maximum of 3.5 A current. The new EP7402-0167 variant can control a range of motor-driven rollers from 24 V to 48 V DC. Eight additional digital I/Os enable easy connection of devices such as photoelectric switches and communication between the box modules in operation without a PLC. The EP7402 takes over the complete control of a roller motor or BLDC motor regardless of the manufacturer. It can also be operated without a PLC and provides functions such as zero pressure accumulation (ZPA), single or slug mode. Freely available function blocks for TwinCAT automation software also offer ZPA functionality, merge and other important MDR control features. The MDR controller also allows integrated functional safety in the system architecture via TwinSAFE technology from Beckhoff.
USS also uses TwinSAFE in other areas to connect all safety inputs on the system. "We decided on TwinSAFE because of the safety segmentation required for the various zones of the machine," Bassett adds. "We need the ability to independently disable each subsection to maintain throughput while the operators are reloading liners or clearing jams. We are also able to segment our machine into functional safety areas, so we don't have to E-stop the whole line for a localized safety event."
EtherCAT ties every application together
The power of the EtherCAT protocol also proved invaluable to USS when incorporating a customer-specified PLC that did not offer the same networking performance of Beckhoff machine controllers. "With traditional PLCs, we usually get 10- or 20-millisecond scan rates for all of the I/O on the machine," Kelly says. "But when we add Beckhoff embedded controllers and EtherCAT, we can achieve 1- or 2-millisecond scan rates in the EtherCAT I/O system. This enables us to utilize more I/O with a lower scan rate than what was previously possible with the traditional PLC."
Smart sensors on sortation machinery often require very fast scan rates that can be difficult for traditional PLCs to meet. "If you're trying to sense objects passing by a sensor while the machine is running, your pulse time is typically in the tens of milliseconds, so if your scan rate is 15 or 20 milliseconds, you'll completely miss the trigger," Bassett explains. "With EtherCAT I/O, we can solidly lock onto the object and get five I/O scans before the trigger goes away. Therefore, we're guaranteed to track even the fastest moving objects on the machine and we can react with millimeter precision on the sortation systems."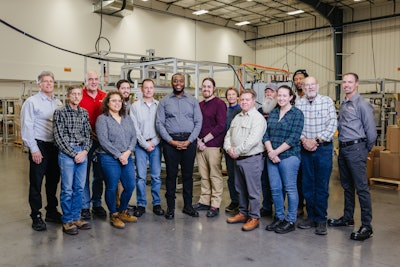 EtherCAT also offers a wealth of diagnostic capabilities and can provide information on exactly where cable breaks are in the system, as well as whether individual networked devices are not in an operational state. "In addition to meeting our functional and cost requirements, Beckhoff also went the extra mile for us by providing custom color-coded cables to ensure that the correct connections are made in the field every time," Kiefer says. "Error-proofing is major value-add for our customers to reduce their support needs, and it helps reduce calls to our service department."
Companies in this article