PMMI Business Intelligence: 2023 Sustainability and Technology - The Future of Packaging and Processing
Predictive maintenance is at the top of digitalization efforts within packaging and processing, and adoption is rising fast.
That's according to PMMI Business Intelligence's 2023 report, "Sustainability and Technology – The Future of Packaging and Processing." In a survey of industry stakeholders conducted for the report, 71% of respondents said they had some form of predictive maintenance technology in place, compared with just 37% for collaborative robots, the next most popular digitalization initiative.
That high figure for predictive maintenance adoption is even more significant compared to the proportion of respondents (45%) who answered 'yes' to the same question when market research firm Interact Analysis asked just two years ago.
Predictive Maintenance Uses and Outlook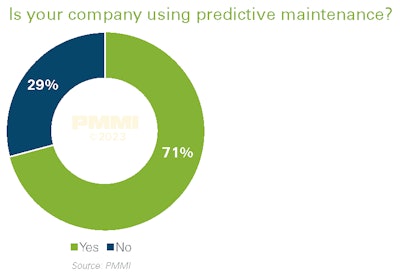 Almost three-quarters of respondents stated their company is using predictive maintenance. Benefits include reducing unplanned downtime, improved productivity, lower maintenance, repair, and operation (MRO) inventory, increased run times, improved overall equipment effectiveness (OEE), and customer service improvements.
Reducing downtime came up repeatedly in survey answers, as did cutting maintenance costs.
Types of predictive maintenance in use included Cloud-based vibration monitoring, AI-based data analytics, and online tracking.
When asked about monitoring the impact of predictive maintenance, some representatives said they were just starting implementation or preparing for Beta launch, so they had not yet established key performance insights. Others did have metrics to measure the impacts on variables such as maintenance costs, downtime, and mean time between failures (MTBF).
Executives also stated they were employing existing systems, such as manufacturing execution systems (MES) or total productive maintenance (TPM), to monitor the effects of predictive maintenance on their operations.
"We measure the percentage of preventive vs. corrective maintenance through our ERP (enterprise resource planning) system. And we measure the efficiency of production lines," said an engineering and product manager at an international food manufacturer, importer, and distributor.
Ranking Digitalization Initiatives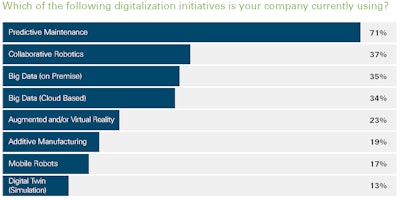 Beyond predictive maintenance's dominant position in digitalization, a sizable share of stakeholders said they use robot technology.
Collaborative robots may come in second for popularity, but more than one-third (37%) of those questioned do use the technology. That's in addition to mobile robots, which 17% of respondents said their employers had adopted.
Also proving popular among survey respondents were big data initiatives, both on-premises (35%) and Cloud-based (34%), and augmented and/or virtual reality at 23%. Additive manufacturing (19%) and digital twin/simulation (13%) were in earlier stages of implementation.
SOURCE: PMMI Business Intelligence, 2023 Sustainability and Technology – The Future of Packaging and Processing
Download the FREE report below.