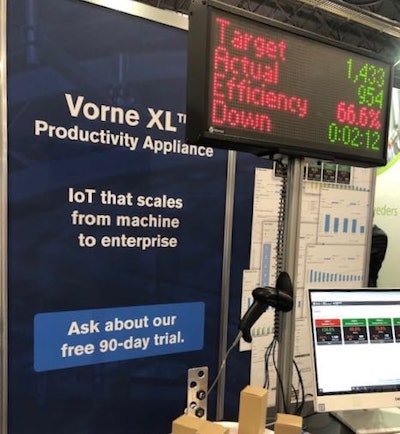 In manufacturing, keeping a close eye on plant floor production is an integral part of increasing productivity. But it often comes at a cost—as it requires installing expensive manufacturing execution systems (MES) to track workflow or analytics software to understand the data generated from the machine or the line.
But Vorne, a maker of visual overall equipment effectiveness (OEE) displays, can automate data capture on machines and calculate OEE in real-time to identify availability, performance, and quality in a simple "scoreboard" display.
The product, called XL Productivity Appliance, provides visual cues on the floor that can be used to alert operators when attention is needed somewhere on the line. In addition, plant managers can see a dashboard with over 100 metrics and analytics. And executives can view and monitor all assets in real-time using a different dashboard that provides an overview of resources. This operational, tactical, and strategic approach is an "MES-lite" type of set up that allows a deep dive into OEE to identify trends and analyze teams and labor.
The XL platform uses only sensors, a scanner (for operators to start part runs and scan downtime reasons), a network connection, and the visual display board. There are no changes to the PLC code, no software to install, and no servers to maintain, which means it is low-cost OEE alternative, and it does not require the IT department to maintain it.
"Ease of use is the most important aspect," says Adam Moran, vice president of sales at Vorne. "Our number one design criteria is simplicity. There are a lot of failed OEE systems because they are just too hard to use."
While the XL visual display has been available for about 15 years, during PACK EXPO East this week in Philadelphia, the company announced an updated version, XL 2.10, which includes several new features including:
· Automated e-mail alerts. Sent to key personnel to alert them of how the process is running, this function is delivered by XL Enterprise, which is a cloud-based software-as-a-service (SaaS) application. It can provide data on shift metrics when OEE is less than 75%, for example, as well as information on the production state—noting downtime, as well as target times for changeovers.
· Labor efficiency tracking. XL now calculates earned labor time and labor efficiency based on target labor times defined for each part.
· Faster reject entry. Many companies train their operators to scan rejects into XL in order to include operator-provided reasons for each reject. Now, XL makes this even easier with a new feature that enables operators to scan multiple rejects.
· Improved run detection. XL now performs run and down detection based on the cycle input. This has a number of advantages – especially for applications where cycle speeds vary greatly by part.
· Split down events. Accurately model what happens in real-time. Scan the new Split Down Event barcode to separate one stop into a sequence of down events, each with its own reason.
· End events by target or running. Sometimes you may want down time recorded if a changeover exceeds target time and run time recorded if a changeover beats target time. XL now directly supports this with a new option for ending events, "By Target Time or Definitely Running." Your event will automatically end by whichever occurs first.
· Improved bench test. With the updated bench test page users can now trigger inputs, jobs, parts, shifts, teams, and reasons with full visibility on how this affects KPIs and the scoreboard.
· Hide time with no production for cleaner reporting. XL is always monitoring the process – even when the process is not scheduled to run. XL now automatically removes periods of time with no production data from your reports.
"PMMI Media Group editors have purchased carbon credits through cooleffect.org to ensure any flights we take to cover events in 2020 are carbon neutral."
Companies in this article