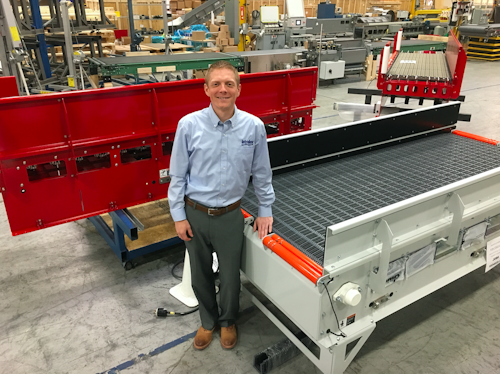 Having worked for UPS in college, Bobby Pedigo, Intralox's global platform manager knew he wanted to stay in the packaging space when he finished engineering school nine years ago. He started out with Intralox as a test engineer and moved through the ranks to his current position, where he leads Intralox in tying together its conveyance product offering through specialized and structured platforms.
PP-OEM: What is your current role at Intralox?
Intralox is structuring into specialized technical platform teams to support our industry-focused sales teams. I am the global platform manager for the "Packer to Palletizer" platform at Intralox. The industry account managers develop key relationships and understand the account's critical priorities. They can then call on our platform teams to deliver our products and services to that customer. Each one of our platforms is specialized in a critical area of the plant. We are experts in technical sales, application engineering, project management, business development, and research & development. Structuring allows us to bring specialized knowledge to the right decision makers at and allows us to deliver value.
PP-OEM: What are some industry trends on your mind?
I am noticing there is a trend for being able to handle more SKUs and a wider range of products that are smaller than average, which means higher throughput. So we are positioning ourselves in having equipment and belting products that are able to handle those package sizes with minimal to no changeover at those higher throughput rates. Another trend that I am looking at is labeling requirements. With packages needing to have product identification labels on all four sides, the manufacturers are going to have to upgrade their lines, be able to handle higher-throughput labeling, and they don't have the space to label on their older lines. We are developing products that can orient products for labeling at high rates with minimal footprint, minimal impact, and with zero changeover.
PP-OEM: How do you ensure the company is innovating?
We stay on top of our key global customers and their critical priorities for the year so we can structure and bring value to them. Innovation is a core part of our culture. We know we can't be complacent and we always have to be looking to do something differently. For each industry and each platform, we have invested in business development analysts and specialized new product development teams whose sole job it is to look for these trends in the market, and listen to what our customers would see value in. Intralox then kicks off a development project to fill that defined market gap. With more than 40 unique patent applications in the last year, and 973 active patents, Intralox has a track record of bringing game changing technologies to the market that support our customers' changing demands.
PP-OEM: How does Intralox find young, skilled workers?
Intralox's main headquarters is in New Orleans, and we also have a facility in Savage, Md., so we are very involved with Tulane University, University of New Orleans, and the University of Maryland. We offer a lot of internships at both the Savage and New Orleans facilities, and quite a few of those interns end up working here full time after they graduate. We also go to job fairs and work with certain classes in the engineering departments of both schools. We get involved to provide a challenge for those classes to develop products for our industry. In the past, if you look at internship programs, students were educated in typical engineering courses, but then graduate and have to re-learn everything for what they need to do in their day-today jobs. By getting involved early on, we are bridging that gap between what they need to do in the real world and what they are learning in school.