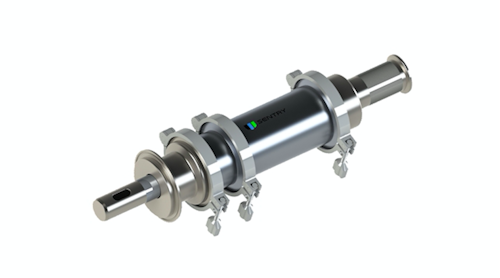 As low-moisture food producers seek to meet new sanitation standards, they are looking to machinery advances to improve food safety and minimize the risk of recalls. The Food Safety Modernization Act (FSMA) requirement for sanitary equipment design poses a challenge for many processors in this market.
In 2016, Sentry Equipment (See them at ProFood Tech, booth #1456), a manufacturer specializing in industrial representative sampling, began the process of developing two new samplers for the food and beverage industry: the Sentry HRX automatic strip sampler and the Sentry HPR point sampler. AJ Naber, food and beverage industry manager for Sentry, needed a set of guidelines for their product development engineers as they created these new products with hygienic design in mind. 
"Following general design concepts may be sufficient to help companies meet baseline levels of compliance, but in the low-moisture foods area, the risk of recalls and food safety incidents has been a particularly critical area," Naber says. "Our engineering team needed clear definitions and guidance regarding materials, design and construction techniques specific to this hygienic design project." 
The two new samplers are hygienic versions of existing Sentry automatic samplers. The Sentry Hygienic RX strip sampler and the Sentry Hygienic PR point sampler automate sampling of dry free-flowing materials such as granules, powders, flakes, pellets, grain, or seed from positive or negative pressure systems, gravity chutes, and hoppers. 
To address Sentry's equipment needs, Naber was directed to the OpX Leadership Network's One Voice for Hygienic Equipment Design for Low-Moisture Foods guideline. The OpX Leadership Network, convened by PMMI, is a forum of OEMs and end users who identify and solve common operational challenges. 
The hygienic design guidelines were created by CPGs to establish standard processes, steps, and methods to foster collaboration with OEMs to reduce risk and increase compliance. The guidelines also help the two to reach consensus on specific criteria for the design and construction of hygienic (a.k.a. sanitary) production equipment. The OpX Leadership Network recommends using a "joint collaboration process" between CPGs and OEMs to implement these hygienic design criteria—with a goal of getting all stakeholders on board with project goals and desired outcomes. 
"When our engineering team was working to develop these two new samplers, we initially didn't have a standard to work from and comply with," Naber says. "The OpX Leadership Network guidelines were great to guide the team through what hygienic design meant to our target market (low-moisture food CPGs), simply by using the document and following the prescribed design criteria. It also made the back-end of the process straightforward by allowing the team to walk back through the document as a final design evaluation and confirmation."