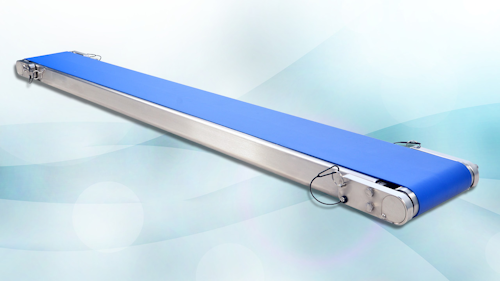 A unique series of pull-pins allow sides and guides to slide off in one piece, while stand brackets can flip down out of the way. The tail can then be flipped up to relieve tension on the belt, allowing the belt, drive, and tail to be removed for in-depth cleaning.
HydroClean conveyors are built on a single-piece 304 stainless steel frame to NSF standards. To help prevent bacteria growth, they feature a self-draining frame, minimal horizontal surfaces, no exposed threads, and hex head fasteners. Sealed ball bearings are filled with NSF-approved solid lubricant, and covered for protection during in-place cleaning operations.
HydroClean conveyors handle speeds up to 300 ft per minute with loads up to 120 lbs. Widths are available in increments from 4 in to 24 in, and lengths from 36 in to 18 feet. Their 2.34-in profile will fit in even the most space-limited applications. They are available with a variety of v-guided belting, including sealed edge and totally encapsulated belts.
Companies in this article