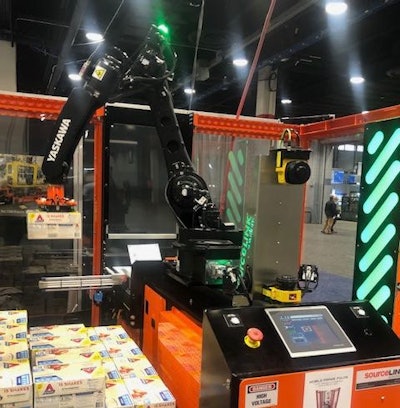 In a move meant to remove the barriers of automation for small and mid-size manufacturers, robot startup Formic, founded in 2020, is building a robotics-as-a-service business model that democratizes automation to make it more affordable and accessible.
Buying a robot can be a pricey proposition which requires much more than just the initial hardware investment. After buying, say, a $40,000 robot, the additional cost of integration with other machinery can escalate the total investment to upwards of $200,000. That is cost-prohibitive for many manufacturers.
Having worked in the robot industry for years, Formic co-founder Misa Ilkhechi also recognized that manufacturers are struggling to find labor. Formic was created to solve these problems. The company takes over the design and deployment of turnkey robotic systems and charges customers an hourly rate vs. and upfront investment. That means manufacturers only pay for operational output with performance guarantees and unlimited 24/7 service.
"We are financing meets service meets robotics company," Ilkhechi said during an interview at PACK EXPO International 2022 in Chicago. "Our business has to have all three working well, because at the end of the day the customer is not buying a machine or components, they are buying productivity."
Charging an hourly rate for a robot is just like hiring a person, but with the built-in guarantee that the machine will run. Each machine Formic supplies includes an edge device that sends machine data back to the Formic's service team who proactively solve problems before downtime happens. This is important for the customer and important for Formic. "In order for us to make money our machine has to work," Ilkhechi said.
The company partners with robot suppliers and machine builders to build custom turnkey systems. The plan is to have a large portfolio of robots, with the first being the SL20 Palletizer launched at PACK EXPO.
Key features of the SL20 Palletizer include:
Robotic palletizing system designed for end-of-line packaging processes
Small footprint (10x12')
Palletizes up to 20 cases per minute
Lifts up to 20kg per cycle
Proven to safely work alongside people
Deployable in less than eight weeks
Built by Sourcelink Solutions LLC, based around the Yaskawa HC Series collaborative robot
The SL20 is available now with a six-month trial period available for first-time customers. In addition to small and medium-sized manufacturers, the Formic robots are suitable for co-manufacturers and co-packers that are dealing with hundreds of SKUs and need flexibility.
Companies in this article