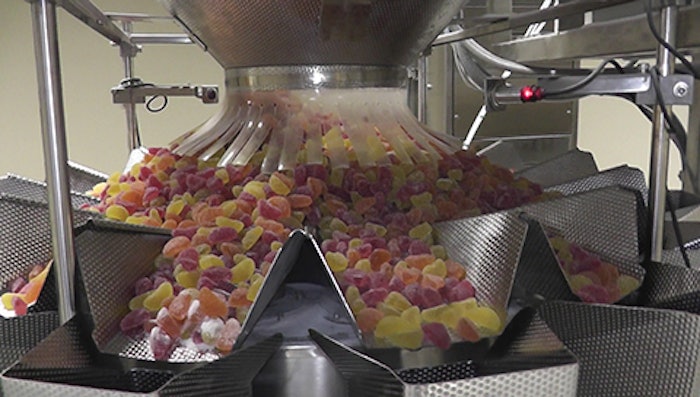 Ohlson Packaging
Ohlson Packaging, A Duravant company, demonstrated its gummy and vitamin packaging systems during PACK EXPO Connects while sharing common challenges that come with gummy applications. Depending on the gummy texture, shape, and size, CPGs may face many obstacles when it comes to filling them.
"We have seen such strong demand for gummy packaging in 2020 as demand for vitamins and supplements during the pandemic have been on the rise," said Michael Megaro, director of sales at Ohlson Packaging. 
According to Ohlson Packaging, gummies require specific adjustments to multi-head weighers to ensure they are packaged adequately. Ohlson uses dimpled product surfaces, from the hopper and bucket elevator all the way through the scale, rather than flat surfaces, which provides less area for the products to stick to.
Because there are a variety of gummy textures—such as oiled, sugared, etc.—Ohlson Packaging implements other modifications such as angled feed pans to increase the speed of product moving through the scale.
Another obstacle CPGs face when it comes to packaging gummies is clumping. This happens when gummies are or become sticky, which can cause issues in both the weighing and filling processes. As gummies are being filled, clumping can create accuracy issues with linear scales, which is why Ohlson recommends multi-head scales to most gummy packaging systems designed for retail packages.
Companies in this article