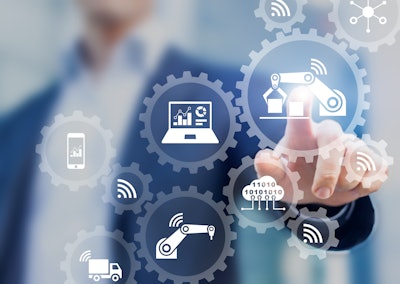 Getty
Flexibility, IIoT, lead times, and cost for small manufacturers were all mentioned as challenges to implementing automation in their operations. These issues were discussed by CPGs and OEMs at PMMI's Top to Top Summit.
Top to Top Summit is an annual three-day networking event of high-level executives in the packaging and processing industry, who meet to discuss industry problems and solutions with the aim of improving industry outcome. Sponsored by PMMI, this year's meeting (the 15th annual) was held in conjunction with PACK EXPO Las Vegas.
The lack of flexibility in many current automation solutions was a key challenge mentioned. End users are struggling with a lack of common components and industry-wide standards, as well as with automation kits that cannot easily integrate with leading ERP or warehouse management systems (WMSs). As a solution, one CPG called for defining universal standards that could be agreed upon by both CPGs and OEMs.
Since many automation solutions are currently run as closed systems, a result is that end users are dependent on the supplier for technical support. The adoption of open architectures would allow for technical support (and continuous improvement activities) to be managed in-house where desired. Also, current automation machinery is often designed to do only one thing and therefore isn't flexible enough to meet changing customer needs.
Issues related to the IIoT and Industry 4.0 were also mentioned, such as the challenge of collecting data, and of cybersecurity. Several end users called for help in being able to understand return on investment in order to justify the funding for new technologies. Also, the need to stay up to date on what new technologies such as AR, VR, and the IoT have to offer was mentioned.
---
---
Lead times on automated machinery, which currently can be lengthy and therefore do not help in terms of addressing immediate labor shortages, was another challenge that was addressed. One OEM cited strong demand and serious supply chain issues as the reason for these extended lead times, with a CPG response that OEMs need to be more creative in machine design, using alternative components when supply chain issues cause delays. Some CPGs requested that their OEMs work more closely with them to form partnerships.
The high cost of automation solutions, particularly when it comes to automating small-scale production lines where cost often make it unfeasible, is another challenge. A suggestion in response to this issue was to have leasing agreements.
Download a FREE copy of this report below to read more about these discussions.
Source: PMMI Business Intelligence, "Key Challenges for Packaging and Processing Operations."