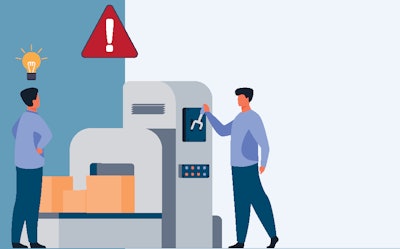 PMMI Business Intelligence: 2023 The Impact of Global and Local Standards on OEMs & Suppliers
Great innovations can require risk, but there's no better area to stay risk-averse than end-user safety.
That's why risk assessment is required in the design of all packaging and processing machinery, says PMMI Business Intelligence's 2023 report, "The Impact of Global and Local Standards on OEMs and Suppliers."
Compliance with risk assessment requirements is imperative because the process identifies potential risks, enables mitigation, and results in a safer machine.
End users often ask about risk assessment in purchase orders for new equipment. This stipulation strengthens relationships between end users and suppliers, serves as a foundation for in-house safety procedures, and ensures the same standards are being followed across lines, plants, and countries, as explained by Bruce Main and Fred Hayes in the 2022 virtual presentation "Risk Assessment: Implications for the Leadership Team."
When to conduct risk assessments
The risk assessment process needs to be in place at the beginning of the design phase because the ability to change the design declines as the design progresses, and the cost of changes increases, Main and Hayes said.
When completed early in the design, the risk assessment process yields many benefits. Main and Hayes say it can decrease uncertainty about the machine, yield more granular data, capture knowledge about machine performance and operator interaction, and identify more hazards to enable mitigation. It can also demonstrate to end users that risks have been reduced to an acceptable level, document foreseeability, provide a more productive, safer work environment, give the OEM or supplier company a competitive advantage, and make the design more defendable.
European Union CE Mark requirements
In the E.U., risk assessment, as outlined in the Machinery Directive, is a prerequisite to achieving the CE Mark needed for European equipment sales.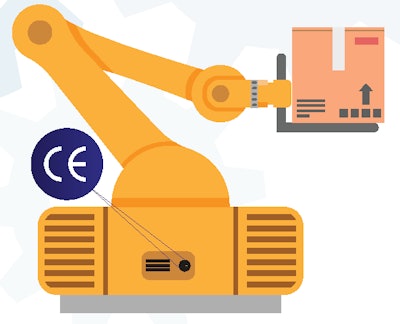 CE mark standards and practices have also been widely recognized by other organizations such as the American National Standards Institute (ANSI) and the U.S. Occupational Safety and Health Administration (OSHA), as well as by end users, according to PMMI's 2007 Guide to the Key European Directives for Packaging Machinery – Fourth Edition.
Risk assessment is also required for robotics via ANSI R15.06/ISO 10218 and to comply with requirements for various end-use applications such as the pharmaceutical industry, Main and Hayes said.
A formal risk assessment provides data that shows the equipment can be sued safely and confirms due diligence and uniformity in machine design. The risk assessment process reduces loss, time, costs, and product liability and helps meet CE Marking requirements. It also helps machinery suppliers and component suppliers decide where to focus money from the machine design budget, resulting in a better machine design, said Main and Hayes.
Measuring risk
Risk is estimated by considering a hazard's severity and probability and can be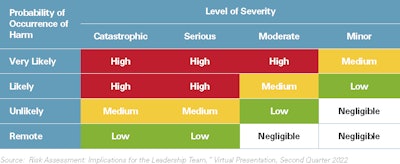 organized in many ways. A common approach is to use a risk matrix that classifies the probability of harm in a range from 'Very Likely' to 'Remote' on one axis and the level of severity from 'Catastrophic' to 'Minor' on the other axis.
Although risk is primarily associated with safety, it may also impact productivity, equipment, the environment, and the OEM or supplier's reputation, Main and Hayes said.
Risk assessment is a multi-step process, which includes identifying hazards, assessing initial risk, reducing risk, assessing residual risk, achieving acceptable risk, validation risk reduction measures, and documenting the process, as outlined in ANSI/PMMI B155.1 – Safety Requirements for Packaging and Processing Machinery. Software programs can help standardize and accelerate the process.
SOURCE: PMMI Business Intelligence, "2023 The Impact of Global and Local Standards on OEMs & Suppliers"
Download the FREE report below.
Companies in this article