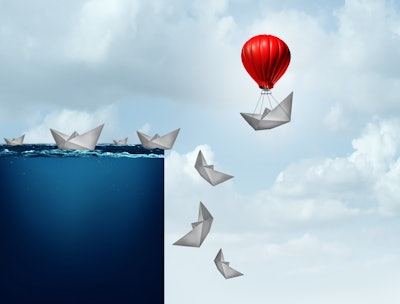 This past February, Robex, an automation and robotics integrator for the food, beverage, building, and container industries, rolled out a unique offering that delivers its custom-made robots in a usage-based finance model. This Machine-as-a-Service (MaaS) offering is a flexible way to install equipment on the factory floor without having to invest upfront capital. Instead, the customer pays for a successful outcome based on a predetermined agreement around productivity.
The service, called Robex Flexx, is powered by SteamChain, blockchain-based software used to measure a variety of critical machine productivity parameters in real-time which then calculates transactional payments based on a machine's overall performance. Robex also bundles preventative maintenance into the contract. "If we see a robot is not performing or part of the solution is not working, we are on it right away," says Craig Francisco, president of Robex. "Probably before a customer even picks up the phone, we know there's an issue and we will fix it immediately."
Robex is both an OEM and a turnkey systems integrator, and, while they've been in the business of providing services to manufacturers, they recognize the need to build out new, value-added aftermarket offerings in order to help their customers deal with industry obstacles—be it a skills shortage, or the need to improve machine uptime, or even how to operate amid a pandemic.
---
See it Live at PACK EXPO Connects Nov. 9-13: PicPac Mobile Palletizing and Depalletizing, by Allied Technology - PicPac. Preview the Showroom Here.
---
"We took action pre-pandemic, but I think the concept will gain more traction now as people are open to new ideas and ways of trying to automate," says Francisco. "The customer is limiting their risk using the Flexx program because we are taking on responsibility."
And, while the risk shifts to Robex, the rewards will be a great new revenue stream if they deliver on what they promise. In fact, all machine builders should be thinking outside of the box when it comes to identifying new sales opportunities. Specifically, food, beverage, and CPG manufacturers are on a mission to digitize plant floor and packaging operations. And by understanding their needs, OEMs are in the perfect position to be a strategic partner and accompany them on their digital journey.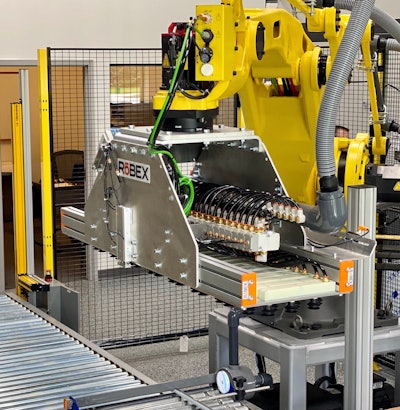 According to PMMI's Business Intelligence report released last year called Aftermarket Opportunities for OEMS 2019, manufacturers are asking machine builders to add more skilled technicians who can supplement the skills shortage they are dealing with inhouse. In addition, an OEM's spare parts business is a key factor in enhancing customer satisfaction and generating repurchase opportunities, as is the ability for OEMs to seize the opportunity to address machine performance after the startup phase.
Yet, the report states that end user aftermarket service satisfaction has slipped from 42% in 2015 to 21% in 2019. "This is primarily due to the skill level of technicians as well as the availability and lead time of parts," the report states. "That means OEMs have an opportunity to improve the kind of service and support they provide their customers through additional training of technicians and inventory solutions."
Download PMMI's Aftermarket Opportunities for OEMs 2019 report here: oemgo.to/aftermarketopps
Opportunities are not always that easy, however, as OEMs struggle with the same issues as their customers, including retaining talent, learning technology, and facing new challenges as IT and OT worlds collide on the factory floor and new competitors emerge to deliver aftermarket services. "The biggest challenges are related to competition and the workforce," says Joe Zale, principal with Deloitte Consulting. "The level of competition is growing in the industry as manufacturers operate in a complex environment with multiple stakeholders, including suppliers and partners. This is becoming more pronounced as OEMs are aggressively trying to increase their presence in aftermarket services."
So it's clear, aftermarket service is expected in the factory of the future. But where does a machine builder start? Perhaps it just means taking a step back to understand a business obstacle related to a traditional service, like training, and delivering it in a different way.
Pricing models
PAC Machinery, for example, changed its startup and training pricing model to make it easier for customers to buy. "And it directly increased our revenue for this service," says Greg Berguig, vice president of sales and marketing for PAC Machinery, an OEM offering a comprehensive range of bag sealing equipment and materials for the flexible packaging industry.
Many OEMs concur that when there is a problem with the installation of a new machine, oftentimes it has to do with the lack of customer training. During a factory acceptance test (FAT) the customer is most interested in understanding if the machine does what it is supposed to do. Regardless if the machine was operating as it was supposed to after the FAT, if the customer runs into trouble, many times it's assumed the machine doesn't work and it's the OEM's fault.
"The better approach is that the factory technician does proper startup and training on the equipment which could be one or two days or three to four days if it's a big piece of equipment," Berguig says. "One day to get the machine up and running, the second day to be there to watch and provide assistance to the customer and take questions or do a changeover."
PAC put this strategy into place before COVID-19 hit, but even though it was in everyone's best interest to have a technician onsite for a few days to educate the operators, the OEM was not getting many customers to buy into the startup and training service, Berguig concedes. The reason, the team surmised, was due to the pricing model that billed at an hourly rate, including travel time, onsite time, and expenses. "Maybe they wanted it, but it was too complicated for them to purchase. So, we looked at how to make it easy to purchase and offered it as a flat rate for startup and training, no matter where you are in the country."
---
See it Live at PACK EXPO Connects Nov. 9-13: The 7 Questions You Need To Answer Before Buying Packaging Equipment, by Actionpac Scales & Automation. Preview the Showroom Here.
---
The result was an exponential increase in the purchase of startup and training services—before COVID-19, of course. Now, it's a bit more challenging, Berguig says, so they've added virtual startup and training via webcam, which is working well.
Indeed, the pandemic has changed the way people work. And while it is a business disruption, progressive OEMs recognize the potential to reinvent themselves.
According to a recent Deloitte report called Aftermarket Services Transforming Manufacturing in the Wake of the COVID-19 Pandemic, changes in customer demands, increasing market maturity, cyclical fluctuations in new equipment sales, and pressure on pricing, are among the major factors driving many manufacturers to seek new aftermarket service revenue opportunities. This shift is taking place because customers are emphasizing service level agreements (SLAs) that guarantee product uptime and are looking for partners who can proactively support their equipment before it is out of service. In return, these customers are willing to pay a price premium.
And, in order for this to work, new kinds of partnerships between machine builders and technology suppliers are emerging. "In many cases, the most significant competitor within the aftermarket business is the customer who may handle maintenance and repairs," says Deloitte's Zale. "Addressing this requires an ecosystem to work cooperatively and collaboratively with all the players, including hardware and software technology providers, more traditional channel partners, and customers."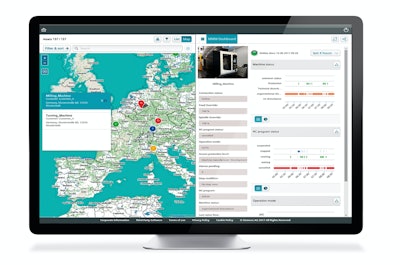 The power of partners
Robex, for example, partnered with SteamChain—a company founded in 2017 by engineers who came from Rockwell Automation and who experienced firsthand the need for aligning relationships between OEMs and end users through accountability. By partnering with SteamChain there is a ripple effect where Robex is in a position to form close relationships with its customers.
"Robex offers Machine-as-a-Service and includes onsite service, so it's like contract manufacturing under your own roof," says Michael Cromheecke, SteamChain co-founder and CEO. But it's much more than that, as the performance of the machine is what drives revenue. "Instead of selling a service with a break/fix warranty, using SteamChain [the OEM] can offer a performance-based warranty. They are paid when the metrics are achieved vs. getting paid upfront knowing they'll have an obligation to fix something when it breaks."
In addition, SteamChain does its part to support its OEM customer, whether it's having a conversation with the CPG's finance and procurement teams, designing the terms and conditions of the MaaS, educating the sales and marketing teams to help create awareness, or offering financial services—which is brand new. "When we sign on a new OEM partner, we are partners for life," Cromheecke says. "Our interest is the same as theirs—to sell more machines on MaaS terms."
Deloitte's Zale notes that the move to pay-for-performance has long been anticipated in manufacturing, but the business model has moved slowly. That is expected to fast-track given the current circumstances. "Like many trends that have seen a massive acceleration in this crisis, the conversion to more creative contract designs that balance risk between equipment providers and customers could quickly become the norm in a broader set of use cases and segments."
Partners will be key to pull this off. And within the ecosystem of partners, industrial control system (ICS) suppliers and integrators offer a lot of value to OEMs and end users alike, especially now as remote access, predictive maintenance, and digital convergence capabilities are in demand.
A quick glance around the ICS landscape and you'll notice some unique partnerships emerging. There's Rockwell Automation and PTC, for example, where Rockwell made a $1 billion equity investment in PTC to have a seat on the board of directors and a joint road map. In addition, just this year, Rockwell acquired Kalypso, a software delivery and consulting firm specializing in the digital evolution of industrial companies, as well as Italy-based ASEM S.p.A., a provider of digital automation technologies including industrial PCs, HMI hardware and software, remote access capabilities, and secure Industrial IoT gateways. And, earlier this year Rockwell announced it will acquire Avnet Data Security, LTD, an Israeli-based cybersecurity provider. All of this activity is on top of the 2016 Rockwell Automation acquisition of systems integrator Maverick Technologies.
Last November, Rockwell announced its Digital Partner Program to streamline industrial IoT implementations and connect manufacturers to a variety of digital expertise from companies including Accenture, Microsoft, PTC, Ansys, and Eplan. For example, Accenture can work with companies to create a business plan and develop use cases with ROI. Microsoft can help manufacturers access high-quality data from an intelligent edge to the cloud to drive better companywide decisions. PTC can help connect devices and systems from the edge to the cloud and provide augmented reality (AR) technology to solve problems in new ways. And Ansys and Eplan can solve complex challenges related to creating a "digital thread" which helps in design, operations, and maintenance activities.
"We are going through our own transformation as a company," says Tom O'Reilly, vice president of global business development at Rockwell Automation. "Different partnerships will play a bigger role as we transform ourselves in order to help our customers transform themselves. We don't say [we are an] industrial software company, we say we are an industrial productivity company."
And new services that Rockwell rolls out will be valuable to both OEMs and end users. "We believe there is benefit to both, and we are working on doing things with Microsoft later this year that will enable machine builders and others to participate in a broader way to provide value," O'Reilly says.
One such offering that has already rolled out is Factory Insights as a Service, a turnkey cloud offering from Rockwell powered by PTC and Microsoft, that delivers real-time production performance monitoring, asset monitoring and utilization, connected work cells, and digital and augmented work instructions.
Similarly, Siemens recently rolled out its new Manage MyMachines, a cloud-based Platform-as-a-Service (PaaS) that, combined with edge technology, enables data tracking of machine kinematics as well as production data.
As a MindApp within Siemens' Mindsphere portfolio, Manage MyMachines is integrated in the cloud-based, open IoT operating system and it allows access to all critical machine tool information, from bearing temperature to production by shift or job, all in a selectable priority scale, based upon user needs. Unexpected line downtimes and off-normal machine kinematic conditions can be quickly identified and rectified. Predictive maintenance can be programmed, so an upcoming failure can be anticipated, with alerts sent to a local distributor, for example, to deliver the needed components.
"Simply stated, this concept will be a gateway to the digital factory for all of our associates in the machine tool world, including builders, integrators, and end users," said Sascha Fisher, head of the machine tool systems group at Siemens in the U.S.
Service at the edge
The industry is seeing even more targeted offerings for machine builders from other industrial technology suppliers, like Hilscher, which launched a new way for OEMs to service and monitor equipment at customer installations.
Hilscher makes a full line of edge gateways, and the recurring theme from the OEM market and large end users has been how to maintain these devices, how to upgrade when a new release comes out, and how to change what they do with the applications that runs on them. "It became evident that having devices in the field only maintained locally—as in walking up to the device and using a USB stick to load firmware to get another level of features—required another way of doing it," says Craig Lentzkow, business development manager for Hilscher's IoT solutions.
The Hilscher platform, called netField.io, brings intelligence to field devices, providing the ability to update firmware from a remote location via a container-based management system. Hilscher created an Industrial IoT Operating System, called netField OS, that runs as containers in a Docker runtime environment. (Docker is an open source software platform and a Docker container is a lightweight, standalone, executable package of software that includes everything needed to run an application, including code, runtime, system tools, system libraries, and settings.) To that end, netField OS along with netField Platform includes a self-service management portal (netField Portal) as an interface for local or remote set up. And then there's the edge gateway.
The edge gateways are set up to be information-gathering devices, not controlling devices, and, for security protection, the customer does not get access to the PLC or machine controller via the edge gateway. The device sits on a machine and "listens" to the controller and in some instances directly to the I/O device to gather the status of the machine. The goal of the edge gateway is to stream data in real time to where that data needs to be acted upon. Data can be streamed from the edge gateway to cloud-based artificial intelligence (AI) applications, such as prescriptive maintenance software that predicts device failures, or the data can be acted on in the edge gateway by containerized applications (often referred to as edge computing).
"We call it 'no touch' because you don't have to be physically present, just physically connected to the device," Lentzkow says. "The goal of the open environment is that it is highly customizable by the customer. We provide 85% of the necessary software framework so the customer can focus on applications and what they want to run…Millions of devices can be monitored on a system like this."
And, it's not only access at the edge that is important but building intelligence in as well that will drive new functionality. For example, One Tech, a provider of edge AI technology, offers MicroAI Atom, which is designed to be embedded onto a microcontroller unit (MCU) in order to train and run AI models at the endpoint. The company suggests this will make it easy and affordable for OEMs to bring intelligence to the machine. And, not only that, it can be added or "turned on" as needed.
"We know there are many machines deployed that obviously do not have the capability of providing the level of insight that equipment owners would ideally have," says Chris Catterton, One Tech's director of solutions engineering. "MicroAI can be deployed to provide asset performance management for these assets that are already in service with relative ease. Furthermore, the adoption of AI is as simple as embedding it into the equipment and activating the training process."
The 'easy on' switch
There's a new trend emerging in machine management called "feature management" or "features on-demand." The on-demand concept is pretty clear when it comes to video streaming your favorite movie, but it has transferred to more tangible products, like cars, in which customers have the option to add features to their car as required. Automotive manufactures may install hardware components in the vehicle and then customers can activate those as needed, such as heated seats, the ability to check email, cashless payments at toll booths, etc.
Machine builders in packaging and processing industries are considering the same on-demand model for their equipment.
"For us, there are various sensors we could turn on," PAC Machinery's Berguig says, noting that the company could build a "standard" machine preconfigured more to completion, but understanding not everyone will require all of the bells and whistles. "In the future we could turn something on, which they would pay for it then." Having all of the future features standardized in the base models could also help shorten lead times, he says.
SteamChain's Cromheecke agrees that it's a smart aftermarket business model. "This feature management allows the end user to buy a [basic] machine, but there are features built-in that can be turned on later, which creates more revenue [for the OEM]."
Of course, all of this requires a new mindset around machine automation as it relates to buying a service vs. a product. "We are careful with our customers," Robex's Francisco says. "We want someone who sees the value and wants us to be a partner. This is a win/win if we can be open and honest and grow together."
The good news is, manufacturers are waking up to the possibilities, especially since more factories don't have the technician expertise they had a decade ago, Francisco says. "We believe for us to reach our goals and bring as much value as we can to the market and to customers, we have to do something different. This to me is a phenomenal way to offer a flexible solution to our customers. And it's limitless what we can do with it."
PACK EXPO Connects – November 9-13. Now more than ever, packaging and processing professionals need solutions for a rapidly changing world, and the power of the PACK EXPO brand delivers the decision makers you need to reach. Attendee registration is open now.
Companies in this article