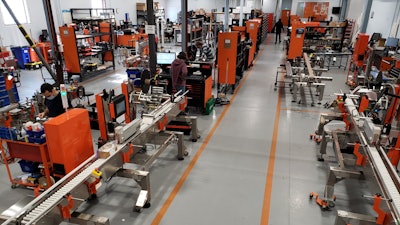 When you think about packaging machinery, do the words, "living, breathing, humanlike" come up? For Quebec-based labeling equipment manufacturer, Nita Labeling Corp., the answer is simply yes.
And that's because Nita's XP Series and Joust Series label applicators were built with "human" characteristics in mind.
In 2002, Normand Lord purchased Nita Corp., a small manufacturing company at the time. In 2005 Luc Harvey, who today is the company's chief engineer, joined as a minority owner. After being in the printing plate business for a decade, Lord was able to launch Nita's offering of automatic inline pressure sensitive labelers by replacing older technology with newer innovations like servo motors and software-managed programmable drives.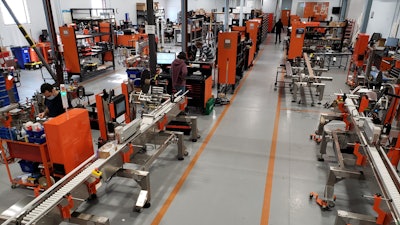 "When I found Nita, I saw a diamond in the rough," Lord says. "I was a senior vice president at Bell Canada, managing 1500 employees. But my entrepreneurial spirit was calling, and Nita presented an opportunity to take a vastly underperforming company, which I could transform into a leader. We are currently one of the largest inline pressure sensitive label applicator manufacturers in the world. My dreams to be the best are being fulfilled every day."
Now, the company creates self-diagnosing, fully automatic 100% servo labelers to handle applications that are packaged in jugs, tapered tubs, pails, bottles, clamshells, trays, boxes, and flat bags. But what's unique is that the system actually identifies when parts need changing or servicing and notifies users. The users can then order those parts directly from the machine via the Windows 10 IoT Enterprise software-based PC control screen. The labeling system also provides users with daily, weekly, and monthly preventative maintenance schedules and reminders, as well as an extensive problem-solving video library. A SCADA platform provides real-time OEE and performance reporting with live video tech support built into the screen.
Ken Hubscher, the company's vice president of sales and marketing and minority owner, joined Nita in 2012 with a mission to unveil the company's voice and story. At that time, Nita labelers were operating on the original Nita 1.0 platform, which featured the first fully synchronized all servo labeling systems made in North America. In 2015, Nita graduated to the "smart and intuitive" 3.0 platform with software capabilities that enabled users to increase production rates with quick changeovers and operational simplicity. But in 2018, an even more innovative suite arrived with the launch of the Nita 4.0 platform, which took the Nita labelers from smart to humanlike with predictive maintenance features built in.
Labelers that can feel
When Nita launched the 4.0 platform, Hubscher centered around the term "sentient" to describe what Nita 4.0 brought to the company's labelers. Defined, "sentient" means the ability to feel or perceive—and it's rarely ever used to describe a machine. But with Nita 4.0, features like predictive maintenance, speed synchronized servo technology, total replication changeovers, and open-source SCADA software enabled this machine to self-diagnose.
But how do these technological advances relate to the term "sentient?"
"One of the features on our systems is the self-diagnosing properties that we've built into it," Hubscher says. "This technology actually monitors the motor loads, sensors, and cycles and advises plant floor operators when something isn't right. It literally prevents a problem from happening. The term sentient is the ability to perceive or feel, which in a sense is what our machines are doing now."
For example, if there was too much pressure being put on the servo motor in the head of the label applicator, the machine would prompt the operator through the labeler's HMI, which is a PC computer, with videos and flowcharts that show the operator where to reduce pressure.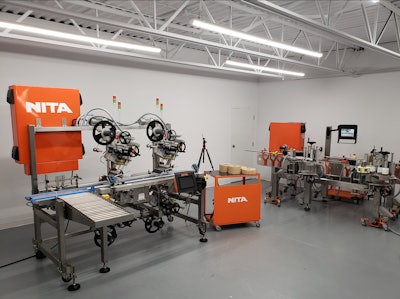 "And once the operator hits the sweet spot, the machine will tell them that they are back in a happy zone," Hubscher says. "It's actually feeling itself and telling you what it's feeling. Sentient may be a little bit tongue in cheek, but it's mechanically direct."
The Nita 4.0 platform also offers 3D mapped, color coded, and ruled changeovers, in-screen parts ordering, preventative maintenance schedules, and video tutorials, as well as the self-monitoring and diagnosing capabilities.
The company doesn't use PLCs or proprietary micro-processor boards for its labelers as it opts for PC-based controls working in tandem with smart servo drives because it allows the labelers to adapt to changes and different products faster.
"There are no PLCs, microprocessor boards, or proprietary electronics in our systems," Hubscher says. "All of the drives dictate what everything on the machine needs to do in relation to the individual speed signal. When you're running our labelers, if you were to change the speed of the conveyor, everything on the machine would automatically adjust. It knows exactly where the container is, the speed, and the distance at all times. You don't have to do any calculations, mechanical adjustments, or guessing. The software system we created automatically adjusts and calculates everything on the fly, regardless of speed."
Hubscher says Nita's completely closed servo software system that automatically calculates to the speed of the conveyor has been a large contributor to the company's growth.
Sustaining growth
Since 2013, the OEM has grown 1700% because of its intuitive label applicators. In 2015, Nita began incorporating lean manufacturing techniques to overhaul the production environment. With annual 40% growth year over year, this was essential. The current Nita manufacturing process is now lean and ultra-efficient, Hubscher says. Everything at the company is computerized—from the quote that is submitted to the client to the shipping of the finished machine. Every detail flows through custom enterprise resource planning (ERP) and materials requirements planning (MRP) systems that tie into all accounting, engineering, assembly, and post-care activities. On the shop floor, Nita's people who build the machines are guided by terminals with live AutoCAD feeds that can be modified, ensuring that any floor-level changes are recorded and standardized in the machine's blueprints. The assembly line flow on Nita's floor ensures that production efficiency is maximized without wasting time and resources, Hubscher says.
"When I joined Nita in 2005, Normand shared his dream of becoming the biggest and best labeling machine manufacturer in the world," Luc says. "From the first line of code I wrote when I arrived to the incredible levels of technology infused into every Nita that leaves our shop today, I feel such an immense level of pride in everything we have accomplished. As an engineer, mine and my partners commitment to never stop innovating is a dream come true."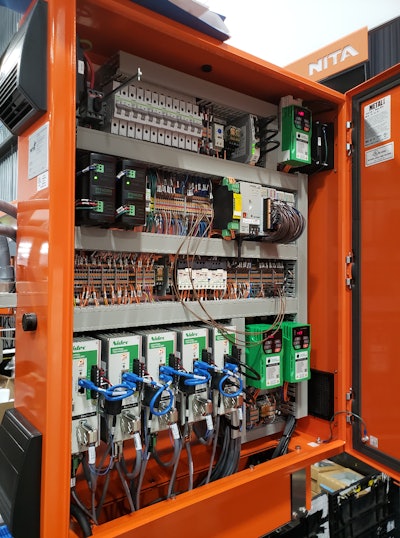 In 2020 alone, Nita grew 35% while also being able to aid its core customer base—companies that deal with hand sanitizer applications—by narrowing lead times 25%, which resulted in their customers being able to churn out more product to answer to supply chain and consumer demands during the COVID-19 pandemic. A testament to its investment in lean techniques.
And while automation and computers handle the flow of important details throughout the company, the human approach—beyond the sentient labelers—is what has kept business coming back and growing, Hubscher says.
"A big part of our growth is because of the culture we create with our customers," Hubscher says. "We are extremely hands-on when it comes to the planning of a project. We listen to our clients, send in local reps when applicable, gather all relevant information, and produce a tailor-made proposal."
Culture at the core
Since the inception of Nita, the company has always offered "forever-free" customer support. Hubscher coins it "NitaCare."
"Our customers have to be running," Hubscher says. "It doesn't matter what your job title is, at our company, everybody's job is to ask the question, 'Is what I am doing right now conducive to making sure the customer is running?' And NitaCare is really just an extension of that."
NitaCare comes standard—and at no extra charge—with every machine. Nita customers can get service and support through Nita's video app, phone calls, or internet login to the inherently connected Wi-Fi PC HMI's for the entire lifetime of the machine.
"Sure, customers can call us on FaceTime or WhatsApp, but through our app, they can scan the barcode on the machine, and it will automatically pull up their machine. Then, they can connect directly with one of our technicians to resolve the issue on the spot," Hubscher says.
Nita has also built in the capability to conduct remote maintenance on their labelers so that if the technician needs to get inside the machine and diagnose the problem, they can. And because of the app coupled with the equipment's intuitiveness, Nita can perform maintenance and service almost exclusively remotely.
To offer services like NitaCare, Hubscher says the people at the center of their company need to be on board, too. And not only does the company's culture and reputation speak to customers, but it also transcends to Nita's shop floor.
"Nita's success truly does rely on the strength of our people. We promote a culture of innovation and commitment that values teamwork, accountability, integrity, honor, humility, and results," Hubscher says. "Inclusiveness and incentive are what our culture is all about. I include everyone from every department in discussions about our goals and our mission. We take time to help them understand what's going on in the industry and how it aligns with our customers and equipment. It creates engagement beyond just showing up to do a job." As for incentives, every employee at Nita is a part of the company's profit-sharing program, he says.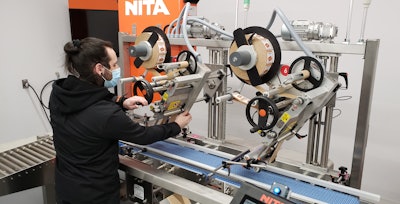 Nita has grown from 12 employees to more than 50 over the past couple of years. But Hubscher says there are still moments where the company feels like a small, tight-knit family. For example, Lord, the company's president, holds routine meetings on the shop floor where everyone gathers around to learn about the latest innovations and to recognize each other's achievements.
"We have employees that have been here since Nita opened, and that speaks to the culture that we have created here," Hubscher says. "Working with people who actually love what they do for a living changes the entire supplier and client experience. We all love what we do and that resonates in the product and in the brand."
Nita 5.0?
Three years ago, the company doubled the size of its Terrebonne, Quebec facility's footprint with its sights set on big future plans to expand into the European markets.
"We didn't want to jump into the European arena until we were manufacturing there, but the demand is so large that we're actually being pulled in," Hubscher says.
As Nita embarks on the European market, the team is also in the process of developing their Nita 5.0 platform, which is currently top secret. But Hubscher tells us, "The next generation of Nita is underway. And it's a game-changer."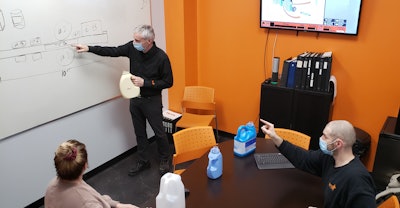 Companies in this article