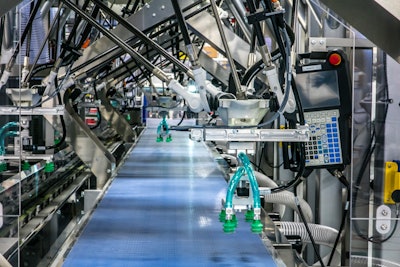 Kelly Peterson Commercial PhotoVideo, kp-photo.com
It's a good year for Serpa. The California-based OEM is currently undergoing a transformation as it was recently acquired by ProMach while hitting its fourth year of record growth. OEM Magazine caught up with the end-of-line equipment manufacturer to see what's been propelling its growth and how the business is adjusting to a huge acquisition.
Photography was taken by Kelly Peterson Commercial PhotoVideo
The company is no stranger to growth and innovation, which is what it has been doing since Fernando Serpa, the OEM's founder, created Serpa Packaging Solutions in 1985 after accumulating enough experience as a service technician to realize that machinery could be easier to operate and more maintenance-friendly.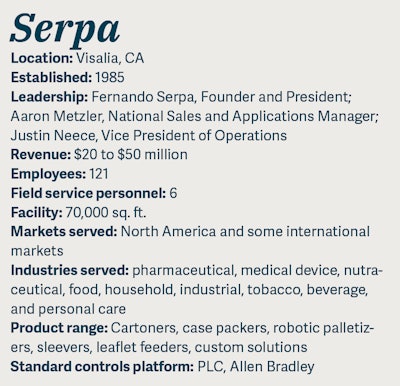 "I worked for a company in an industry that offered manual machines, and I started just breaking the chain. I worked my way up from the bottom and then became a service technician," Serpa says. "I traveled throughout the country and overseas fixing this company's machines, which didn't have the best designs and sometimes equipment was sent out that wasn't completed. So, I was forced to make parts and re-design equipment on the fly in the field. This experience made me more aware of how a company should operate, which is what motivated me to get out and create Serpa."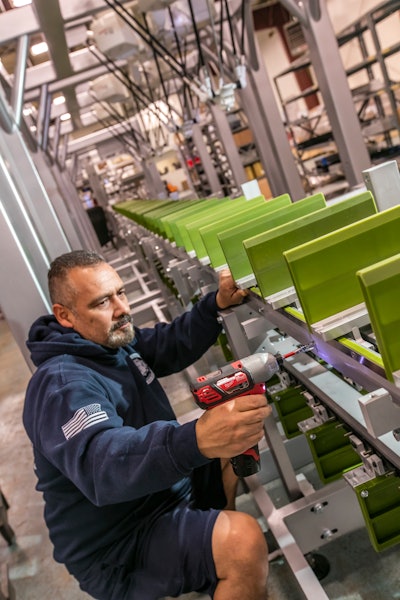 But the company isn't just set on its original mission to create maintenance-friendly machines. Over the last 10 years the OEM has become a systems integrator, catapulting its expansion and landing the company on Inc.'s 5000 Fastest Growing Private Companies list.
"When I started 12 years ago, we were only in a 30,000 sq.-ft.-building," says Aaron Metzler, national sales and applications manager at Serpa. "A year later, we broke ground on another 30,000 sq.-ft.-building to expand our machine shop capabilities and accommodate our full line capabilities that we could do in house. We were probably a $10 million company at that point."
Now, Serpa has reached close to $35 million in annual revenue, 20% of which comes from its integrator business.
"What really excites me is our full line integrations that we've really been tapping into lately," says Justin Neece, vice president of operations at Serpa, noting its work in the pharmaceutical and CPG industries. "We just got done with a full bottle line for a top 20 pharmaceutical company, and we took it all the way from the beginning to the end. And with that, we've become a lot more efficient, and we've been able to take on a lot more of those large lines as an integrator."
For example, another project Neece mentioned was an integrated line for a multinational personal care corporation, which included three Serpa machines, complex robotics, cameras, and conveyors, all of which had to be deployed within a short lead time.
Both Neece and Metzler have been at Serpa for more than 10 years and have been able to see the company expand its product line and capabilities year after year.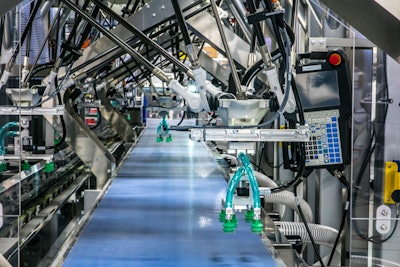 Serpa was founded on cartoners, then the company began designing case packers, and, most recently, it has expanded to robotic palletizers and auxiliary equipment like a patented insert feeder, tamper-evident labelers, and checkweighers to complement its core equipment offering.
With its rapid growth and integrator status, the end-of-line equipment manufacturer also caught the attention of ProMach, which acquired Serpa in February.
"I'm turning 60 this year and a lot of companies have been looking at [Serpa Packaging], including ProMach, for about three years," Serpa says. "I've had conversations, but I said, 'Nah, I'm not going to do it.' But this time around, the timing was perfect. The main reason I chose ProMach was because I wanted to be good to my people. I didn't get the company to this point by myself and I have some very loyal people here—they're like my second family."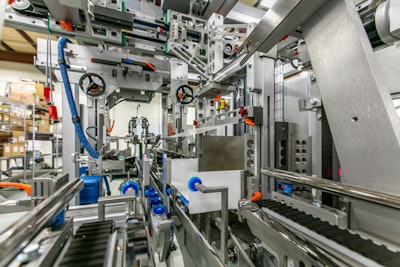 What "ProMach Built" means to Serpa
Serpa's Visalia, Calif.-based team will join ProMach's Robotics & End of Line group, which is led by the group's senior vice president Hutch Coburn. They will join the ranks of some of ProMach's other brands like Brenton, Dekka, Edson, Orion, Quest, Rennco, Texwrap, and Wexxar Bel.
"The addition of Serpa to our Robotics & End of Line portfolio means our customers have access to one of the most robust lineups of end-of-line solutions in the world," Coburn says. "We're excited about what Serpa brings to ProMach with their cartoning and end-of-line capabilities."
The ruggedness of Serpa's equipment, its speed-capabilities, user-friendly operation, and rapid, repeatable changeover technology initially attracted ProMach, according to the company's president and CEO Mark Anderson.
"Serpa is no stranger to the ProMach organization," Anderson says. "We've worked with them on numerous projects over the years across multiple ProMach product brands and their customer-focused approach has always made them a wonderful partner. We're excited to welcome Serpa to the ProMach family and look forward to working with their outstanding team as they continue developing innovative solutions, expanding into new markets, and bringing immense value to their customer base."
Not only is ProMach optimistic about having Serpa on their roster, but the OEM's employees are equally excited about the opportunities that the acquisition will afford the company.
"Before the acquisition, we were our own company and we did things our own way, even when we integrated and collaborated with other companies," Metzler says. "Being a ProMach company now, everyone is going in the same direction with the same goal and makes it very easy for collaboration between many different organizations."
Serpa's Neece, who has been at the company over the past decade, is looking forward to seeing how much more Serpa will grow now that it's a ProMach company. ProMach will continue to invest in Serpa's employees, brand, products, services, and facility to further advance its position as a leader in end-of-line packaging technologies.
"One of the biggest benefits of this acquisition is the sales potential and sales consistency," Neece adds. "ProMach will also put new equipment in on the machine shop side and software on the engineering side, which is something I can't wait for."
How Serpa innovates
Investing in the engineering and machine shop side of the business is appealing to Serpa as it's been on a bit of an innovation streak. Like many OEMs, its innovation comes from having to solve a customer problem or need, and Neece says Serpa's customers keep them on their toes.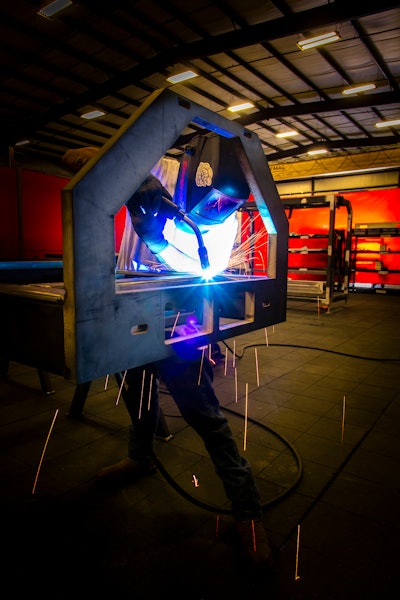 "Between sales and engineering, we are always needing to innovate within the machines, and we are constantly being pushed to try something new," Neece says. "For example, there's always been an issue with feeding inserts into high-speed applications, and we've always had to outsource and depend on other companies to provide us a good product for leaflet feeding inserts. But Fernando had an idea of how we could make this better."
Serpa engineers, in collaboration with customers, looked at all of the things that didn't work and all the issues they've had with existing feeders and they created something better.
"For our new leaflet feeder systems, we knew getting the leaflets to the feeder has always been a difficult task because you're basically trying to handle these little paper cards, and then transferring a lot of them at once to a magazine at a high speed," Neece says. "So, after looking at what wasn't working, we thought 'why don't we just transfer them out of whatever they're coming to us from right into the feeder?' And so now, we've got the standard leaflet module that unloads the leaflets out of the trays that they come in. Now, we're able to transfer the leaflets out on the trays and put it into leaflet feeding system."
The creation of its insert feeder, which was rolled out in 2016 and then patented in 2018, also contributed immensely to the company's growth. Then, the OEM went on to develop a semi-automatic case packer in 2017 for serialization systems, which met a demand from customers who didn't need a fully-automatic case packer.
And the company's most recent innovation of a tamper-evident labeler was built based off labeling equipment they've assembled in the past, which helped them speed time-to-market for the pharmaceutical, medical device, nutraceutical, and personal care customers that were working hard to meet demands caused by the COVID-19 pandemic.
"For the labeler, the tamper-evident aspect was new to us, but we basically took a new labeler and then built standard components around the labeler and that helped us achieve what we were going for," says Neece.
When it comes to innovating new products or improving existing equipment, Serpa's engineers take what they know about their equipment and how it works, and they improve it and adapt it into standard design modules that they can build upon and customize—much like they did with the leaflet feeders.
Serpa's people are always thinking about ways to make the equipment better in terms of being more functional, easier to use, and having fewer parts. Internally the team uses the term "Serpify" when they are taking on a challenge or thinking about how they can develop a new solution.
"Serpifying describes the level of pride we have in creating this equipment," Metzler says. "When we have a machine that we build, from the guy that debugged it to the people that designed it, they all have that love and pride of building a Serpa machine that's top quality and that customers love and respect."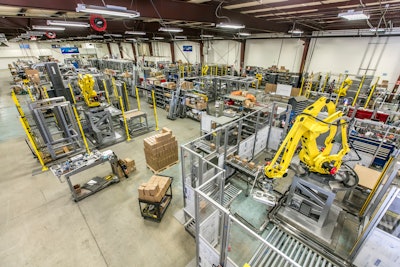 Another trend and industry innovation Serpa is implementing into their systems to keep the company relevant and growing is the concept of magnetic conveyance, like Rockwell's MagneMotion. The OEM has completed systems utilizing magnetic conveyors from Rockwell, which Neece says provides Serpa's customers with more flexibility.
"Those tracks allow us to process either products or cartons at a certain pitch on one part of the machine and with intermittent and continuous motion on another part of the machine," Neece says. "And to be able to transfer it down to another part of the machine and change the pitch or go intermittent or continuous, that's really a game changer when it comes to having robotics picking and placing in a machine."
Serpa's role and journey as an integrator
Serpa's product innovations have aided in the company's growth, but being an integrator has also accelerated in its expansion. The OEM started integrating when its customers were purchasing more than one piece of equipment to complete a line, which aligned perfectly with Serpa's mission to develop complete end-of-line solutions.
Over the last decade, Serpa has expanded product lines to include equipment like robotic palletizers so that they can be a one-stop shop for their customer's end-of-line needs and further build their integrator reputation. But the OEM still looks to its peers to partner up on bigger lines.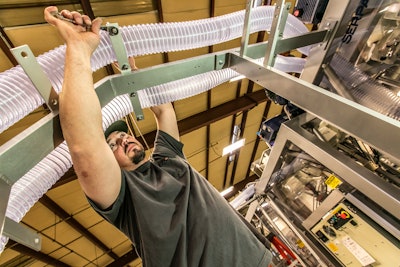 "When we are looking for an OEM partner on an integration, service is big for us," Metzler says. "We want to work with OEMs that can match the level of service that we give after the machine is sold. We work with Weiler Labeling a lot and they match our level of service and quality. They have equipment that is top notch, and we don't have to touch anything on it."
Serpa was founded on making equipment easy to use and maintain while promising 98% uptime, which is why it has strict requirements for service and uptime.
What's next for Serpa
As Serpa finds their place in the ProMach family, it will be important to keep an eye on this company's growth and innovations, some of which the company will show at
PACK EXPO Las Vegas 2021
happening Sept. 27-29.
"We are working on a collaboration between us and another company that we plan to debut during PACK EXPO," says Metzler. "It's going to be a really innovative in terms of product handling."
For more information on exhibiting at PACK EXPO Las Vegas, visit: PACK EXPO Las Vegas
Looking forward, the company plans to improve on its service and continue to expand as it taps into new opportunities provided by the acquisition.
"Now, being a ProMach company, I'm looking at even faster growth in the next three years, which will make it even more stable for my people here in terms of security long-term," Serpa says. "That's important to me, especially as I look to retire."
Companies in this article