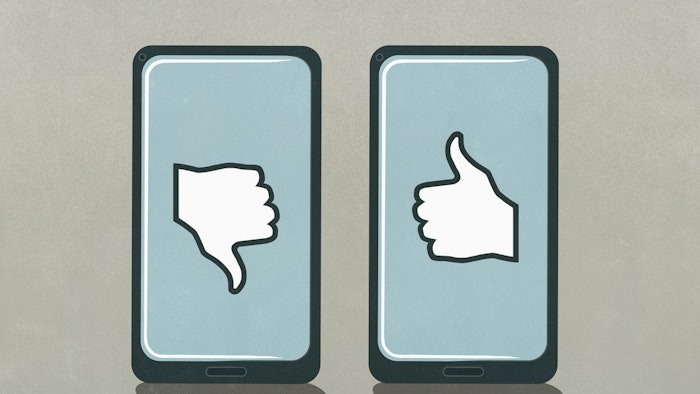 I'm a sucker for marketing trend and prediction articles. The problem I find with these articles is they often don't provide insight into how to put the trend into action for my business. Moreover, many articles focus on emerging consumer trends that aren't always immediately applicable in B2B. So, I'm going to outline some areas specific to B2B marketers that will help you navigate the new year.
While not every tactic listed below may apply to you, the four focus areas of privacy, customer experience (CX), simplification, and humanization are absolutely trends you can and should incorporate into your 2022 marketing strategy.
Privacy
Although privacy regulations are continuously evolving, new restrictions announced by Apple and Google are driving an increased focus on privacy. These restrictions include Apple's introduction of an opt-in requirement for app tracking and Apple Mail Privacy Protection which prevents email senders from obtaining device, location, or email open activity data for recipients who access email via the mail app on their iOS device. Additionally, Google announced that coming in 2023, it will eliminate third-party cookie tracking through the Chrome browser.
Privacy restrictions are a response to consumer desires and restrictions are only going to increase over time. Consider how and when you ask for customer data. Content you gate behind a registration form should be valuable enough to the end user to warrant the exchange of information.
---
---
Particularly with Apple Mail, tracking open rates as a key performance indicator (KPI) will become less meaningful since the data is not accurately reported. This offers an opportunity to focus on more intent-based metrics such as clicks and conversions.
And while the 2023 elimination of third-party cookie tracking is still more than a year out, it has drawn attention to the importance of first-party data. Keep in mind that while your first-party data is the information you gather from your customers, PMMI Media Group's first-party data comprises reader and attendee data across all of our brands and channels, and we make this available to OEMs to target prospects across channels including digital ads.
Customer Experience (CX)
The best marketers always design their strategy with a customer experience (CX) focus at the center. So how should we be thinking about CX differently for 2022? To start, think about the challenges customers face and the tools available to us to help solve these challenges.
According to a Gartner study, the typical buying group for a complex B2B solution involves six to 10 decision makers all of whom independently gather information that must be shared across the group. The same study found that when considering a purchase, B2B buyers spend only 17% of that time meeting with potential suppliers.
When you start to understand this, you see that although sales and marketing teams want to swiftly engage qualified buyers, the buyer often wants access to more information as part of the discovery phase.
Luckily, as marketers, we have access to tools to help buyers gather their information while at the same time providing intent data back to our teams to help determine the right time for engagement. Tools such as chatbots make it easier for buyers to get real-time answers to their questions through AI-supported bots, live agents, or both.
While pricing is a key data point for buyers, suppliers often do not want to share this information publicly. However, that doesn't have to mean pricing can only be shared through a salesperson. Online calculators can provide limited pricing detail through broad ranges, and configuration tools can require registration to access results.
Similarly to pricing, suppliers may not want to share detailed product information publicly. We recently introduced a new product to capture 3D machine tours which is available with the addition of Permission Builder, a tool to verify visitors and only grant access to qualified buyers.
Click here for more on PMMI Media Group's Permission Builder. 
Simplification
While simplicity never really goes out of style, there are times when there's a greater desire to simplify. In 2022, simplicity is a response to our collective exhaustion after wading through a global pandemic. When messaging and design is stripped down to its basic elements, it clears away the clutter and gives our brains a moment of rest.
In web design, we'll see simplicity in the form of streamlined navigation menus and lots of whitespace. Look for email to limit content and include more focused calls-to-action. Video content has been moving toward a less-produced, more informal style which will continue into 2022. Truly, all you need is a phone to create great video content. If you're new to creating video or just looking for more support, PMMI Media Group offers video content creation services where you simply download a mobile app and our team remotely assists you with production.
With a conscious focus on simplicity, you'll find plenty of other opportunities to apply it to your marketing strategy across content, design, and process.
Click here for more on PMMI Media Group's video content creation services 
Humanization
As with simplicity, the humanization trend is also a reaction to the pandemic experience. We've been limited in our ability to connect with others and with the recent return to live events, it's clear the in-person energy can't be replicated online. I attended PACK EXPO Las Vegas in September and was excited to witness what a positive experience it was for so many attendees and exhibitors.
In 2022, look for an increased focus on smaller events that allow for more intimate connections. This may take the form of regional roundtables or hosted buyer events.
Another area to invest in is Account Based Marketing (ABM). Though not a new concept, in relation to humanization, ABM offers a chance to get closer to your customers by taking time to understand their needs, tailor outreach, and connect directly. Investing more of your time and budget in fewer, more targeted prospects can lead to greater payoff.
There's also an opportunity to humanize your organization for the customer. Showcase your employees on your website, in videos, and through email. Our team has found text-only emails sent on behalf of our account team members have greater engagement than branded emails.
At PMMI Media Group, I'm excited to incorporate these four focus areas into our marketing strategy for 2022. Visit us at pmmimediagroup.com to see what we've already implemented and what's new.