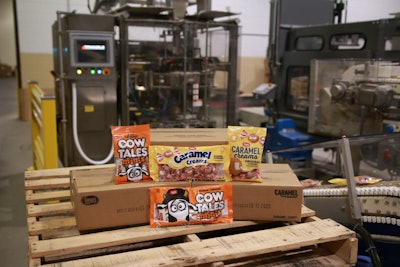 There is a common request from manufacturers when it comes to working with machine builders, and that is, to be better partners. They want to be able to rely on their OEMs. That means creating sturdy, safe, and reliable equipment. But when it comes down to building trust, it really is about culture and the personal relationships formed throughout the years.
Case in point: Goetze's Candy Company is the maker of the recognizable Caramel Creams known as "Bulls-Eyes" and "Cow Tales." The company has been in operation for over 125 years—since 1895 to be exact—when August Goetze and his son William entered the chewing gum business, which evolved into caramels.
Back in the early days, much of the candy production and packaging was done by hand. But in the 1960s, the company bought a machine from Triangle Package Machinery, and several decades later Goetze's is still purchasing packaging machinery from Triangle. Currently, the candy company has nine vertical form fill seal (VFFS) machines of various models, seven combination weighers, and one inline weigher that dates back to 1976.
"The machine we had from the early 1960s was literally just replaced at the end of 2021," says Todd Goetze, President and COO at Goetze's Candy Company. "The machinery clearly is built for a long life and holds up."
What has also held up is the professional relationship between Goetze's and Triangle for the last 60 years. That stems, in part, from the fact that both companies have a deep-rooted history and similar culture. Goetze's is a sixth generation family-owned and operated manufacturer. And Triangle, established in 1923 and coming up on its centennial anniversary, is a third generation family-owned and operated OEM.
These business parallels create a familiarity that makes it easy to pick up the phone and ask for help. "If I'm looking for answers, I have the best shot of getting in touch with someone directly at a family-owned business. In fact, I have the personal cell phone numbers of several Triangle representatives and I can call them anytime, which makes all the difference in the world," Goetze says, noting that his own company is managed by him and his brother, as well as his uncle and father. In addition, his niece and nephew—the sixth generation—have recently joined the company.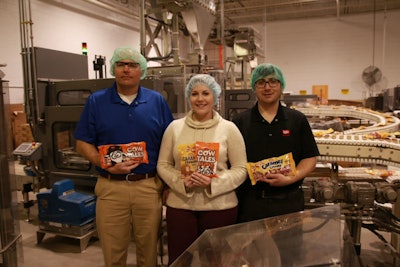 John Cooke, Triangle's eastern sales manager, agrees that the two companies' cultures create a strong connection. Cooke has been with the OEM for almost 30 years and the person he replaced retired after 30 years. "We have a lot of longevity," he says. "Triangle as a company has been successful by building trust with customers and providing comfort that we'll do what's right for them. And anyone in the Goetze family can call if there's a problem with a machine. Even if it's not related to a Triangle machine, we will help them."
Cooke comments that Triangle president Bryan Muskat always says that Triangle will be the company that fixes customers' problems, whether they are Triangle's or not.
This is not your father's machine
Triangle equipment is used across a variety of food segments, from candy to fresh produce to frozen foods, and offers several packaging machines, including VFFS baggers, weighers, horizontal cartoners, tray packers, tray loaders, blending machines, pouch fillers, and more. In addition, Triangle machines support about a dozen different package styles.
Over the years, the company has modernized the machines with control technology, adding capabilities such as automatic changeover, or adding food-specific functionality that helps its manufacturing customers. At PACK EXPO Las Vegas 2021, for example, the company rolled out a liquid fill VFFS bagger designed for hot fill, pumpable foods, such as soup and sauces, which includes a unique servo controlled squeegee system that eliminates the liquid product from entering the seal area. This eliminates costly leaks and headspace inside the package and ensures quality seals when using heat seal jaws or optional ultrasonic sealing jaws for higher speeds.
"We are a leader in ultrasonic sealing," Cooke says. "All of our current machines are designed to work with ultrasonic seals. And from a sustainability standpoint, putting ultrasonics on VFFS baggers uses less power than heat seal machines and uses less film."
Goetze's Candy is not currently using the ultrasonic seals, but its machine set up for packaging the Caramel Creams is still very efficient. The product is weighed and bagged via Triangle machines. The filled bags are then moved via conveyors and fed into Fallas Automation case packers. The filled cases are then transported overhead to robotic palletizers.
---
---
"There's no question that over the years the machines have gotten better," Goetze says. "When I was a kid working summers here on the bag machine, it took three of us—two people packing and one loading a pallet—and we were running roughly 70 bags per minute. Now, a typical system is running 110 bags per minute and has one person who is just monitoring it. The accuracy is better, the speeds are better. There is ease of use with touchscreens and alarm messaging that comes up on the screen when something is wrong. It even directs people where to find the problem, compared to the older machines which would just stop." And if there ever is a problem that the internal team can't fix, Triangle support is a call away for remote diagnostics and problem-solving—at any time.
According to Cooke, an elevated level of service and support is what sets Triangle apart "We've had employees in the parts department walk to work on a Sunday to ship something out if a customer calls looking for a part," he says.
And having decades of experience with a customer has its advantages. "One of my favorite stories with Goetze's Candy has to do with that machine from the 1960s," Cooke remembers. "It was about five years ago and Todd had called me for a part for that machine, which was a casted part of metal poured in a sand [mold], and we actually had one in stock and had [the machine] up and running the next day."
Another benefit of using the same OEM for so many years is the standardization of equipment and components which lowers the learning curve for operators and makes diagnosing problems easy. Troubleshooting equipment is often resolved onsite because machine technicians can swap parts in and out of the Triangle machines to diagnose problems quickly, says Goetze.
It also streamlines factory acceptance tests (FATs). "The last five machines we bought, we have not attended an FAT at Triangle," Goetze says. "We've relied on one of the field service engineers, Scott Kotsch, who knows us well enough and knows how we like the machines. He does the tests for us and he has been the one to do the startup on site. And it's worked well."
And when it comes to planning for future innovations and business expansions, Goetze will bring Cooke into the conversation to tap into his expertise as to how a machine will handle different packaging or speeds, and he relies on his honest feedback on what will work and what won't.
This honest communication is key to building trust and a long term partnership, Cooke says, noting the recipe for success here is to, "treat people the way you want to be treated."
Goetze is aware that there is a lot of great equipment out there, but there is no need to deviate from this deep-rooted relationship that spans decades. "The way things are working now are working well, and they have been for generations."
Companies in this article