How do you "Americanize" a well-known and deeply-rooted European equipment company that has a business division dating back to 1900 and that has built a reputation for delivering quality high-end brands?
The answer: You hire a wicked smart guy from Boston with two engineering degrees and an MBA in management who understands the industry, is driven by innovation and communication, and can motivate a team better than Tom Brady.
Patrick Carroll was named president of IMA Dairy & Food USA Inc., in 2015, when the company was established in Leominster, MA, under the parent company Industria Macchine Automatiche S.p.A. (IMA Group), headquartered in Bologna, Italy. The USA-based division was created following IMA Group's acquisition of the operating business of Oystar Group, a global producer of packaging machines. The brands included in the deal—Benhil, Erca, Gasti, Hamba, and Hassia—were transferred into the holding company, IMA Dairy & Food GmbH, which is currently led by Thomas Becker in Germany. The U.S.-based dairy and food group, led by Carroll, was established to provide parts, technical service, and distribution of the multiple equipment brands to U.S.-based CPGs.
It's confusing. Yes.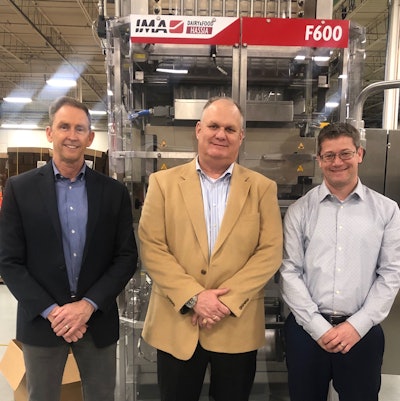 So as part of his mission, Carroll must demystify the overall messaging of what IMA Dairy & Food is. "I still get calls from people saying they are looking for 600,000 gallons of milk," says Carroll, explaining that many people think they are a supplier of dairy products, not packaging equipment for the food and dairy industry.
And it gets more confounding as the group continues to expand. Since the company formation in 2015, new products and services have been added, and now IMA Dairy & Food includes eight brands to cover a diverse market segment:
Erca is the inventor of form fill seal (f/f/s) technology, the company says, as well as in-mould wrap around labeling and open mould technology.
Gasti is a specialist for filling and sealing machines, especially continuous motion machines for pre-formed cups made of plastic, paper, aluminum, and laminate materials.
Hassia, one of the leading manufacturers of aseptic f/f/s machines, supplies state-of-the-art packaging machines for cups and stick packs, handling liquid to pasty products. The portfolio comprises the highspeed filling and sealing machines from the Hamba brand (the inventor of the rotary cup filler).
Corazza is the maker of high-speed dosing and wrapping machines for packing processed cream, cheese, and butter.
Fillshape offers filling systems for flexible stand-up pouches with and without a spout for dairy, food, and beverages.
CDE Packaging focuses on the design and construction of tailormade machines that are developed according to customer-specific requirements.
And the latest addition to the IMA Food & Dairy family, Intecma, based in Barcelona, Spain, focuses on sustainability with its unique Zero Technology that includes proprietary tools for cutting polyethylene terephthalate (PET) on any f/f/s system.
Individually, the brands are well known, but as a collective group under the IMA Dairy & Food name, there's still some mix-up among end users since there's overlap in some functionality of each brand. In addition, under the multinational Italian IMA umbrella, there are business segments located all over the world that also cater to the coffee, tea, tobacco, cosmetics, and pharmaceutical industries.
It truly is a global company. "I can spend an hour on the phone and speak to five different countries," Carroll says. And, while he has the ability to sell across all of the divisions for customers requiring a variety of machines, Carroll's focus is on boosting brand recognition and sales specifically for the U.S.-based dairy and food division. "Some brands have not been promoted properly for so many years, so we had to bring them back to the forefront."
Raising brand awareness—and revenue
As a result of the effort of Carroll and team, there's been positive signs of growth. Sales of the Hassia brand, for example, are up by 30% as big customers like Ken's Foods and Chic-fil-A, depend on the f/f/s machines that IMA sells to contract packagers for making the dipping cups for jellies and sauces. In addition, the Fillshape group, which is based in Parma, Italy, will represent close to 50% of IMA Dairy & Food USA equipment sales this year. "This group is emerging and we've done a lot of work with it," notes Carroll.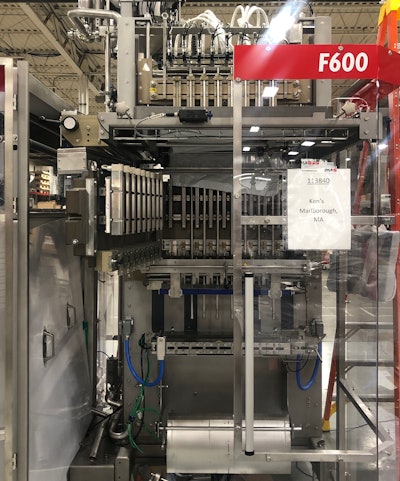 In addition, the Intecma acquisition is bringing new tools (referred to as Zero Technology) that are a result of years of research and development, and provide a way for existing f/f/s machine to cut sustainable monomaterials, such as PET. Anticipating the need for this type of add-on product, Carroll says they are going to build a machine shop within the Leominster location to sharpen and maintain the punch assembly of the cups. "Now we are able to do PET which is revolutionary globally, and we see that as a major sustainability piece moving forward."
IMA Dairy & Food USA will provide service and parts for the Intecma technology at its 110,000 sq. ft. facility in Leominster, which it shares with IMA North America (focused specifically on pharmaceutical, food, and coffee markets). The dairy and food business already has $3 million worth of spare parts on site used for service and support of all its brands, and the additional Intecma machine shop creates a new revenue opportunity.
"The versatility of the Intecma cutting tools is that they can be used not just on our machines, but any form fill seal machine," says Jerry Watkins, eastern division area sales manager for IMA Dairy & Food USA. "It opens other markets for us in the U.S., because if a company didn't buy our form fill seal machine, we can still give them the ability to cut PET."
The Intecma opportunity gives the sales team a foot in the door at customers that may not know the IMA Dairy & Food brand, and it shows a level of innovation and machine flexibility that CPGs and contract packagers are looking for. "I sit on the board of directors for the International Dairy Food Association for the yogurt and cultures group, and we see a big challenge for dairy packers who need equipment that is flexible," Carroll says. "Rather than one machine to do one size cup, as the dairy industry purchases capital equipment the machines they invest in need to be capable of handling multiple package sizes, as well as multiple configurations and materials."
The American way
The quality and flexibility that IMA machines bring to the table, coupled with the education that Carroll and his sales team have been doing over the past seven years, is piquing the interest of mid-sized manufacturers who may never have considered the IMA brands before. New Orleans-based Big Easy Blends, a co-packer for national brands like Welch's as well as private label products, is one of those companies.
Big Easy Blends was founded in 2007 by two brothers and their friend, starting with slushy freezer beverages. Recognizing the growth in the spouted pouch market, one of the fastest growing segments of the flexible packaging market, they needed to replace their small, slow-speed machines with equipment that is fast and flexible.
"We called on this company for five years, and now they've purchased two machines," Carroll says, noting the co-packer's founders are thrilled with the Fillshape machines. "One has been installed this year and we're heading to Parma to do the factory acceptance test on the second machine."
What Big Easy Blends is getting is a machine that is three times faster than what they had and can handle two or three lines at once. And while the IMA machines are built in Europe, which is where the factory acceptance tests (FAT) are also done, the U.S. division brings a lot of value to its customers based here by Americanizing the process for them.
The biggest complaint from American CPGs and co-packers when buying equipment from European OEMs is the lack of accessibility to parts and people. "They sometimes struggle to get information or spare parts from Europe. That's where we take over and have all of the spare parts and technical assistance here," explains Carroll.
In addition, Big Easy Blends is benefitting from IMA Dairy & Food's latest initiative, which is a parts cabinet located at the customer site. It comes pre-loaded with components and devices for the machine, all labeled and readily available. Not only is this more convenient and faster than ordering parts, it also avoids downtime and shipping delays by enabling the supervisor or an IMA technician to visually see what parts are needed, which triggers them to order more in order to refill the bins and always have specific parts on hand.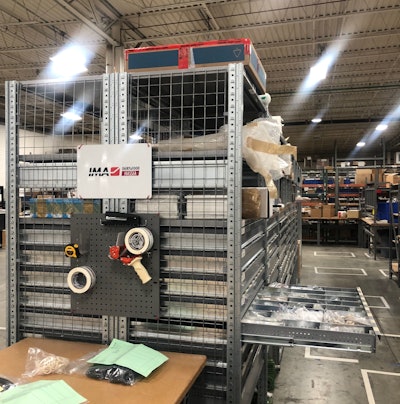 The other important detail for American companies is that all sales—be it equipment or parts—are calculated in U.S. dollars. "We are buying the equipment from our inner companies in euros and reselling them in U.S. dollars," says Dan Campanello, director of finance and administration for IMA Dairy & Food USA. "When we get a purchase order we lock in a specific exchange rate, as the value of the U.S. dollar does fluctuate."
"Some companies won't buy in euros because they're afraid of the risk," Carroll adds. "Not the risk of the euro, but they are afraid that real help resides six to nine time zones away. We take that fear away." In addition, not only is IMA Dairy & Food USA handling the conversion from euros to dollars, but also the commercial transaction of the freight for bringing the equipment in from overseas.
Total team effort
Understanding the importance of streamlining the buying experience, the OEM goes the extra mile—or thousands of miles—to make sure everything goes smoothly.
Hayden Turner is the vice president of operations at IMA Dairy & Food USA. He and his team of 10 service technicians work to make the customer's FAT and site acceptance test (SAT) as painless as possible.
"We'll fly the service tech who will be installing the machine in the U.S. over [to Europe] the week before the customer ever shows up to watch the machine go through its final paces before the FAT," Carroll says. That same technician participates in the breakdown of the machine in Europe and 30 days later, they are the ones unpacking the box and doing the installation at the customer site in the U.S.
Because the IMA USA group is fairly small overall, it's important that everyone be able to handle multiple jobs. "We have to have people capable of changing their hats and doing different things," Turner explains. "It allows us to cross train people cost-effectively. So, if someone is sick or can't make it to a job site, we can swap people in based on skillset and availability. It also keeps employees engaged. They are happy to show up to work because they don't know what they'll be doing each week."
As a result, new hires are not only considered for their skillset, but also for their mindset. "Many aspects of this job you can teach, but someone with the right mindset will ultimately be successful no matter what they take on," Turner says. "If they are hungry and want to learn to participate in the overall objectives, great. And they need emotional intelligence, that is the ability to read people and work with people."
They also need a good sense of humor. When Campanello was interviewing for his finance role, Carroll came into the office, looked at his resume, saw that he was from Connecticut, and then asked one important question: "Are you a Patriots fan or a Giants fan?" Campanello responded that he is a Patriots fan. Carroll nodded, wrote something on his resume, and walked out of the room.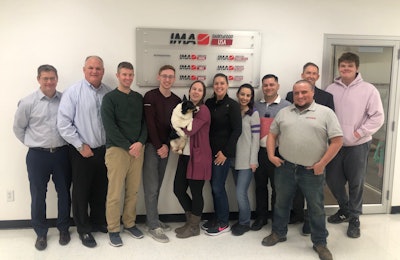 Even as president of the company, Carroll, too, takes on multiple roles. He's known to get his hands dirty on the factory floor or chase down a spare part for a customer. And it's this kind of flexibility and dedication to service that makes a difference. It's also Carroll's own flexibility and dedication to his employees that make for an enthusiastic office culture.
For example, visitors to the Leominster site are greeted by Violet, the office pup. Violet's owner is an employee and adopted the dog during the pandemic. When it was time to come back to the office, Violet was allowed to tag along, and she's now a permanent part of the IMA Dairy & Food USA team. In addition to enjoying Violet's playful demeanor during the day, the team set up a miniature golf course in part of the factory to get different departments to interact during breaks. While IMA may be a global cosmopolitan company, the U.S. group has created a cozy, comfortable culture.
And, after seven years in business, IMA Dairy & Food USA has made major inroads in the U.S. market, growing brand recognition as well as the product portfolio. And there's more to come.
Companies in this article