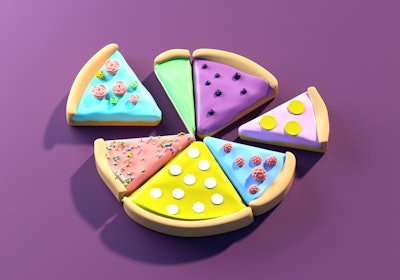 Getty Images
Somehow, although it happens every year like clockwork, budgeting season always seems to sneak up on me. It can feel like you're planning for the year ahead before you've had a chance to measure what worked and what didn't in the current year. Couple this lack of hindsight with the constant flow of existing projects to get done and it can be easy to treat budgets as an update exercise of tweaking what was done last year by asking for more money, adding a few new programs, and shifting spend among channels.
So how can you be better prepared to create a thoughtful, strategic budget for the year ahead? To start, before you begin your planning, do your homework and consider the internal and external factors that impact your goals and how you plan to achieve them.
1. Company goals
Does your company publish and promote internal company goals in categories such as revenue growth, new product development, and operational efficiency? If so, this is best place to start as it draws the clearest connection between marketing activity and success drivers for the business.
While Marketing is most closely tied to supporting revenue goals, it can also support other areas of the business. For example, if improving customer experience is a company goal, marketing can help support this through improving customer onboarding or simplifying the company website.
If there is a company goal related to internal processes or operational efficiency, take this opportunity to align your marketing technology requests such as updating your CRM, introducing a marketing automation tool, or streamlining analytics reporting.
If your marketing goals are not tightly bound to company goals, you can still use this pre-planning phase to connect with company leadership and ask how they envision marketing supporting the broader organization. You can even play a role in introducing a plan for broader company goals that could lead the plan for budgeting next year.
2. What's working
Though you won't have the benefit of analysis of the full year for 2022, it's worth reviewing your year-to-date progress to identify which marketing investments have been most successful.
Are these new initiatives or tried and true tactics? If existing strategies, do you continue to see incremental improvement or has growth stagnated? If a new strategy, how much did you invest to start and how much more would you invest moving forward?
If you're not already testing new marketing strategies, consider allocating 10% of your 2023 budget to testing new channels, technologies, or content types. During the planning process, be sure to define goals to measure success.
3. What's not working
Similarly, consider what's not working and why. Several factors can contribute to failure including market fit, internal support, and funding. After reviewing what contributed to the failure, ask yourself if it's worth adjusting and reinvesting or if you should cut your losses.
And perhaps what's not working for your marketing isn't a failure at all, but rather it just isn't as successful as your other efforts. The simplest question to ask yourself is if you had one more dollar to invest in marketing, where would you spend it.
4. Industry conditions
Turning outward, examine how changing industry conditions may impact your strategic goals. Has your position among competitors changed? A weakening competitor offers an opportunity to gain market share while a new or growing competitor may force you to defend your market share. In both instances, a doubling down on brand awareness is key. This may seem risky since marketing success is increasingly tied to revenue goals and marketers are focused on lead generation. However, if your goal is to own the market, the best strategy starts with acting like you already do.
Consider also changes to your industry or the overall market. Over the last few years, the biggest problem for many machine builders has been fulfilling existing orders, however, this may start to change according to findings from PMMI's Quarterly Business Indicator report for the first quarter of 2022 which show order quotations have dropped to the lowest level since 2008.
Click here to download the PMMI Q1 2022 Quarterly Business Indicator report.
While these indicators may not hit your business right away, it's essential to start planning for their impact with the right strategies and investments now.
5. Marketing trends
Another external area to explore during the budget pre-planning phase is overall marketing trends. Not every trend fits every industry or business, but it's worth considering what has worked for others both in your industry and outside of it.
For example, use of video marketing continues to grow across all industries as demonstrated in a 2021 PMMI Media Group survey in which 55% of respondents indicated they plan to leverage video marketing in 2022.
In the same survey, only 27% of respondents indicated they plan to invest in webinars—a number much lower than the 67% of B2B organizations utilizing webinars as surveyed by the Content Marketing Institute. If you're not utilizing webinars, ask yourself why not. Did you previously try webinars and find them to be unsuccessful? Would the fact that two-thirds of all B2B companies incorporate webinars into their marketing strategy cause you to reconsider?
---
---
Once you've completed your pre-planning homework to define your marketing strategy for 2023, it's time to start mapping out your initiatives and allocating your budget across channels. A marketing budget template can help you get started.
Sharon Taylor is the Director of Marketing for PMMI Media Group.