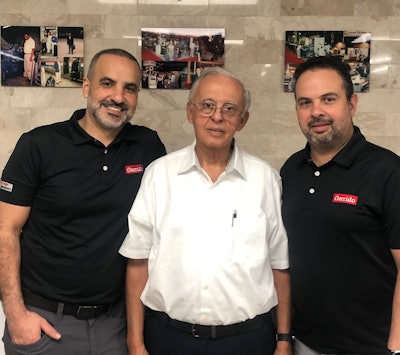 On a small side street right off the highway in the heart of Miami sits a sizeable, warehouse-like building. The gray exterior makes this industrial space fairly inconspicuous to the average passerby, except for the large red letter "G" perched above three separate entrances. At first glance, the building on 7258 NW 66th Street is rather unremarkable. But one step inside and a very different—and extraordinary—story unfolds.
This is the home of Garrido Printing Equipment Inc., a former import and export company that first opened its doors in 1986 and has evolved over the years into a supplier of rebuilt printing machinery for the graphics arts industry in 1989, to a manufacturer of paper converting machinery in 1995. In 2007, the company transformed itself yet again by adding shrink wrap and bagging equipment to its portfolio under the Advantage Machinery brand—which is the company's bread and butter today.
With its growth over the years, Garrido Printing Equipment also expanded its space in this same building that has served as the lifeblood of this family-owned business for almost 40 years. This building, as simple as it may seem, represents the ultimate success story.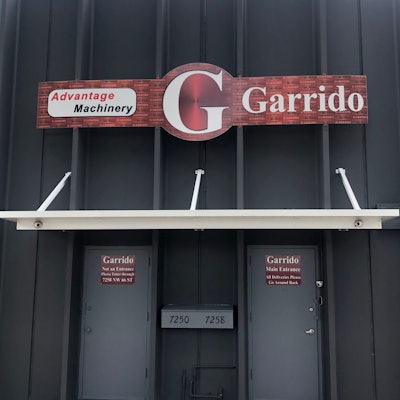 The story starts like this: On May 12, 1986, Diego Jose Garrido left Colombia with his wife and two young children, Juan and Nicolas. They were fleeing the country's socioeconomic strains to pursue a better life living with a relative in the United States.
Diego and his family arrived that day in Miami, FL with just four suitcases and $300.
The next day, May 13, 1986, Diego went to a flower wholesaler, bought a box of flowers, and started selling them on street corners. Driven by family, faith, and kindness, Diego made connections and eventually landed a full-time job at an import/export company that was a tenant in that building on 66th Street. The owner of the import/export business was absent most of the time, so Diego became the point person for customers as well as Norman, the warehouse property owner.
One day, Norman told Diego that he had to evict his boss from the property. It was a devastating moment for him as a Spanish-speaking immigrant who now faced having to find another job. That is, until Norman suggested Diego start his own import/export company in that very same spot. He just needed $500 to create an S Corp., and $1,000 per month to take over the warehouse. Diego felt he could scrape together the money to do that, but he still needed a deposit to purchase the space, which Norman agreed to finance for him.
In that moment, life for the Garrido family changed for the better, but not necessarily in the very beginning. "We had a warehouse but not enough money to eat," Diego remembers.
So he put his family to work. "Our summer camps were coming here and getting a broom and sweeping up," says Nicolas Garrido, who is now a vice president and general manager at Garrido Printing Equipment. "A lot of times we were making more of a mess than when we started, but for my father it is always about teaching us how to earn money."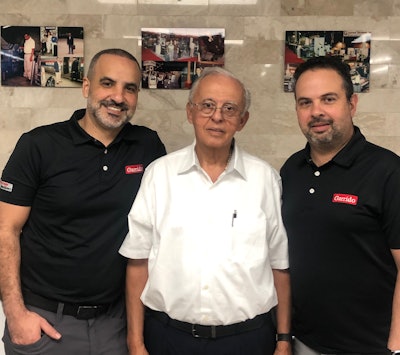 Hard work pays off
That strong work ethic catapulted the business forward. Diego persevered in the import/export business until one day he received a request for a Heidelberg printing press. As he researched the machine, he noticed there was a void in the market to supply high quality, rebuilt printing machinery, and he decided to focus business there. He traveled the world looking for solutions to his clients' needs, which is when he found another opportunity to deliver paper converting equipment with complementary finishing, sealing, and packaging equipment.
When Juan and Nicolas graduated college and joined the company in the late 1990s and early 2000s respectively, the family team realized the need to move away from printing and paper converting equipment and solidify its place in the packaging industry. So, in 2007, with Diego's two sons now working alongside him, they introduced the packaging machinery division, known as Advantage Machinery, to focus on the U.S. market through distribution partnerships.
"We came out with the Advantage Machinery brand in 2007, but we really launched it at PACK EXPO Las Vegas in 2009," says Nicolas.
Advantage Machinery is used in a variety of industries, including food, printing, laundry, carpet, electronics and, most recently, e-commerce. "We have a machine that does the insulation paper for the food kits that are sold through e-commerce," notes Nicolas.
And, a high-speed fully automated version if that machine is currently being beta tested at a customer site to replace single-use, non-recyclable plastic with fully curbside recyclable paper packaging that has a coating to make it sealable. "It is very versatile. You can put a pen there and it will wrap a bag around it," says Juan Garrido, vice president and technical director at Garrido Printing Equipment, describing the proprietary technology they developed.
Inhouse technology produced offshore
Today, Juan and Nicolas run the day-to-day operations, including working with distributors and end users and customizing equipment to customers' needs. Most of the machine manufacturing is done by a partner in Shenzhen, China. They originally moved production to China as a cost-saving move, but realized they would have to invest a lot of time and effort to ensure quality control.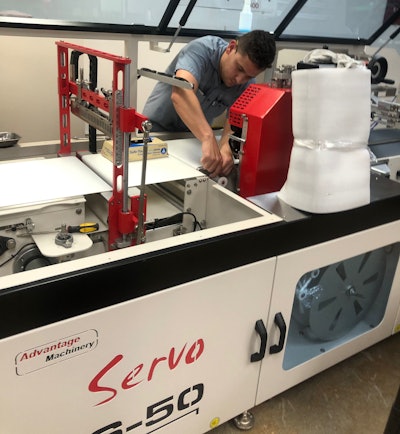 "In the beginning, we thought it would be like doing business in Europe," Nicolas says. "But we found out quickly that the stigma that China held was very true. My brother and I found out the hard way that we'd have to spend a lot of time in China instilling our quality control processes. We did that for a long time, right up until COVID." Luckily, their hard work paid off. "We had to trust the processes we put in place there, and we found out that we really didn't have to go back for a lot of the stuff that we used to travel there five or six times a year for. We just had to trust the system we created, and it worked."
To that end, they've created a strong relationship with their manufacturing partners in China which they've been working with now for 14 years. So much so that, when the pandemic hit China, Garrido Printing Equipment was forewarned of the impending impact on the U.S.
"Our partner in China reached out to us and said they were making machines there that make surgical face masks," Nicolas says. He laughed it off at first, but awoke that same night wondering why they wouldn't consider making the same equipment. "We sent our technicians that work for us in China to the factory where these machines were made to dissect everything and tell us what parts need to change. We went through every component and sourced it, priced it, tested it, and then promoted them."
That move got the company through the first part of COVID. Then, as rumblings that competitor lead times were sliding from 12 weeks to 36 weeks, they found yet another opportunity to get into accounts that they could never get a foot in the door before—and that was due to well-stocked inventory shelves.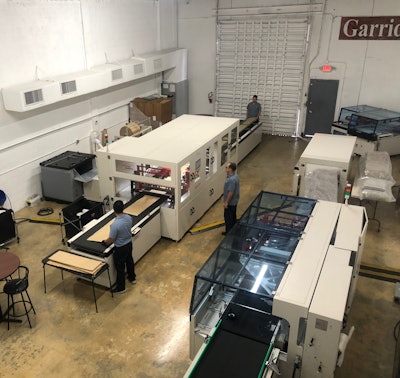 Inventory + warehouse = opportunity
With the new packaging division formed, Garrido grew its client and distribution base, as well as its stock supply for standard machines. In 2021, the company had the opportunity to purchase yet another warehouse unit in the same building that was two doors down. That unit became storage space for machinery and parts. "Every dollar we had was spent on more inventory," Nicolas says. "If we sold one part on one machine in the last 15 years, we still have that part in stock." Whether its electrical components, servo motors, PLCs, drives—the OEM stocks one of everything. "We easily have over a million dollars worth of stuff just sitting on a shelf."
While the inventory doesn't make any money sitting there, it is extremely valuable because when it's needed, it's needed quickly. "When you have a machine down, the solution has to be fast," says Diego. "If you say it will be four months for a part, forget it."
In parallel with providing parts and service quickly, the Garrido family also had a vision of providing a first-class training and testing facility onsite. When the warehouse unit that sat between the main facility and the stock room became available, they bought that too. This particular unit was built out as a large FAT center where distributors and clients could send their technicians to get trained on the Garrido line of equipment. The area is also used to perform machinery testing prior to shipment.
The sky's the limit
And, high above the FAT center is the Garrido "skybox," a comfortable conference room where customers can work while overlooking the FAT room through a wall of glass. "We wanted people to have a first-class experience," Nicolas says. In addition, they wanted to infuse the space with their history. Family photos and antique printing presses are part of the décor, as is a custom-made conference table filled with old printing types that spell out words related to different parts of the company heritage. "As we look towards the future, we need to not only remember where we came from, but we want everyone we do business with to know our family's story as well," says Nicolas.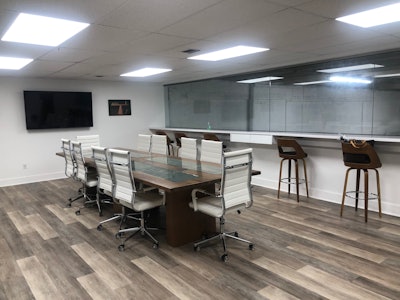 And the Garrido story expands to the employees—most of whom speak Spanish as their first language—who have become an extension of the Garrido family. "It does take us a little while to find the right person for the job, but when we do, it is easy to retain them," says Juan. "We make it a fun place to work, and when we talk to new employee prospects they see that everyone is happy."
Customers are happy, too, as Juan makes sure that he or his technicians are always available to answer questions. To do that, Garrido supplies distributors and end users with a chat app free of charge. If an issue arises at the client site, they can initiate an encrypted group chat that reaches the distributor representatives and Garrido technicians at the same time.
"Most of the time the issues that arise are because an operator is running a new product or new film, and sometimes they just need someone to push them onto the right path," Juan explains. "We try to make ourselves available to solve the problem because it can often be solved within 15 minutes on a chat. They don't need to pay for onsite service."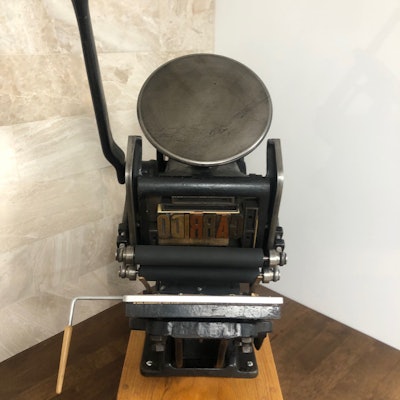 This service-oriented mindset is a strategic mission of the company.
"Our goal in this industry is to have everybody that works with us to be able to say that we offer the best overall experience," Nicolas says. That comes from the moment a client requests information, to the way Garrido supplies that information, and the way they handle the RFQ process in a timely manner. It also extends to invoicing and purchasing, the skybox experience, the FAT room, and the support provided after installation. "We want the user experience to be the best when they deal with us."
Treat people the way you want to be treated—that is the bottom line.
It's a mantra that was born the day the Garrido family arrived in Miami. The company truly was built from the ground up. And as Diego turns the business over to his sons to carve a future path, he can be proud of this legacy he's created for generations to come.
Companies in this article