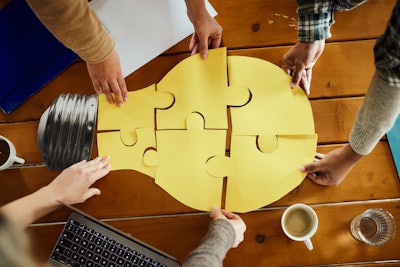 Getty Images
This past September at PACK EXPO Las Vegas I had the opportunity to engage with many exhibitors, witnessing their marketing strategies come to life. Additionally, I had the privilege of connecting with over 60 marketers to present insights on industry best practices and six marketing trends.
As we approach the new year and teams gear up to implement their 2024 marketing strategies, I find it valuable to revisit these trends now through the lens of strategic planning.
Trend #1: Artificial Intelligence
Artificial Intelligence (AI) is revolutionizing the business world. With 77% of businesses already adopting AI or planning to do so, it's clear that this trend is on the rise. In fact, experts project a staggering 30% annual growth rate on AI investment through 2030. Don't miss out on the benefits AI can bring to your marketing practice. Start by using AI to assist with copywriting, brainstorming topic ideas, and repurposing content across different channels. Check out my article, The Power of AI for Marketers for more tips on leveraging this incredible technology.
Trend #2: Martech stack simplification
Managing technology solutions is becoming a key responsibility for marketers. However, research from Gartner shows that overall utilization of these tools has declined from 58% in 2020 to merely 33% in 2023. To make the most of your martech stack, start by auditing your existing technology to ensure its delivering value to your organization. Streamline or remove tools that aren't effective and consider getting support from your IT team during the implementation process. Don't shy away from IT involvement – it can ensure a successful future for your marketing tools.
Trend #3: Sales enablement
Did you know that 67% of the buyer's journey is completed before contacting sales? With younger generations relying heavily on online research, this number is expected to grow. As a marketer, your role is not only to educate prospects during their research phase but also to arm your sales team with relevant content. By providing the right resources, you can make the most of the limited time your sales team spends directly with buyers.
Stay ahead of the game in 2024 by embracing these marketing trends. Don't get left behind – start implementing these strategies now to drive success for your business.
Trend #4 Podcasts
In the past year, podcasts have gained significant popularity, making them a trend to watch for in 2024. With two-thirds of the US population listening to digital audio at least once per month, reaching a total of 225.8 million people, there is a growing audience for both consumer and business-related podcasts.
When it comes to incorporating podcasts into your digital strategy, there are a few options to explore. You can create your own branded podcast, giving you full control over the content and promotion, but keep in mind that it requires resources. Alternatively, you can create a limited-series podcast focused on a specific topic or event to test the waters and see if it's worth further investment. You can also collaborate with an existing podcast by featuring a subject matter expert from your company or sponsoring the podcast.
Trend #5: Chatbots
You may have previously implemented a chatbot on your website and found it was more trouble than it was worth. Or perhaps you've used a chatbot as a consumer and found the interaction frustrating. With advancements in AI improving the overall chatbot experience, now may be the time to reconsider—or consider for the first time—if a chatbot could add value for your website visitors.
Consider also that a chatbot need not offer a comprehensive experience. Instead, it can serve a high-level guide to your site content or offer assurance that a request will be routed to the correct contact.
Trend #6: Influencers
Utilizing influencers to raise awareness of your products is a growing trend in marketing. While the pool of industry-specific influencers may be smaller in B2B, it's valuable to pay attention to top voices in the industry. They can provide new insights, serve as potential guest speakers for webinars, podcasts, or events and offer future partnership opportunities to promote your brand.
As we approach 2024, consider these marketing trends and prioritize according to your unique business needs and goals. Adopting even one or two of these trends can help give your business an edge in the years to come, so don't delay in making the necessary changes to your marketing strategy.