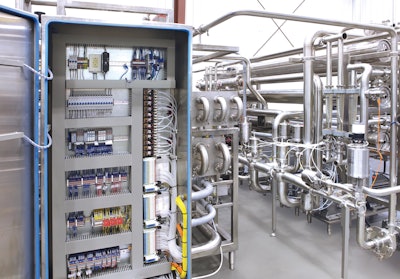 Membrane Process and Controls prides itself as a "one-stop service shop" for membrane systems and process requirements. Since opening its doors in Edgar, Wisconsin, in 1992, the company has grown from a developer of membrane filtration technologies to a global custom end-to-end solutions provider for dairy, food, beverage, wastewater, and pharmaceutical customers. OEM Magazine spoke with Bill Wenzel, Director, ASME products, to introduce the new addition to the PMMI member rolls.
Can you provide a brief history of MP&C?
Founded in 1992, Membrane Process & Controls, Inc (MP&C) started our business by focusing on the controls side of the process industry. We pride ourselves and stake our reputation on integrity and quality backed by a name and a personal guarantee. Soon MP&C moved into other areas of custom designs, builds, installs, and services for a wide variety of stainless steel processing equipment. We provide a full-service offering, including mechanical, electrical, software/controls, fabrication, installation, commissioning, operational training, and service. The team at MP&C provides our customers with insight into methods and equipment that will improve project reliability, economics, safety, and maintenance.
Why did MP&C join PMMI?
Given PMMI's prominent position as a trade organization within the process industry, MP&C felt there was a strong alignment between our business and PMMI's mission, events, and members. The networking opportunities and resources available through PMMI are a solid fit for MP&C since so much of our business revolves around process industries.
Has MP&C Participated in any PMMI programs?
MP&C has previously participated in PMMI's PACK EXPO trade shows, and we look forward to doing so again this fall in Chicago as a PMMI member. We are considering leveraging the training and networking opportunities of PMMI's annual meeting or other events and perhaps utilizing PMMI Media Groups' marketing arm to grow our business further.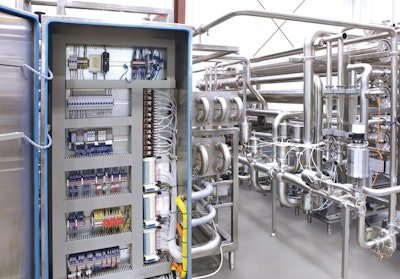 How has the MP&C Product Line Broadened Over the Years?
We began our business on the controls side of the process industry. Shortly after that, we began offering membrane filtration systems related to blood plasma processing, followed by the dairy industry. Membrane filtration expertise remains a key differentiator for our company. When we initially developed our membrane filtration capabilities, we also began supporting our customers with a full-time field service crew. Our field crew performs turnkey installation, system commissioning/tuning, operator training, and maintenance support.
For the past 15 years, MP&C has been fabricating stainless steel atmospheric tanks for dairy, food, medical, chemical, and other process industries. In 2021 we achieved our 3A Certification, and in 2022, MP&C was certified to fabricate ASME Section VIII, Division 1 pressure vessels. MP&C also has a UL-508A-certified panel shop staffed by full-time technicians and an experienced supervisor. These additional capabilities are great complements to MP&C's core competencies related to membrane filtration.
How do you handle field service and training?
When we initially developed our membrane filtration capabilities, we also began supporting our customers with a full-time field service crew. Our field crew performs turnkey installation, system commissioning/tuning, operator training, and maintenance support. MP&C has on-call technicians available 24 hours a day, seven days a week.
What is your process for handling a customer's initial inquiry and needs assessment?
To maximize the value we can offer our clients, MP&C must thoroughly understand the customer's needs. How we achieve that required level of understanding that can vary depending on the project. MP&C sales managers have extensive experience in the process industry. For basic to medium complexity projects, typically, our sales manager will interface with the customer and define the project. For more complex and larger projects, MP&C will involve a variety of our technical personnel to dive as deeply as necessary with our clients to flesh out their needs and begin formulating appropriate solutions fully.
How do you balance standardized machine configurations with those requiring customization?
MP&C is primarily focused on providing customized solutions that are specifically tailored to meet our client's needs. We strategically employ sales managers, process engineers, automation engineers, mechanical engineers, electrical engineers, and shop and field personnel with backgrounds in various industries and process equipment. Instead of starting with a standard product and then seeking to modify it, as described above, MP&C's team begins by truly understanding the client's process needs. Once we understand our customer's expectations, we offer our clients a fully customized solution and a detailed proposal.
MP&C has a fully outfitted research and development center. Our R&D facility, which includes a spray dryer, is used by both MP&C and our customers to develop new processes and validate the effectiveness of our customized equipment solutions. MP&C's R&D center provides considerable value, especially for customers working outside traditional, well-proven processes.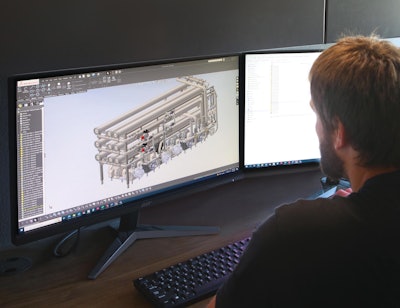 How does MP&C approach project management?
MP&C's approach to project management heavily depends on the project's size and nature. Well-defined, small-scale projects flow successfully through MP&C's process with minimal oversight beyond the salesperson keeping track of project milestones and, along with MP&C design personnel, interfacing with the customer as needed to resolve any questions that surface. Conversely, medium to large-scale projects are assigned a project-specific project manager. The MP&C project manager on large ($20M +) projects will have a clearly defined support team divided by functional areas that indirectly report to the PM to ensure project success.
Why do employees enjoy working for MP&C?
Several MP&C employees came from small to medium-sized companies that larger corporations acquired. Almost inevitably, such acquisitions drive significant cultural change and increased bureaucracy. MP&C is a family-owned business that has successfully expanded its capabilities to be a full-service provider to our customers while retaining a family-based culture that resonates with our team members. Our employees also appreciate the straightforward, "keep it simple" way we conduct our business. Each person has a role and is accountable for meeting commitments to internal and external customers. Our focus is on meeting the needs of our customers while minimizing the amount of noise that frequently exists in modern corporations.
What lies ahead for MP&C?
MP&C looks to continue our strategic yet intentionally metered pace of growth. We built a new state-of-the-art climate-controlled 25,000-square-foot fabrication facility in 2017. At that time, the facility was designed, and utilities were installed to support doubling its footprint. Such an expansion is increasingly becoming a more vital consideration. In addition to expanding our output capacities regarding membrane filtration skids, controls/automation and atmospheric tanks, MP&C sees significant growth potential as we penetrate the market for stainless steel and higher alloy ASME pressure vessels.
Easily share this article at: http://oemgo.to/membrane.