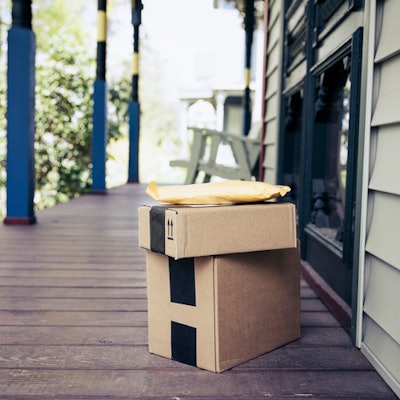 Parents buying Christmas presents might want to heed Amazon's latest sustainable overhaul of its e-commerce process, as millions and millions of packages are now arriving on doorsteps sans any extra packaging, according to a recent Wall Street Journal article.
The change represents the next frontier in secondary packaging, or a lack thereof, and one the e-commerce giant hopes will appeal to customers who are put off by the volume of Amazon-branded boxes they receive and discard every week.
The company in the past year revamped its logistics network, enabling faster and more efficient deliveries, according to the WSJ. Eliminating or reducing packaging has become increasingly important for the company to maintain its dominance, reduce costs and reach its goals related to its climate impact.
"The recognition by a number of senior leaders was just that this is becoming more and more important," said Pat Lindner, Amazon's first vice president of packaging and innovation. "There's a significant need for our company to take the next step in innovation around packaging."
About 11% of items that the company delivers now arrive without extra packaging, or SIOC (shipped in own container), Amazon said. In most cases, customers can choose at checkout if they want extra packaging or prefer their order without it.
Amazon's influence with CPGs and other suppliers and vendors, as well as incentives, is helping convince them to improve their packaging to survive shipping. Vendors, for example, can get incentives to eliminate the extra packaging layer.
Amazon tests packages to be eligible to ship without a container, and it says that the system has improved using artificial intelligence. The company performs up to 19 different tests at a facility near its Seattle headquarters that include compressing items, vibrations, and drops from different angles.
While Amazon is losing some branding power from cutting back on its signature brown boxes, the hope is that the goodwill from the removal of extra packaging will appease customers who have asked the company for such changes.
Consumers are concerned, however, that a lack of a brown box will allow porch pirates to discern rather easily what is and isn't worth stealing.