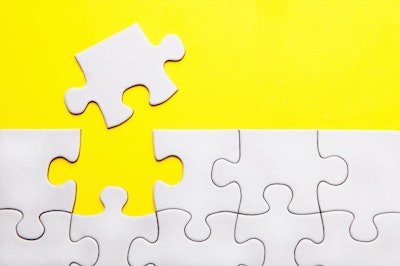 Start-up Apex Filling Systems may just be a four-year-old company, but it has decades of experience in the packaging industry. Based in Indiana, the OEM and systems integrator is led by a team of engineering and business professionals who understand that success hinges not only on delivering quality filling, capping, and conveyance equipment, but also on culture and service. That's why company executives put emphasis on accountability to customers and building trustworthy partnerships. To that end, Apex Filling Systems' core values include: create raving fans; excellence in all you touch; and attitude is everything.
"Apex Filling Systems stands out from our competition for our commitment to our clients," says Alicia Cannon, the company's CEO. "Our goal is to partner with [customers] to deliver turnkey solutions from project inception through completion and beyond. We are here to help ensure their goals become a reality."
Cannon acknowledges that Apex Filling has set some ambitious sights for itself as a young, growing company. Couple that with the fact that the manufacturing industry is facing a skills shortage, and Cannon realized the company may need help developing processes for continuous improvement within the existing and future workforce. That's why, as a member of PMMI, the Association for Packaging and Processing Technologies, Apex Filling turned to the PMMI U Skills Fund, which offers financial and educational support to association members.
For current employees, the PMMI U Skills Fund will match a member company's contribution of up to $10,000 per year for work-related, multi-employee corporate training initiatives, such as certification, risk assessment, field service, and lean workshops, for example. For the future workforce, the Skills Fund acts as a resource to help members form partnerships with regional colleges, universities, technical schools, and other educational programs. To that end, the Skills Fund will match a company's contributions up to $50,000 per year to the regional education programs of their choice.
Cannon said Apex Filling took advantage of the Skills Fund as soon as they became a PMMI member in 2019. "We had a need for leadership development and this was a great way for a young company with limited resources to get the training we needed," she says.
With the help of the $10,000 matching funds, the Apex Filling leadership team attended a business program called "Plan or Get Slaughtered," designed to give business owners the tools, strategies, skills, and techniques needed to grow the company. In addition, the funds were used to implement the Entrepreneurial Operating System (EOS), a business model for establishing vision, traction, and healthy leadership across an organization.
"We learned what we needed to do from Plan or Get Slaughtered, and how to implement it with EOS," Cannon says. "We have a very strong leadership team and we continue to work on developing ourselves and our entire team. The help we got from the Skills Fund set us up for success. Our company is doing excellent based on every measurable we have in place."
In addition, with new leadership initiatives established on top of the company's existing quality products and strong work ethic, the Apex Filling revenue has grown 60% year over year, the cost of goods sold (COGS) is down 9%, and the company's earnings before interest, taxes, depreciation, and amortization (EBITDA) is up 17.5%.
Less quantifiable is employee satisfaction, but employees are much more effective in their roles, which results in an empowered—and happy—workforce. "I attribute a great deal of our success to the training we were able to provide our team very early on," Cannon says, referring to the PMMI U Skills Fund. "We had access to resources that a company our size would not typically have."
For more on the Entrepreneurial Operating System, visit: eosworldwide.com
The "Plan or Get Slaughtered" program is part of Keys to the Vault, a business school for entrepreneurs taught by Keith Cunningham, an American entrepreneur, international speaker, and acclaimed author who is regarded as one of the foremost authorities on business mastery. For more information on the program and upcoming events go to: keystothevault.com
Companies in this article