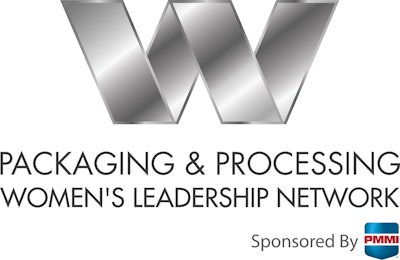 PMMI's Packaging & Processing Women's Leadership Network (PPWLN) is excited to announce new members of its Executive Council. These members, representing all facets of packaging and processing, will bring a new perspective and fresh insights to PPWLN. The network continues its work recruiting, retaining and advancing women's careers in the industry.
The new PPWLN Executive Council members serving four-year terms are:
Lisa Barrieau, Banding & Sales Manager - Food, Felins
Jada Britto, Senior Global Design Manager, Colgate-Palmolive  
Jane Chase, Executive Director, Institute of Packaging Professionals (IoPP)
Charlotte Edwards, Senior Packaging Engineer, Just Born
Kerry Kremer, Senior Vice President Manufacturing and Engineering, Sargento Foods
Joyce Longfield, R&D, Principal of HPP Applications, Good Foods Group
Lisa Propati, VP & GM, Weiler Labeling Systems (a division of ProMach)
Lisa Rathburn, VP Engineering and Continuous Improvement, T. Marzetti Company
Rachael Tomasello, Director of Commercial Capability and Engagement, Mars
Cimberly Weir, Instructor, School of Packaging, Michigan State University 
The following founding PPWLN Executive Council Members generously offered to extend their terms:                                       
Patty Andersen, Vice President of Human Resources & Training, Delkor Systems
Dee Brewer, Director of Packaging, Mission Foods
Alana Brown, Global Trade Show Leader, BW Packaging Systems
Montserrat Cerf, International Sales Director, Polypack, Inc.
Sharron Gilbert (Co-Chair), President & CEO, Septimatech Group
Lisa Hunt, CEO, Plexpack Corp.
Jan Tharp (Co-Chair), President and CEO, Bumble Bee Foods
Nancy Wilson, CEO, Morrison Container Handling Solutions
Eleni Yianas, Vice President, Marketing, Duravant
Save the date for PPWLN's next networking breakfast, bringing together women at all levels of the packaging and processing industry, during PACK EXPO Las Vegas and Healthcare Packaging EXPO (Sept. 27-29; Las Vegas Convention Center). Taking place Tuesday, Sept. 28, the PPWLN breakfast will feature a panel of executives who will speak on "The New World of Work" and its impact on women in manufacturing. Stay tuned for details at pmmi.org/womens-leadership-network/events.
To learn more about PPWLN, visit pmmi.org/ppwln.