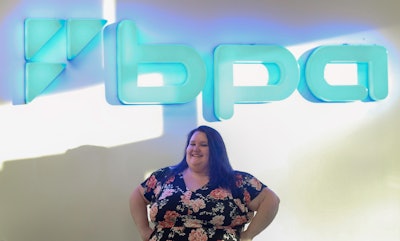 Alexandra Francis is responsible for BluePrint Automation's (BPA) aftermarket growth as the company's aftermarket lead. With the help of her team, Francis improved BluePrint Automation's aftermarket business and revenue. During the height of the pandemic, the company couldn't travel as much, which propelled Francis to develop an online training program that they could use to continue to support customers even when they were unable to be on site. She also created a revenue pipeline tool specifically for aftermarket, which is used to provide visibility on sales opportunities for service, spare parts, and to upgrade business monthly. At the end of 2021, Francis was also named an Emerging Leader On the Rise award winner by PMMI.
OEM Magazine interviewed Francis to learn more about her career and the industry trends that she has her eyes on.
OEM: How did you make your way into the industry?
Francis: I stumbled upon the opportunity to come into the industry. My background was primarily in customer service, most recently working for a financial institution as part of the call center leadership team. An opportunity came to work for Blueprint Automation in the aftermarket department as customer service, and I have continued to learn and grow during my four years here.
OEM: What has your experience at BluePrint Automation been like?
Francis: My time at Blueprint Automation has been eye-opening. I was able to utilize my customer service skills and develop them to appease a new audience. My leadership team has allowed me to learn multiple facets of the company so I can be well-rounded and have a full understanding of the entire process. I started as a part coordinator and took on additional responsibilities, earning a promotion to service coordinator. During my time as a service coordinator, I continued to develop the role and took on additional responsibilities. I began to develop the aftermarket project management role when I recognized there was an opportunity for improvement in how these projects were handled. In 2021, I received the aftermarket lead title and just recently, took on the Service Lead role. I am utilized as a leader in our aftermarket and service team, often being on point while our vice president is out of the office.
OEM: How does BPA support you as an emerging leader?
Francis: BluePrint Automation has always encouraged me to drive towards my goals, providing me assistance and direction when needed. I am often brought onto process improvement projects with leadership to provide additional input or views on how we can continue to improve the company. My leadership team was extremely supportive when I made the decision to return to school and became my cheerleaders when I needed the extra boost of morale during the tough classes. They trust my thought process and allow me to make decisions without seeking immediate approval. BPA has created an environment that promotes building relationships with our customers and our vendors to grow and continue to emerge as a leader for this company.
OEM: What is the most fascinating part of your job?
Francis: Have you seen some of the robotics that go along with our equipment? Watching these machines pick and place the products at the speeds that they do is extremely impressive. The ability of our engineers to design customized equipment for all our customers and watch it come to life is fascinating. I recently went to a customer's site whose machine was built over 20 years ago. And to know that we build machines that are durable and sustainable has made me appreciate the automation side of the industry.
OEM: What are some industry trends you are looking forward to?
Francis: Most recently, we started to work with a company that we met at PACK EXPO to develop and improve the technical support piece of our department. I am interested to see how we proceed with creating a self-serve option for our customers to contact us for technical support through an app or web portal. I'm also interested to see how it will impact our customers and how other companies are handling their tech support requests.
Companies in this article