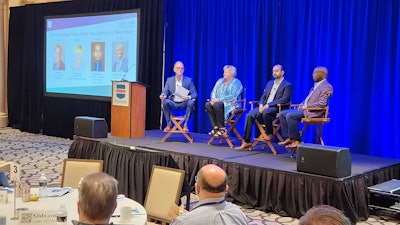 COVID may no longer be a national emergency, but the fallout from the pandemic is continuing to cause pain in the workplace. Three years on, consumer packaged goods (CPG) companies are still struggling with higher employee turnover, widespread burnout, ongoing labor shortages, and persistent skills gaps. One potential remedy? Deeper partnership with OEMs.
That was one outcome from the Top to Top Summit, an annual event organized by PMMI, that brings together executives from OEMs and CPGs to talk about solutions to the common challenges facing their companies. The event took place March 5-7 at the Waldorf Astoria Monarch Beach Resort & Club in Dana Point, Calif.
The event, conducted in an interactive format featuring panel discussions, group roundtables, and live polling and reporting, tackled a range of topics from extended producer responsibility legislation and increasing focus on environmental, social and governance (ESG) principles to automation and digitalization. But it was the ongoing workforce challenges that rose to the top of many action agendas.
Workforce Challenges Most Likely to Be Acted On
The issues that keep executives up at night are likely no surprise. Productivity, automation, sustainability, and cost pressures weighed heavily on the minds of attendees, according to a live poll of the audience run by PMMI's research team.
Digging deeper revealed a number of underlying workforce challenges. Workforce skills and recruiting were named by 20% of the audience as a key priority, followed by workforce retention (17%), and the next generation workforce (16%). Workforce training rounded out the top four, with 12% of the audience citing that as a key priority.
Many of the CPGs in the room are ready to take action, too. More than half (52%) of attendees noted that implementing technology to address their workforce challenges was the topic they were most likely to act on after Top to Top.
Training Needs Are Changing
Time pressures, cost sensitivity, and rapidly changing technologies are nothing new for OEMs and CPGs. For many, that means less time off the line to take part in critical training. Higher employee turnover and new technology also mean that training content can quickly become outdated.
One panelist in a workforce technology session cited the need to break down larger lessons into smaller bite-sized training. Commonly called microlearning, these lessons, sometimes as short as 30 – 60 seconds, are often delivered in the flow of work rather than in a training room.
New approaches to operator training is one place where OEMs and CPGs can work together to solve the challenge. One discussion leader at Top to Top shared how they shifted operator training from long, classroom-based programs rooted in theory to shorter, one-point lessons or video trainings as a way they have collaborated successfully.
"Just get to what you need to know to keep retention and to help learn those skills that you really do need," he said.
One executive from a large cheese manufacturer pointed to his company's investment in a learning management system (LMS) as a center point for his company's training. Most modern LMSs allow companies to upload and deliver training content from external partners, such as OEMs.
The bottom line for OEMs: Simplify training and material to support more rapid releases and make it more accessible to end users.
Recruiting and Retention
A well-trained workforce is one solution to today's business challenges. But finding and holding on to those skilled workers is another challenge entirely. One executive from a large multinational CPG cited employee turnover as high as 70% in some of its manufacturing facilities. His company automated as many repetitive tasks as possible to avoid a hiring crunch.
In addition to showcasing their automation offerings, OEMs can support CPGs by partnering up front when customizing a production line. Creating "a full integrated line from start to palletization" resulted in a nearly 50% decrease in the number of staff needed and led to a jump in productivity from 40 pallets per shift to 238, according to one panelist.
Automation and operational efficiency can help, but CPGs need to look at other ways to close the skilled worker gap. Recruiting and retention is not just an HR problem, said one executive from a large food processor. His company has put the burden on plant operations to solve the problem at the ground level, and staffed those facilities appropriately to handle recruiting and development.
With some labor estimates showing nearly two job openings per unemployed worker, workforce challenges aren't going away anytime soon. For OEMs, that's both internal challenge and opportunity to build deeper, more collaborative relationships with their CPG clients.
---
---
Companies in this article