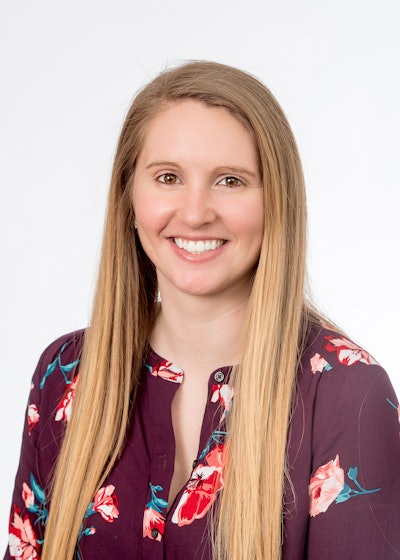 Tell us about your background and how you got into the packaging industry.
I was first introduced to the world of packaging when studying at the Rochester Institute of Technology in New York. I have a bachelor's and master's degree in mechanical engineering with a minor in packaging science. It was during my studies, and during a product development engineering internship at Fisher-Price, when I discovered just how integral packaging innovation can be to our daily product interactions. I thought packaging was an interesting subset of product development engineering, so I decided to minor in the field. I worked in packaging development at Kellogg's and Keurig Dr. Pepper before I joined Unilever. I spent over seven years working brand-side at Seventh Generation, where I developed new packaging for a variety of home care products. My time at Seventh Generation helped me foster my expertise in the sustainable packaging space and prepared me well for my current role within Unilever's global packaging R&D team. Now, as a sustainable packaging manager, I lead the "less plastics" and renewable feedstocks agenda across our diverse portfolio of products, supporting Unilever's commitment to reduce its use of virgin plastic.
What is the most rewarding part of your job today?
From my time working on the Seventh Generation brand, to my current role in Unilever's global packaging R&D team, I love that my work directly contributes to Unilever's waste-free world vision and helps to reduce our environmental impact. For example, helping to roll out 100% PCR (post-consumer recycled) content in our plastic bottles, which involves a huge amount of technical work and innovation. Being on the front lines of the sustainable packaging movement allows me to actively contribute to protecting the planet and create a more sustainable future — something I personally find incredibly rewarding.
What are some of the challenges that you have faced as a woman in a male-dominated industry?
In the early days of my career as a young, female engineer, I sometimes felt that my ideas were overlooked or not taken seriously, as though I was less capable or knowledgeable when in fact I had significant expertise. These experiences simply taught me to be more vocal and, most importantly, have confidence in yourself. If you have confidence in your ideas, others will be more likely to trust in your expertise.
What are the unique opportunities for women in this industry?
The packaging industry has so much to offer. Throughout my career, I've been lucky enough to work with many amazing women and see them flourish by really pushing the boundaries of sustainable packaging — a field which is set to only gain in momentum and create new, exciting opportunities in the future. I'm a firm believer that bringing together unique and diverse perspectives and experiences is key to creating more innovative and inclusive design solutions.
What do you think are some of the key factors that have contributed to your success in the industry?
For me, the main driver has been my ability to pursue a career that aligns with my passion and purpose for preserving our planet. This has been my main motivation throughout my packaging career at Unilever, where I'm constantly learning, keeping pace with the latest infrastructural and technological shifts (which are rapidly evolving), and building up my technical expertise. I also think it's important to look for opportunities to go beyond conventional packaging practices – i.e. identifying new materials or design approaches, and unique ways to reduce environmental impact while maintaining functionality and product protection. Being able to articulate the business case for sustainable packaging and effectively communicate its value to stakeholders is essential for this.
What has been the most important skill you've developed as you advanced your career?
One of the values and skills I've learned is to collaborate deliberately – a key value that is taught and instilled in everyone who works at Seventh Generation. Collaboration is of course vital to the work we do in the packaging field. To launch a product, we naturally find ourselves working cross functionally within our organizations and across value chains.
Deliberate collaboration, however, is so important because when you actively seek out diverse opinions from people with different backgrounds, expertise, and perspectives, you can learn so much more. In my current role and at a global business like Unilever, being a deliberate and effective collaborator when leading a team can really help to improve decision making and increase efficiency, especially when working across multiple geographies and packaging formats.
What can the industry do better to support women and increase the number of women in leadership positions?
In my view, companies have a very important role in supporting women throughout their careers. For example, everything from addressing unconscious biases in recruitment processes and providing flexible working arrangements to supporting the work-life balance of parents. These types of considerations absolutely provide the necessary opportunities, skills, knowledge, and confidence to help women thrive and advance in their careers. Research from UNESCO suggests that women account for just 30% of the world's scientists and researchers, and only 35% of all higher-education students enrolled on science, technology, engineering or mathematics-related (STEM) courses, so it's really important that educational opportunities are also simultaneously opened up, to help more women get into science-based careers in the first place.
Within Unilever, 49% of our packaging R&D team are women — a balance I appreciate greatly as part of our ambition to build the most innovative, high-performing R&D team in the industry.
Has there been a woman in your life who has inspired or mentored you? Who was she and what did you learn from her?
Back when I was a college student figuring out where I wanted to take my engineering career, I did an internship at Burton Snowboards in 2013 where I worked on snowboard binding product design. During my time there, I worked with an incredible female engineering manager who really championed the engineering internship program with a focus on bringing more female engineers into the company and creating a space to foster growth and development. She also taught me to follow your passions and that it's never too late to make a change in your career if you're not fulfilled. That helped push me to follow my passion for sustainability in the work I do today.
What advice would you give to young women who are considering a career in packaging?
Packaging is such an amazing field where you can specialize in so many different areas, from materials science, to design, to consumer experience, to testing/qualification, to manufacturing. The list goes on! My tip would be to explore your passions and interests first and foremost, take time to research the field, and then consider how a career in packaging can align with your personal interests, skills, and sense of purpose. If you're already enrolled in a college engineering program, then I'd highly I recommend looking for internships or co-op programs across different businesses and packaging-related roles to better understand your interests. Practical experience is invaluable in gaining hands-on knowledge and understanding industry practices. I was lucky enough to do a few co-ops throughout my degree program, which allowed me to explore both product and packaging development across a variety of industries and ultimately guided me to my role at Unilever today.