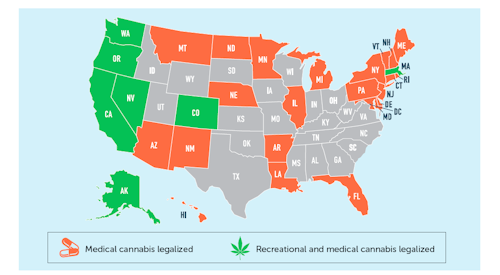 November 2016 marked the most important election cycle for the cannabis industry to date, with six out of nine states voting to legalize some form of marijuana use, either recreational or medical. These states will jumpstart industry revenues that already total $7.4 billion, with a predicted growth to $12.4 billion by 2018, according to Frontier Financials, a cannabis data analysis and industry reporting firm based in Washington D.C. 
Few machine builders have gotten their feet wet in a market some might deem taboo, but those that have may benefit from first movers' advantage. In a years time, early adopters won't be able to handle the industry's rapid growth alone, according to John Kagia, Frontier Financial's EVP, industry analytics. 
Edible versions of the product commonly come in the form of cookies, brownies, and gummies, which include tetrahydrocannabinol (THC)—the psychoactive drug found in cannabis. Aside from containing THC, these edible snacks behave just like any other food that needs to be individually packaged. Data on edible cannabis products in Colorado, a state with fewer than six million people, might help contextualize the opportunity that packaging and processing OEMs have in the industry.
In 2015, 7.5 million units of edibles were sold in Colorado alone, a 56 percent increase from 2014. Now consider that same percentage growth in California, which has a population of more than 38 million, seven times that of Colorado.
"The edibles market remains young, and the availability of edible products are growing dramatically," Kagia says. "Looking at the data, you get an idea of scale for what the packaging needs and processing machine demand might be. And edibles are just one opportunity in one market of the entire industry."
Plus, in states where cannabis has been legalized, growers have been forced to develop processing and packaging methods for multiple consumption and delivery channels beyond edibles, including the marijuana flower itself, cannabis concentrate, topicals, and more.
"Packaging cannabis is no different than packaging a lot of other types of perishable foods," says Greg Berguig, VP, marketing, PAC Machinery, San Rafael, Calif. "In general, our vacuum gas flush sealers, flow wrappers, and automatic baggers that package cannabis and cannabis-infused products are adaptations of our existing systems. The difficulty is adhering to different packaging rules in different states, particularly related to child-resistant packaging." 
At this time, there is no standardized set of regulations governing cannabis. This leaves a gray area in which machine builders will have to adapt to different rules and requirements based on a customer's location. 
Finding common ground
Despite the disparate rules, there are some key commonalities in the kinds of machines marijuana packagers are looking for.
Serge Chistov, financial advisor of Honest Marijuana, a Colorado-based organic marijuana grower, attends PACK EXPO to find machine builders that could build and adapt machines to accommodate his small facility. 
"The square footage in my facility is not huge, and if that space is not used to grow the cannabis, it's losing me money," Chistov says. "I look for compact machines with a small footprint. No one in this industry, to my knowledge, is big enough to build one giant marijuana packaging plant in a remote location, and ship the product all over the U.S. It's just not legal. So we have to compartmentalize our packaging operations."
Another obstacle is finding a machine that doesn't need to be serviced often. 
"We count on and look for machine efficiency and reliability because having service personnel come and go to our facilities is a hassle," Chistov says. "We have to register new visitors and contractors through the Marijuana Enforcement Department of Revenue, which takes a lot of time, and our facilities aren't in the most convenient places to visit."
But perhaps Chistov's highest priority when shopping for a machine builder is to find an OEM that either can create custom machines, or isn't opposed to modifying its current models. During a PACK EXPO show, Chistov found New Jersey-based Precision Automation Company, Inc., a custom machine builder, and PMMI member, that mainly serves the pharmaceutical market. 
For Chistov's application, Precision Automation Company built a wrap labeler that runs cans upside down first to place the wraparound label and the bottom label. A tamper-evident lid is then manually placed on the can, and the can is run back through the machine again right side up to place a label on top of the lid. 
Hand-loaded and labor-intensive machines reflect the relative youth of the industry, and of the machines built to accommodate it. Strict and disparate state requirements on labeling and tamper-evident packaging can make it difficult to fully automate the labeling process.
"You have to put a lot of labels on these packages, and they change all the time," says Frank Jablonski, Precision Automation's Western regional sales executive. "It's like trying to hit a moving target because states can change the label verbiage or format at any time. Now we are seeing a lot of multi-panel labels, which can be common in pharma, because there is so much information the label has to contain. Booklet labels are also coming into their own."
OEMs may not see the advent of heavily automated equipment for a few years, says Colin Warnes, ADCO Manufacturing's director of sales engineering and project management. In the meantime, Warnes has quoted several semi-automatic vertical rotary cartoners for cannabis companies, and within the next year, he expects to see a dozen more cannabis-related opportunities for ADCO. Jablonski agrees, and anticipates strong growth even in the interim between current cannabis packaging methods and greater automation in the future. 
Trade shows connect the industry
In 2014, when Colorado legalized the recreational use of cannabis, Berguig began to send distributors out to exhibit at cannabis trade shows to gain insight and leads from the industry. Meanwhile, Chistov and others began looking into PACK EXPO, so the interest is, and continues to be, mutual.
"There are so many people getting into it and calling it the 'green rush,'" Berguig says. "There are a lot of big players and companies at these expos investing into this equipment, and the opportunity for machine builders is 100 percent real."
Addressing the stigma
But machine builders exhibiting at PACK EXPO shows weren't always enthusiastic about getting involved with the marijuana industry. Chistov says he encountered machine builders  there that said they were either avoiding the industry because they didn't understand the scope of demand, or because they didn't believe that cannabis growers presented any buying power. 
"Four years ago, if we were to mention medical marijuana or marijuana in general, machine builders would just scoff and walk away from us," Chistov says. "But it's kind of funny now, we buy from these people, and today, they don't mind flying in and introducing us to the technology. It's drastically changing."
Chris Walsh, editorial director, Marijuana Business Daily, a cannabis trade publication that also hosts industry trade shows, forayed into the industry after leaving his mainstream journalism job.
"The hesitance is understandable," Walsh says. "A lot of people's first step into the industry was coming to a conference or expo and realizing that it's not what they thought it was. If you are looking for new opportunities, you have to get involved now or the train is going to pass you." 
Opportunity for OEMs
Chistov has the equipment and machine builder connections he needs to maintain production now, but he consistently seeks out other packaging options and OEMs through PACK EXPO and various trade shows. He urges OEMs to read up on the business, legalities, and packaging requirements for each state.
"Every grower and packager has unique needs, but in general they come down to, more or less, the same thing," Chistov says. "It's just a matter of being willing to listen to us and ask the right questions. The smart machine builders will make their way over to the industry now."  
Chistov, Walsh, and Kagia believe that machine builders should take this window of opportunity to at least investigate on how they could better serve the industry. 
It will be at least 18 months from now, the 2016 state-level elections, before new marijuana companies and markets are ready for retail sales, Kagia says. This gives OEMs plenty of time to cultivate relationships, attend conferences and shows, and define solutions if they choose to participate in the industry. 
"In the middle of 2018 when businesses open, that will not be the time to start finding out who the potential customers might be, and what the market needs are," Kagia says. "This is the perfect time for machine builders to do some due diligence to create a better understanding in the unique needs and complexities associated with this market specifically. So when sales are ready to be activated, these machine builders and businesses will be ready."