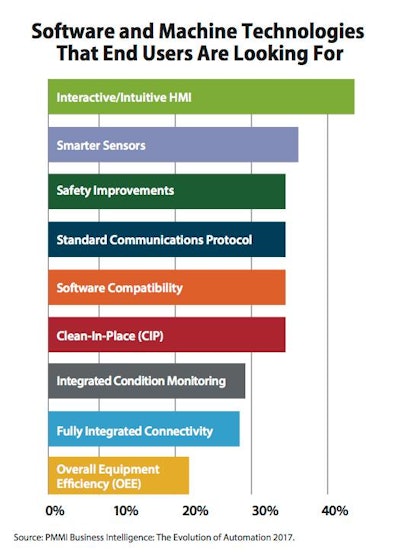 Future HMI displays will combine numerous capabilities into a single integrated program that is governed by a set of recognized international standards, says the 58-page report.
Integrated condition monitoring, which identifies developing faults like vibration or heat, and schedules maintenance to avoid costly downtime, is another key component of the smart machine.
"The goal is for all equipment to talk to each other," says one Technology Supervisor at an Rx and OTC medical plant. But that goal comes with a price.
"Customers are asking for more intuitive HMI with recovery and easy or even automated changeover," says the director of robotics for an OEM. "But the costs are high, creating a longer ROI."
Source: The Evolution of Automation 2017, PMMI Business Intelligence. Download here.