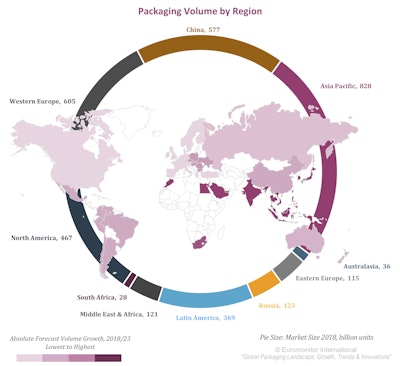 According to "Global Packaging Trends," a new report compiled by Euromonitor International for PMMI Business Intelligence, there are other regional trends as well, including premiumization, value-for-money packs and re-fillable packs – all driven by consumer demand for convenience and health consciousness.
Sustainability has a continued focus, as more eco-friendly materials for green and sustainable packaging have been introduced. In China, Ecolean packaging is gaining popularity as an innovation in plastic pouches that is lightweight and eco-friendly, with a convenient shape for portability. In North America, recyclable PET is also gaining popularity due to rising environmental concerns.
Globally, flexible plastic and PET bottles were the most sought-after pack types across multiple categories (salty snacks, noodles, confectionery) in 2018. Lightweight and convenient for on-the-go use, they are also customizable and cost effective to manufacture.
Bottled water was the leading global packaging category with the largest volume share in 2018, followed by beer. PET bottles are the most preferred pack type, with an expected continued growth due to the development of recycled PET bottles. Glass bottles remain the most popular pack type due to heritage, returnability, and premiumization, while metal cans are seeing healthy growth due to the rising trend of craft beer.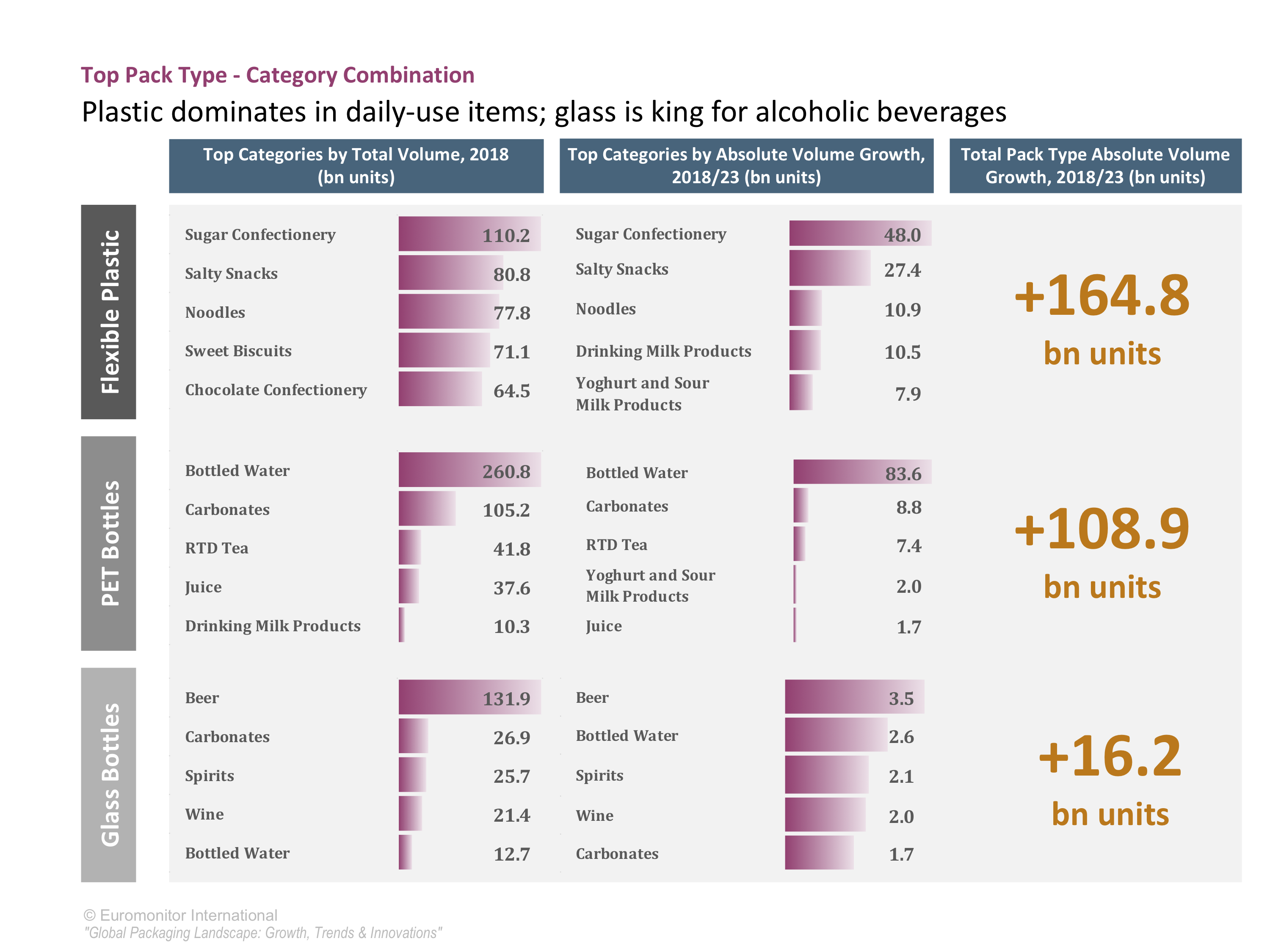 By region, the Asia Pacific (828 bn units in 2018) and the Middle East & Africa (121 bn units in 2018) emerge as the next growth frontiers.
Asia Pacific
Premiumization is occurring across categories such as confectionery and beverages and will likely continue in the forecast period.
Introduction of different packaging formats to meet diverse demographics' needs like small pack types that are easy to open for the aging population.
Middle East & Africa
Advanced markets such as the United Arab Emirates and Saudi Arabia are witnessing a rise in the number of global brands offering products in ecofriendly packaging.
The region witnessed the launch of bottled water in recyclable PET bottles as an attempt to drive the sustainability initiatives.
Source: "Global Packaging Trends," Compiled by Euromonitor International for the Packaging Machinery Manufacturers Institute (PMMI). PMMI Members can download the full report for free here.
Australian Packaging & Processing Machinery Association (APPMA)
PMMI, The Association for Packaging and Processing Technologies
UCIMA, Italian Packaging Machinery Manufacturers Association
Symop, French Association for Manufacturing Technologies
Make plans to visit PACK EXPO Las Vegas, September 23-25, to see on-trend machinery and materials.